Ben Richardson
Vegan camping guide: How to cook tasty meals in the great outdoors
It is no secret that nature and the outdoors nourish the soul. That short walk in the evening to wind down, dog walks to the countryside pub for some grub, a catch up with a friend whilst soaking in the green glow under a forest canopy. 
Camping, however, takes this a step further. Giving you permission to fully switch off, escape from the rush of the world and completely immerse yourself in nature. That being said, staple camping meals and activities tend to be quite meat-orientated and potentially damaging to the local ecosystem. Bacon sarnies, BBQs, hotdogs and marshmallows being the obvious choices! So, we at V-Land UK have devised a vegan camping guide to making your wild retreat delicious, convenient and friendly to local flora and fauna.
If you are seeking the authentic camping (rather than 'glamping') experience, you will need to prepare yourself with a mini kitchen and be health and safety equipped. Here are some useful suggestions to make the logistics of this hassle-free: 
•Try sticking to a one pot or pan meal, reducing the amount of kit in your bags, fire combustion time, and most importantly the amount of washing up!
• Pre-measure any herbs and spices at home, packing them in labelled containers such as small jars or Tupperware. 
• Bring snacks! Pitching tents and lighting fires can work up quite an appetite. 
• The essential kit includes - a cast iron frying pan or Dutch oven, cooking rack and/or tripod, small chopping board, small sharp knife, ladle, spatula, large mixing spoon, light cutlery, water container, fire gloves, burns first aid kit, camping kettle, and a bag of oak, maple or ash hardwoods as they are very slow-burning and give off a good amount of heat. 
• We highly recommend The Nomad Kitchens camping set for a very convenient, on the move cooking set.
• If staying on a campsite, calling ahead of your stay to see if they provide any of the kit above may save you some time, money and space.
• Always bring a portable charger for your phone. You do not want to be swept away in the natural beauty during wild camping, only to find you no longer have any idea where you are!  
The meals we consume affect us all on a physical and mental level, so whole food, nutritious, protein-rich and energy promoting meals are essential for vegan camping food choices. Your day should start with a nice energy boost, so why not try some smashed avocado on toast topped with garlic sauteed mushrooms, tofu and fried tomatoes? Just toast your bread over the fire using a long fork or stick, fry up your veggies and tofu, then smash up your avocado in a bowl with some salt and pepper.
For those colder nights, a warming Black Bean Chilli or Coconut Aubergine Dhal are noble suggestions. Both one pot meals, simple to make and highly comforting. The ingredients promote energy, are high in protein and carbs and are ideal for those evenings resting after a long hike or pitching up your tents.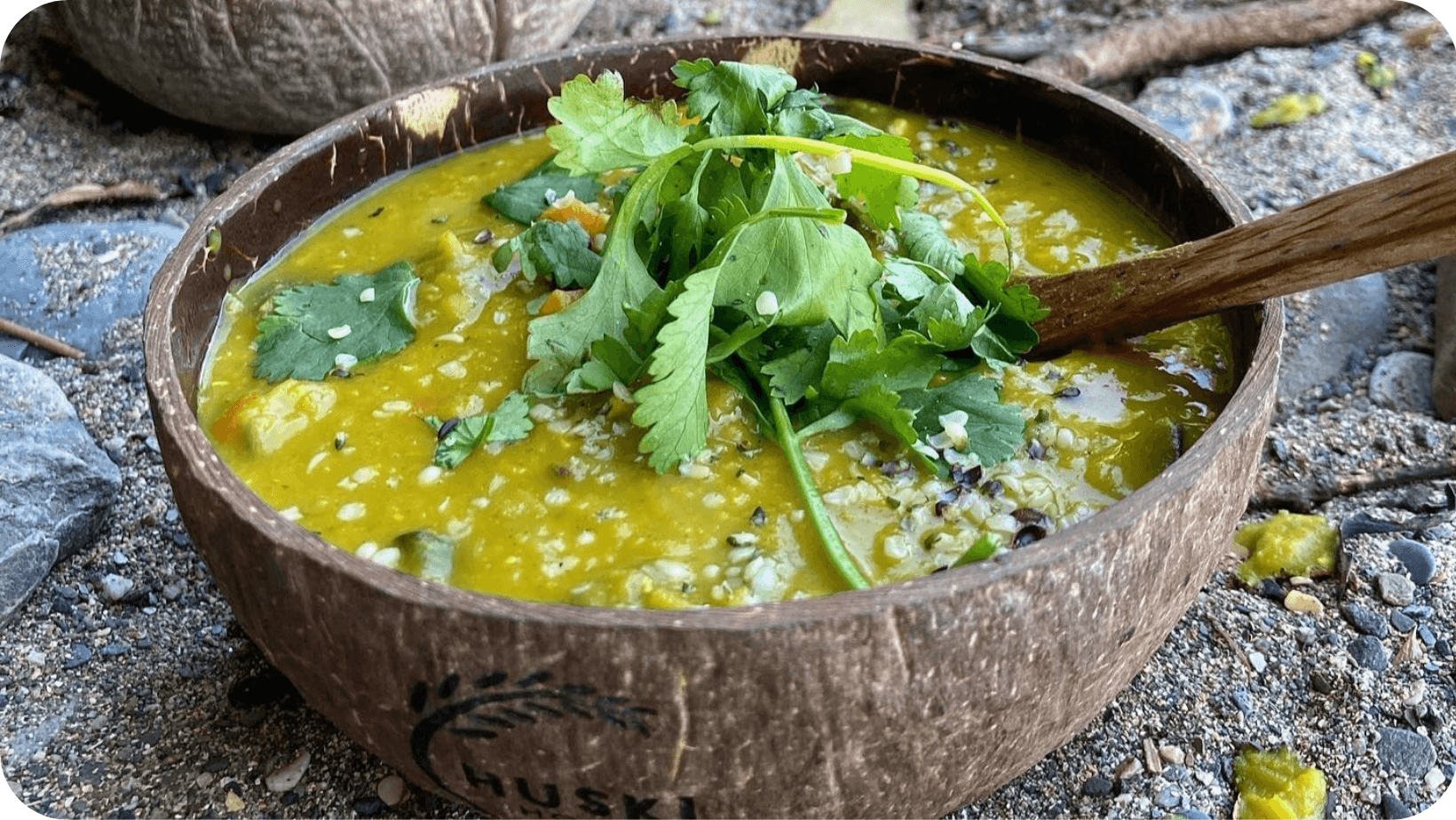 Ben Richardson
Now, when it comes to lighting fires in a wild environment, be sure that the area you have selected is not highly vegetated and is a safe distance from anything that could promote a potential wildfire. If on a beach, place a circle of stones around your chosen sacrificial spot to contain the embers and ash. If in a woodland, find a spot with very little flora like a bare patch of soil. A good suggestion for an area lacking in bare soil would be to use an elevated fire tripod, to prevent damage to the organic matter on the ground.
With your carefully selected site to cook ready, set up your safety kit. A source of plentiful water to extinguish your fire, a large thick stick, burns first aid kit in sight and fire gloves on! Once the cooking has ended and you've watched the fire burn down during your delicious meal, it is time to appropriately extinguish it. Smother your fire with most of the water and start to scrape at the ground with the large stick to disperse the heat, pouring more water intermittently. The amount of heat contained within the soil is quite astounding, so it is vital to release this heat into the atmosphere to prevent any curious wildlife from burning their feet when they scavenge for any yummy spillages.
On the subject of scavenging, it is important to acknowledge that the very sustenance for life itself comes from nature. Herbivorous wildlife forage for food every single day to survive those autumn and winter months, so what better way to deepen our connection with nature than to try this for ourselves? 
A brilliant guide for becoming more self-sufficient in these trying times is the book Foraging for Wild Foods by David Squire. This is a fantastic guide for those wanting to begin their foraging journeys. It is carefully curated in sections on nuts, fruits, mushrooms and more! After all, nurturing our relationship with the natural world is the key to its survival. Get out there, cook up a storm, gaze up at the trees and breathe it all in.
Did these vegan camping meals and tips tempt you to start cooking over a campfire? Check out our article on vegan barbeque essentials, with plenty more ideas for what to cook, and enjoy the outdoors even more with some tree hugging and forest bathing!