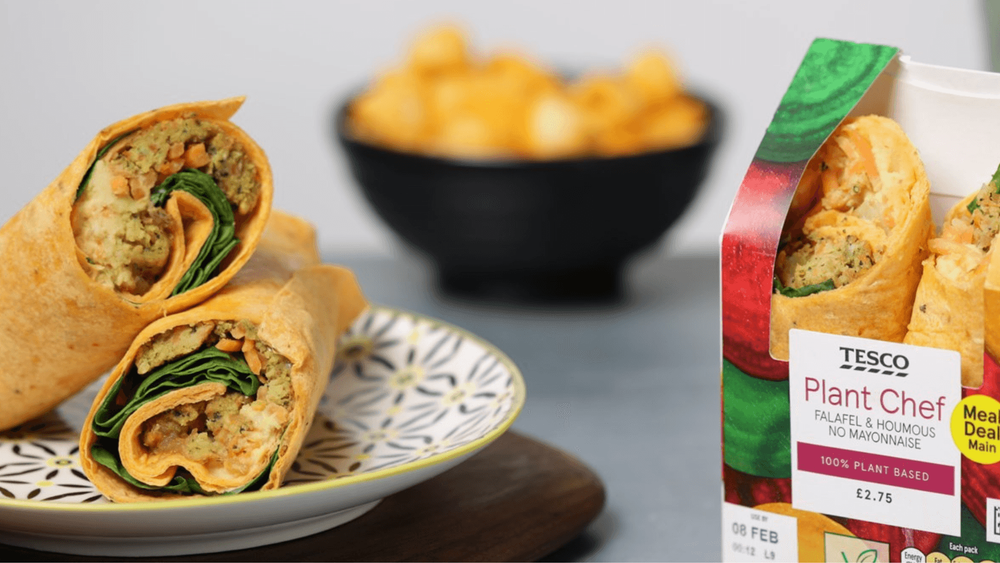 Tesco
Vegan meal deals for lunch on the go
The humble supermarket meal deal, an unpretentious yet satisfying meal that gets us through the working day. We are lucky to have ever growing vegan ranges in supermarkets so that we can shake up our routines with a vegan meal deal. 
Here at V-Land we've come up with a list of lunch time inspiration for when you fancy a change, starting at only £3.50 with a variety of sandwiches, wraps and salads for lunch on the go. 
Tesco
Tesco is a popular choice for vegan food, with a vast array of options including their Plant Chef range, Wicked Kitchen and lots of branded vegan products. The Plant Chef range sandwiches are included in Tesco's vegan meal deal such as Hummus Harissa Vegetable and a Falafel Hummus wrap, you can pick one of these up with a drink and your choice of snack for £3.50. Outside of their meal deal, they also sell microwavable lunch pots such as Soulful Sweet Potato Tikka, Bol Japanese Katsu Curry Vegetable and Foodologie's 5 A Day Chilli Verde Plant Pot.
Boots
Boots are a very convenient option who seemingly have a store on every highstreet! We appreciate having the option of a simple vegan cheese and onion sandwich which is available in Boots, alongside other options such as vegan no chicken salad and no duck hoisin wraps. They are all part of the £3.59 meal deal which includes a drink and a snack, we're spoilt for choice with crisps, snack bars, popcorn, vegetable sushi and fruit.
Sainsbury's
Sainsbury's Plant Pioneers range includes a vegan meal deal for £3.50. Your choice of vegan sandwich or wrap including No Chicken Ceasar and Hoisin No Duck with a snack and a drink. Snacks include crisps, fruit, vegetable sushi and popcorn. Sainsbury's also sells microwavable lunch pots including lots of vegan options from Bol. 
Co-op
The Co-op's own brand range of vegan food, called GRO, is included in the Co-op lunch meal deal. We nipped into our local Co-op to check them out and although they only had the one type of sandwich, an onion Baji and mango chutney on onion seed bread, they had a falafel and tabbouleh salad and a New York deli style salad, all in their meal deal for £3.75 with a drink and a snack. Their Gro cookies and Gro Rocky Road bars are divine if you fancy something sweet. Next time we'll be getting there earlier to see what other options are available too. 
Morrisons
Morrisons' Plant Revolution meal deal includes falafel and spiced hummus wraps, no chicken shawarma wraps and charred corn and barbecue jackfruit pasta with a drink and snack for £3.50. Morrisons bakery also has some amazing vegan comfort food such as their No Bacon and Cheeze Turnover.