Vegan stocks and investing: What are the options?
Investing is usually seen as a word which scares many people and is often associated with the movie The Wolf of Wall Street with Leo, screaming brokers, selling and buying shares and using 'complicated' words. 
According to Investopedia: "Investing is putting money to work for a period of time in some sort of project or undertaking in order to generate positive returns (i.e., profits that exceed the amount of the initial investment)". 
Where to start?
If investing in stocks it is always best to first research the type of investment, evaluate the risk and decide on the amount of money to bring into the market. You could also ask your bank if they could link you with an investment advisor to discuss your preferences and projects. Before you decide to invest, think about your investment goals/strategy even if it's a very small one, i.e. if you want quick returns or long term. It may be smart to start small and to expand your portfolio later, once you feel more comfortable. Read the latest annual reports of the companies. Make sure to check its financials, strategy, evolution, etc. Also, screen the history of share prices for different periods and Google search for significant changes to see why the price went down or up in the past. This would help you to have a more insightful conversation with your financial advisor as well.
Vegan stocks
On its own, the vegan market theoretically is bigger than you think. It naturally includes veggies, fruits, legumes and even wood and other materials that have no animal provenance or are not tested on animals, nor harming them. In 2022 May, Bloomberg forecasted the plant-based alternatives market to rise to USD $166 billion. It estimated plant-based alternatives for milk to rise 7% by 2031 and meat alternatives by 7.2% if we take the fast growth vs respectively 5% & 4.4% growth for the base scenario. As senior analyst of Bloomberg Jennifer Bartashus notes: "There are three main catalysts on both the supply and demand side of the equation that will help differentiate plant-based alternatives as a long-term trend versus a fad." Here are some suggestions by Nasdaq for the top vegan stocks to buy published in July 2022. And in case you are looking for some more publicly traded vegan companies you may refer to pages such as Vegpreneur, VeFAQ or The Stock Dork and many more.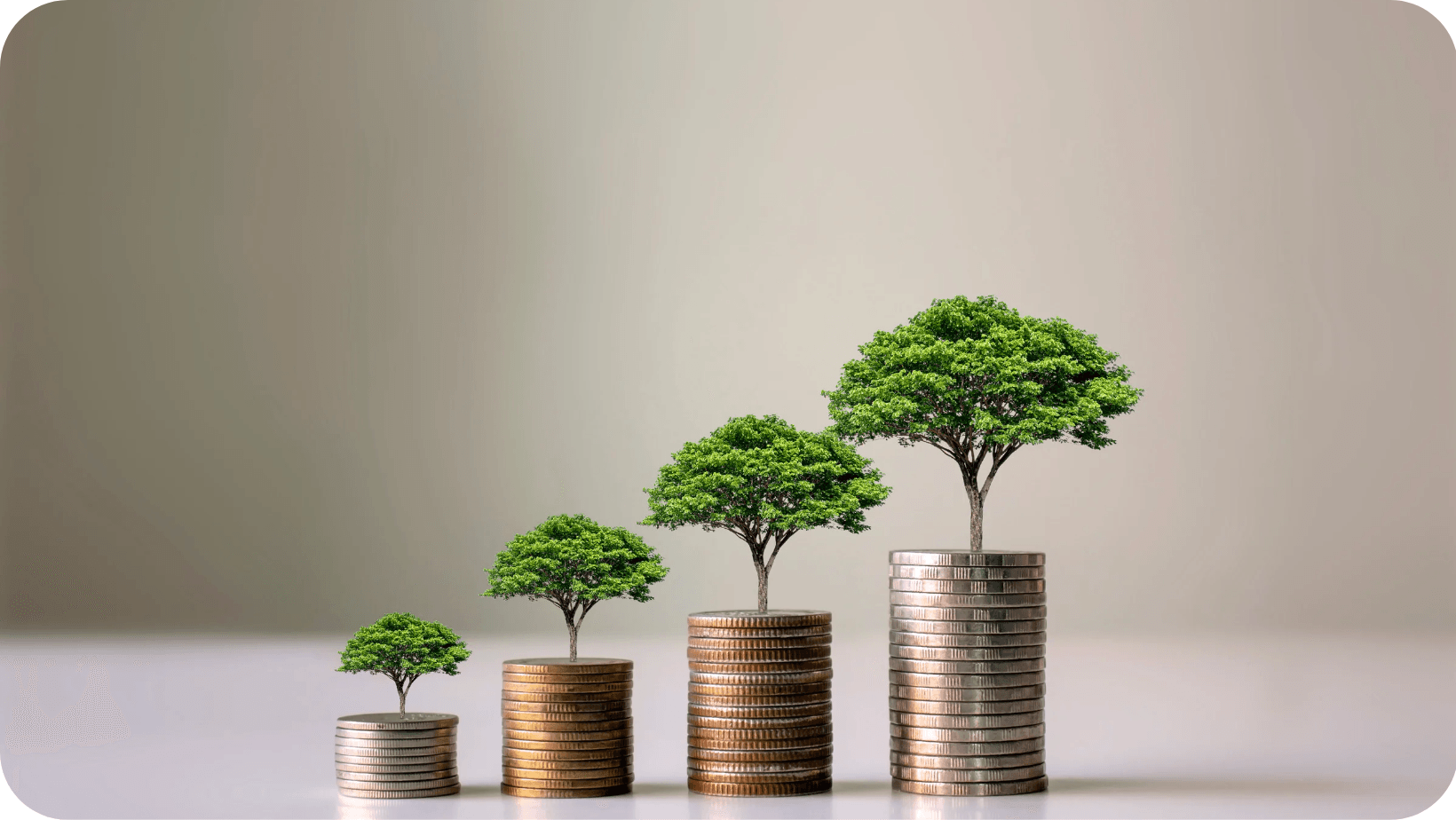 Arthon meekodong via Canva Pro
Green, responsible or sustainable investing 
First of all, green funds do not especially mean really sustainable or vegan. You might have heard of the term greenwashing. As Business News daily describes: "Greenwashing is when an organisation spends more time and money on marketing itself as environmentally friendly than on actually minimising its environmental impact." 
To give a better example, imagine you go to your bank advisor and ask them for the sustainable investment options. You will definitely get at least a few choices and most probably it will be a fund which will have a wonderful illustration of saving water, alternative energy, no arms policy, etc. But once you dig deeper you might be surprised to find that inside these funds there could be companies which are major plastic waste producers or are highly involved in forest destruction yet doing one thing 'right', such as applying a new policy of cleaning water. This may be highlighted as 'green activity' even though in the sustainability balance sheet sustainable activities take a significantly lower percentage than the polluting or destructive ones. Therefore, not so long ago the world was reading about German law enforcement officials raiding the offices of Deutsche Bank on suspicion of the fraudulent advertising of sustainable investment funds at its DWS unit. The reported €459 billion AUM (asset under management) with ESG integration was greatly exaggerated. A total of €100 to 150 billion was more realistic. So again you might wish to check carefully. 
To sum up, there are so many options and ways to invest in veganism, yet do not forget that investing is way broader than the stock market, bonds, obligations, real estate, small/big business or start-ups. It could be a non-monetary investment such as an investment in future, health and self-development. While going through your life you are constantly exposed to non-monetary investments: primarily time and energy. Invest in society and yourself.
If you enjoyed this article and want to learn more about vegan investing you will love our article about how vegan friendly investments are changing industries. If you are trying to get your vegan business off the ground check out our interview with David and Lisa from the Vegan Business Tribe about how to help your business thrive.
Disclaimer: Please note that this article is not targeted to advise people on their investment decisions yet more of an oversight based on research about sustainable/vegan investment options in the market. If you want to invest please refer to a financial advisor or a specialist for more specific advice.