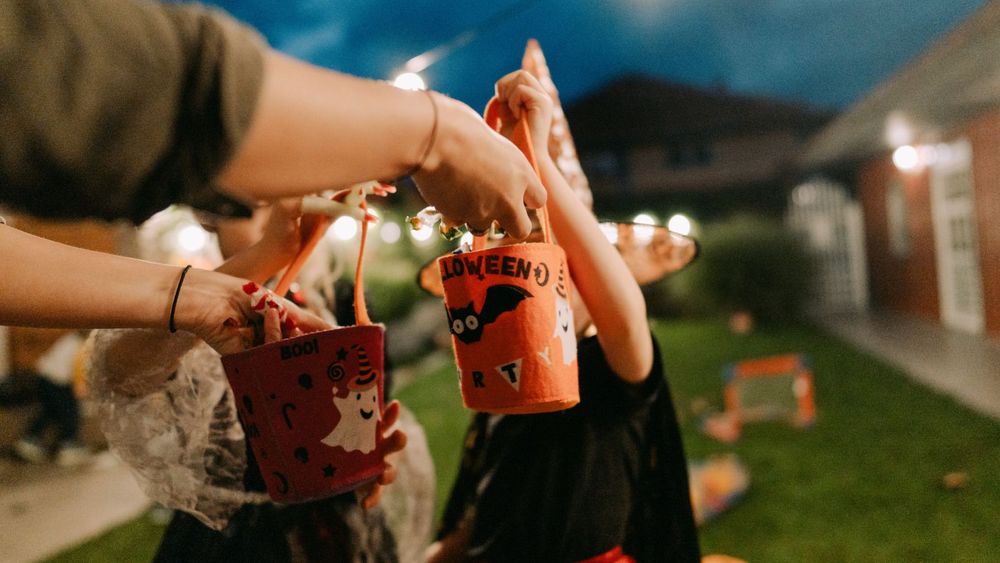 Alexsander nakic/Canva Pro
Vegan trick or treat sweets worth stocking up on this Halloween
Whether you're hosting a Halloween party or getting your baskets ready for trick or treaters, we have searched and included some of our favourite vegan Halloween sweets to add to your hampers. When choosing to opt-out of ingredients such as gelatine, honey, eggs and beeswax, we believe sweets can taste just as good with vegan choices. So look no further in our top picks for vegan and gluten-free sweets wrapped in plastic-free packaging, perfect for any eco-conscious stomach. 
Draculas' Teeth
An ultimate favourite - these fizzy sweets are a crowd pleaser with their tangy flavours and bursts of bubbles. Dracula's teeth are a great addition to your Halloween sweets goody bags and match perfectly with a cape and suit jacket. To purchase a packet of Dracula's fangs, we commend The Vegan Candy Man and The Conscious Candy Co.
Spooky Skulls 
A family favourite and well-suited for this spooky season - these skulls come in various flavours such as cola, raspberry, melon and lemon. The ingredients which make up the vegan recipe contain potato protein and carrot concentrate. To purchase these Halloween sweets, we highly recommend The Vegan Candy man. 
Gelatine free marshmallows
Not necessarily spooky-themed, but perfect for the autumn months - marshmallows are a known favourite to add to our collection. The Conscious Candy Club have created soft fruity marshmallows, great for toasting or eating how they come. They are also free of nuts, soy, gluten, fat and palm oil. Another tasty mentionable are marshmallows from Anandas foods which contain natural flavours and vegetable colourants. 
Gooey pumpkins
Of course, we couldn't leave pumpkins out of our Halloween vegan trick or treat sweets. These sugar-coated, chewy, rich in flavour sweets are a perfect addition to your collection. To purchase, we suggest Bear and Bees gluten-free vegan pumpkins. 
Fizzy Worms 
Fizzy worms are delicious during any holiday. It's hard to believe that fizzy worms wouldn't make our list of Halloween sweets with flavours ranging in elderberry, orange, spirulina and apple. We advise fizzy worms to be purchased at Vegan All Sorts, Bear & Bee Sweet Co and The Vegan Kind. 
Accidentally vegan sweets are also perfect for a mixed bowl for trick or treaters to take a handful and can include; Skittles, Jelly Tots, Starburst or retro favourites such as Swizzels Parma Violets, Love Hearts, Fizzers and Lollies, and if you head on over to the Swizzels website, they have a vegan selection to choose from, although it's worth noting these aren't plastic free. Or, for the gourmet trick or treat connoisseur, you can never go wrong with Candy Kittens.
We hope you're now fully prepped in time for the spooky season! And for the chocolate lovers amongst us, check out vegan chocolate bar brands and oat milk chocolate bars.