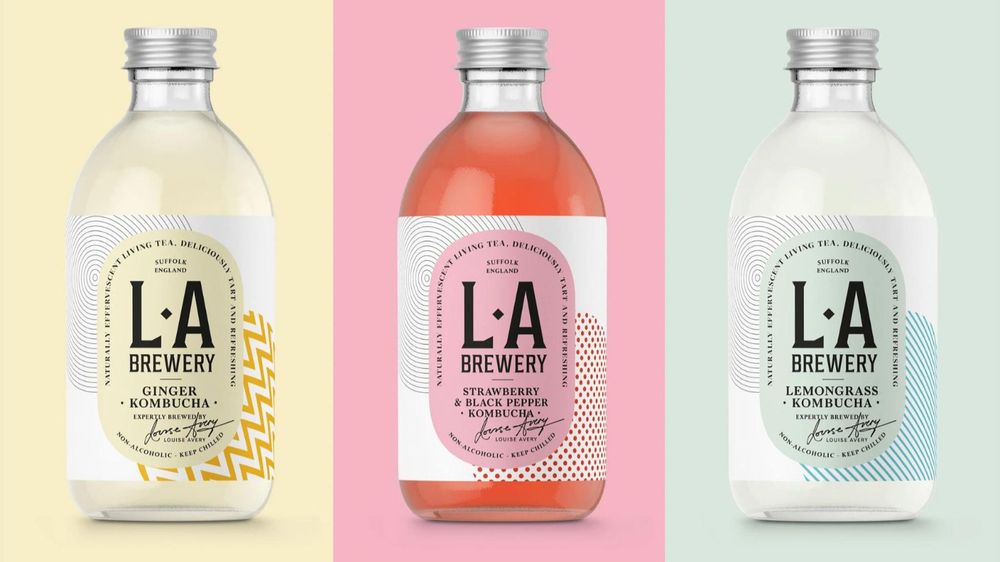 Shopify
What's kombucha? And what are 5 of the best kombucha drinks?
What's kombucha? Simply put, kombucha is fermented tea. A SCOBY (symbiotic culture of bacteria & yeast) is added to brewed and sweetened green or black tea. As the tea ferments, the friendly bacteria multiples and consumes the sugar. What you are left with is a slightly sparkling tea drink overflowing with good bacteria. These beneficial strains of bacteria introduce more diversity to our gut, which aids digestion, boosts energy levels and supports our immune system.  
But what does kombucha taste like? Different teas can be blended and used, which influences the flavour. This means they vary in how sour and sweet they taste. It is not for everyone though. Like marmite, you'll either love it or hate it. If you are a fan, it can be drunk in its original form or it can be enhanced with many different plant-based flavours. This has resulted in an almost endless number of options and gives a great variety to choose from, and as such, it is becoming increasingly popular in the UK. However, it is a traditional drink in China, where it is thought to have originated some 2,000 years ago. It then spread to Russia and Japan before becoming popular in Europe in the 1900's. More recently it has exploded on to both the UK and US scenes. 
With such a surge in popularity, V-land presents what is, in our view, the best kombucha drinks money can buy.
Lo Bros 
Lo Bros is a brand started in Australia by two brothers with the surname Lo. Hence the name. The UK arm of their business is managed from London with the kombucha itself being brewed in small batches in Berkshire. Health and sustainability are key factors in how they run their business. This means they source organic ingredients locally, as much as possible, and package using recycled or recyclable materials.
Their kombucha flavours range from refreshing fruits to something with a bit more of a kick. This includes ginger and lemon, which is also their most popular flavour. While cola is a common soft drink option, Lo Bros is the only kombucha brewer to offer up this flavour. While much subtler than standard cola drinks, it gives you that familiar and comforting taste fix without the sugar or calories. This is a firm favourite here at V-Land.
Remedy 
Remedy was born after a stint of successful homebrewing by a husband-and-wife duo Sarah and Emmet Condon. Their concoctions were so popular with friends and family they soon upgraded their kitchen worktop to a small batch brewery. Cherry plum is Remedy's more unique offering and, we think, the best tasting kombucha in their range. However, with the likes of apple crisp and raspberry & lemonade it is not the only option worth sampling.
Equinox
If you want a stronger fruit hit from your kombucha, Equinox's raspberry & elderflower or wild berry should be your go-to. However, their range of 6 flavours are all delicious and cannot be faulted.The Equinox mission is to make affordable, organic, healthy, sustainable soft drinks that are good for their customers and the planet. To help fulfil this mission they became a certified B Corp business. They were the first kombucha company in Europe to do this as they strive to balance profit with purpose. This Calder Valley, West Yorkshire, based brewery has tasty drinks and ethics. It's a win-win.
PJ Kombucha 
PJ Kombucha is another homebrewing kitchen start up. After a long stint on antibiotics, Paddy O'Connor wanted to improve his compromised gut health and started to experiment with kombucha. This led to an improved gut and a custom-built brewery in Birmingham. With a 5-flavour range, their orange hibiscus should not be missed. In addition to this near perfect flavour combination the hibiscus can also help boost your immune system. Who knew healthy could be so mouth-watering.
LA Brewery 
This Suffolk based brewery takes kombucha to a new level of English sophistication. Louise Avery created LA Brewery after experimenting in her kitchen, infusing her homebrew kombucha with a variety of flowers, fruits, herbs and botanicals. With flavours like lemongrass and strawberry & black pepper, their stylishly designed bottles complement the contents flawlessly. Perfect as an alternative to alcoholic bubbles at a dinner or garden party when you want to impress as a host. 
The crucial 'what's kombucha?' and 'what does kombucha taste like?' questions have now been answered so you are also aware of the gut health benefits it brings. If this is something you want to improve upon further, you might be interested in our review of Biomel's "award winning" range of plant-powered probiotics. Probiotics are live bacteria that need a specific form of dietary fibre to feed on. Reboost, whose range gives us delicious quick-fix smoothies and a fibre mix, may be just what your probiotics need.