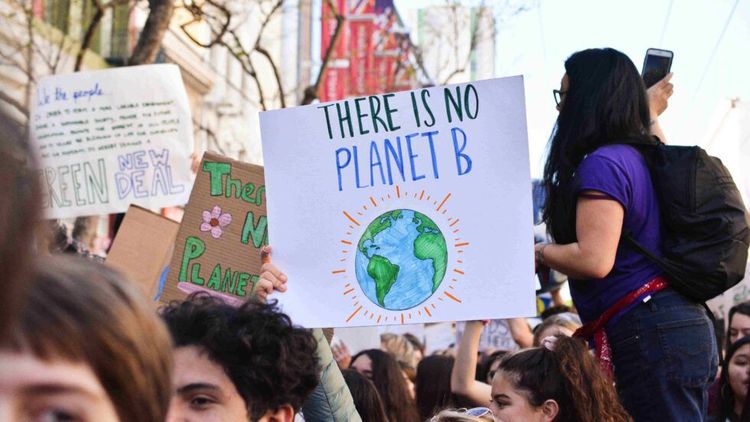 World Environment Day
World Environment Day: 5 ways to cope with eco-anxiety
In 2021, a robust survey found a "dramatic increase in public beliefs and worries about climate change." Google searches for the phrases "climate anxiety," "what can I do about climate change," and "map of sea level rise" have increased 565% to 2,600% over the last year.
This increase in numbers of people suffering from eco-anxiety comes more than a decade after one of the first scientific studies on the psychological impacts of climate change was published and almost two decades since Australian philosopher Glenn A. Albrecht first coined the term solastalgia: the existential distress caused by environmental damage. 
So while everyone from teenagers to working mothers to seasoned psychologists are confronting the painful realities of eco-anxiety and climate grief, what can we actually do to help ourselves find relief? 
Certainly books and resources exist, but the following five suggestions for coping with eco-anxiety and climate grief can be done for cheap or free, on your own terms, and in your own community.
Plant some plants
The healing and restorative powers of plants might sneak up on you. One moment you've clicked on a mesmerizing time lapse video of a passionfruit growing from seed, and the next you're germinating seeds and watching them sprout in a jar of dirt beside your sink. 
Planting seeds in recycled (vegan) yoghurt pots, visiting a botanical garden or nature center, volunteering at a community garden, or even getting your own allotment are all ways to reconnect with the green, living world in a meaningful way. 
In her seminal work Braiding Sweetgrass, Robin Wall Kimmerer says, "In some Native languages the term for plants translates to 'those who take care of us.'" 
Without saying anything, plants can bring us back to ourselves and to the land we love in an immediate way. Learning to care for them and to harvest food from them are practices that affirm our need for peace, presence, and simplicity.
Bathe in the forest
In Japan, "forest bathing," or Shinrin-Yoku, is an ancient healing tradition shown to be beneficial to human health and well being. Translating to "taking in the forest atmosphere", forest bathing is meant to reconnect our minds and bodies to the living world.
Forest bathing is not meant to be purely physical exercise, explains Dr. Qing Li, scientist and author of Forest Bathing: How Trees Can Help You Find Health and Happiness. Instead, "Shirin-Yoku is like a bridge. By opening our senses, it bridges the gap between us and the natural world."
Dr. Li writes, "The key to unlocking the power of the forest is in the five senses. Let nature enter through your ears, eyes, nose, mouth, hands and feet. Listen to the birds singing and the breeze rustling in the leaves. […] Place your hands on the trunk of a tree. […] Now you have connected with nature. You have crossed the bridge to happiness."
Indulge your sweet tooth – seriously
Not only will growing more trees and harvesting fruit from them serve as an essential component of a just transition to a resilient climate future, but sweet, ripe fruit is packed with phytochemicals and micronutrients that offer powerful benefits to the human brain. 
Because fruits are beneficial to consume in "almost any amount"–and because there are only positive outcomes of eating 20-30 fruits and veggies per day–getting them into your gob is literally the sweetest thing you can do for yourself and the planet.
In fact, a meta-study conducted in 2020 confirmed that eating high quantities of fruits and vegetables "may promote higher levels of optimism and self-efficacy, as well as reduce the level of psychological distress, ambiguity, and cancer fatalism, and protect against depressive symptoms."
Raise awareness
There was once a time when youth climate activists sat on the steps of their government offices alone. Sharing their despair and their hopes for the future across social media and traditional news outlets has helped increase awareness and community engagement around the climate crisis.
The message remains: don't suffer in silence. Use your own creativity and self-expression to share why you're concerned and what you hope to do about it. Seek out opportunities to share your preferences for just and equitable solutions. 
Literary journals are increasingly featuring climate and environmental-themed issues; pop culture outlets and magazines need letters to the editor; and student and local newspapers will often solicit essays on any topic from community members.
Chances are, if you're suffering, others are, too. Speaking up and sharing your thoughts could be cathartic for you and validating for others.
Seek and build community
Finding like-minded people to meet, talk with, and even plan events can provide immediate and lasting relief from climate grief. 
"It's important to remember that you're not alone," says Meg Watts, an environmental activist and final year student at the University of East Anglia (UEA). "Science and society can shine a brighter light on the future of our planet and the future of our mental health. If we spend some time resourcing ourselves, taking care of ourselves, then we can turn this climate anxiety into action," Watts explains in a video for UEA's Climate of Change.
UEA's sUStain project, a partnership between the university, mental health charity Mind, and the Climate Psychology Alliance, is currently seeking volunteers "to take an active role in steering the sUStain project." You can learn more by perusing the FAQs and by visiting the Norfolk and Waveney sUStain Project website.
Hundreds of similar community activities and resources exist around the world: "There is," as biologist, author, and campaigner Dr. Amy-Jane Beer explains in an essay for Butterfly Conservation, "if you choose to tap into it, a network of people who will not only help make change, but also help bear us up when we struggle."
A.E. Copenhaver is a writer, editor, science communicator, and climate interpreter who has worked in the environmental and nonprofit sectors for almost a decade. She has ghostwritten book chapters about cities plagued by factory farming, air pollution, and automobile traffic, and she has written about migrating white sharks, threatened sea otters, and depleted Pacific bluefin tuna. Her debut novel, My Days of Dark Green Euphoria (Ashland Creek Press, 2022), received the Siskiyou Prize for New Environmental Literature. Click here to visit her website.