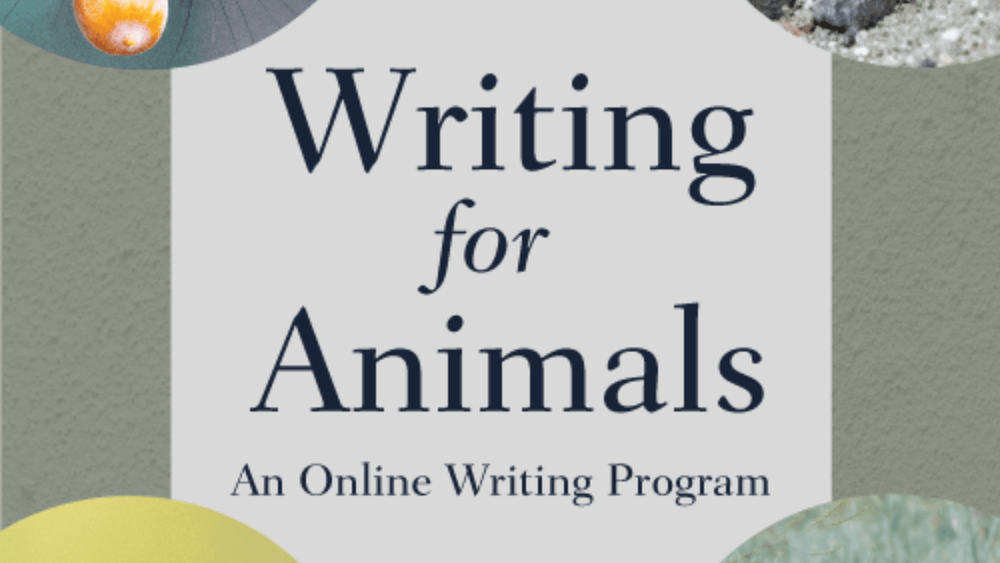 Ashland Creek Press
Writing for Animals: A talk with the writers behind it
Midge Raymond and John Yunker started Ashland Creek Press when they realised there was a gap for vegan and environmental literature. Other than publishing they also have a passion for providing writing programs that encourage change and question preconceived notions, which they kindly shared with us below.
V-Land UK (V-L): What is the Writing for Animals program?
Midge Raymond MR: Writing for Animals is an online writing program designed to help writers become more effective advocates for animals. Originally a four-session live Zoom class, we decided to create an online, self-paced version as well because we had a lot of interest from people who couldn't make it to the live classes. We also had a lot of international students who got up very early or stayed up very late to take the class, so we thought we'd offer an alternative that would allow for more flexibility. 
The online program comprises eight lessons that include a video lecture along with writing prompts and handouts. There are also three bonus "deep dive" sessions that focus on editing, essays, and publishing. All participants receive a copy of Writing for Animals: New perspectives for writers and instructors to educate and inspire, which is the collection of articles and essays about writing for animals that inspired the class itself.
V-L: What will writers learn in the classes?
MR: Whether they're writing fiction, nonfiction, or poetry, writers will learn tips and tools for writing about animals with empathy and compassion, and as individuals rather than props in their writing. We also talk about how animal literature has evolved over the past hundred years, how writers might use animal voices in their stories, and how to open readers' hearts and minds to the difficulties animals face in the twenty-first century - as well as how to navigate the publishing industry as someone who's writing about animals.
V-L: What sorts of reading and writing are part of the course?
MR: Using the book Writing for Animals as a guide, we look at historical and contemporary literature with an eye toward examining how animals are treated in literature, both what works well and how we might do better. We study the writing of myriad authors ranging from Brigid Brophy to J.M. Coetzee to Olga Tokarczuk to Stephen King. 
Writers also get short reading and writing assignments in each class to help them put what they learn into practice in their own work. We offer a lot of writing prompts designed to jump-start new writing, or to find new perspectives on what writers may already be working on. The program is designed for all writers, whether you're just starting out or whether you have a project in progress.
V-L: What happens after writers complete the W4A program?
MR: We have a certificate for those who complete the online program, but best of all, everyone who finishes Writing for Animals becomes part of our W4A alumni community. This means book discounts as well as special readings, workshops, and other events for alumni. And we also celebrate the successes of all of our students. It's not easy to be a writer, and it can be especially difficult when you're writing about issues that most people don't want to be aware of. So we view the class as equal parts education and inspiration - for us as well as the students.
V-L: Are there any other courses that Ashland Creek Press offers?
MR: We are thrilled to announce a new class that complements Writing for Animals - it's called Writing Like an Animal: A Persona Poem Class. Taught by poet and educator Gretchen Primack, this is a two-part program about writing poems in the voice of another, focusing on animals' agency and selfhood. It's for poets and prose writers of all levels, and during the two classes participants will read persona poems and write their own. 
V-L: Where can readers and writers learn more and register for these classes?
MR: On our website you'll find information and registration links for both classes. Both Writing for Animals and Write Like an Animal have introductory videos on their respective web pages above where you can hear a little from the instructors and get a feel for the video format.