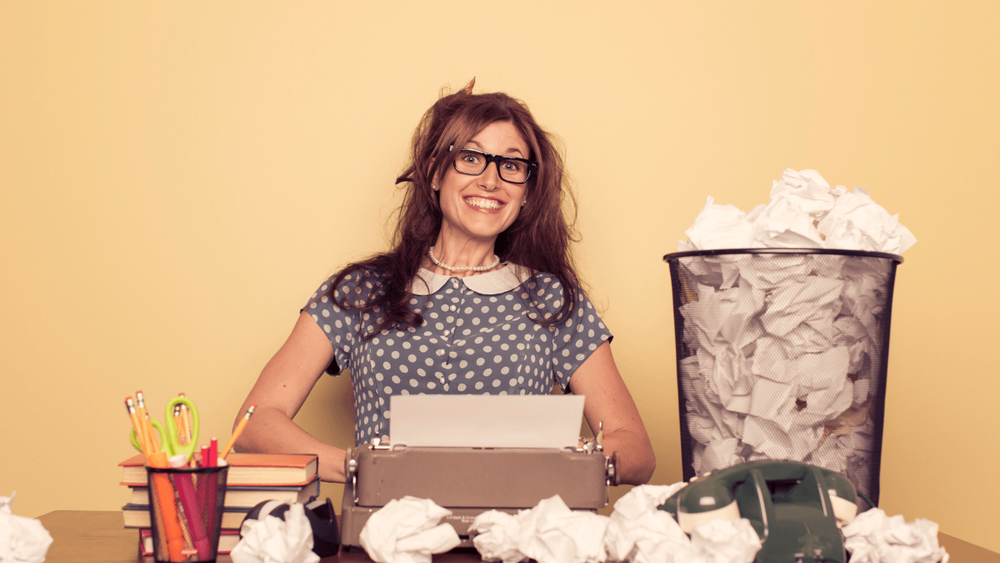 RichVintage/Getty Images Signature
5 top tips for self-publishing a vegan book
Whether you have an idea brewing for a vegan cookbook, business marketing guide or lifestyle/coffee table book, I'm sharing my best tips on getting your creation into the world via self-publishing based upon my personal experience of launching The Plant-Based Crohn's and Colitis Cookbook.
The benefits of self-publishing 
While it might feel wonderful to feel validated with an offer from a traditional publishing house, self-publishing is a great leveller when it comes to democratising a closed-door world. There are no gatekeepers standing in the way of you and your idea, especially if you feel called to share with the ethical, sustainable and vegan community. Furthermore, when you self-publish a book, you retain a higher level of control over things like the book design, content, imagery and even the size of the book. 
Volume printing versus print on demand
When it comes to self-publishing, there are two options: volume printing versus print on demand. Both have their advantages and disadvantages, so see what is best for your unique work, life and business situation. 
Volume printing: You send your manuscript to a print house where they print a certain number of copies and send them directly to you. It's your responsibility to sell, pack and ship the copies to your customers. 
Advantages: 
• Greater control over the quality of the final product
• More control over pricing the product
Disadvantages: 
• Cumbersome to store
• Responsible for packing and shipping orders
• Greater upfront cost
Print on demand: You upload a manuscript to a print-on-demand service like Amazon or Ingram Spark, and the book will be printed only when a customer purchases a copy. 
Advantages: 
• No need to store product in your own home
• Fewer upfront costs
• No responsibility to ship orders out 
Disadvantages: 
• Less control over the quality of the final product
• Less control over the price of the book 
Identifying your niche
Before you put pen to paper, it's important to identify your niche. Take a beat to consider the ideas and topics that light you up the most; it's important to pick a book topic that will sustain your interest for the course of creating it, and that you can see there is demand for. 
Writers tend to worry that if there's already a book written on the topic they want to write about, there's no space for the idea. I would argue that if there are already a few books written about the subject, then there's a proven market for it. Everyone has a unique voice and a unique way of looking at a subject. Let that be an encouragement rather than a deterrent. 
Look back at blog posts from your site that have been most successful, the social media posts that have sparked the most conversation, and head to local bookshops to browse what else is out there in the niche. All these observations will help you to create a book that is uniquely yours. 
Creating the content
Once you have identified your topic, start by creating a skeleton outline of your book - a topline view of all the sections you want to include. Then, work out what's needed for each chapter in terms of copy, design elements and photography. 
At this point, you might have a good idea of what will need to be outsourced, and what could be completed by you. Plan enough time within your timeframe and budget to brief in the elements that will need to be completed by a third party. Elements that might need outsourcing include: editing, design and photography.
Keep yourself on track with your book creation process by referring back to your timeline and adjust as needed. You can use tools such as Asana, AirTable or iCal to keep you on track. 
Marketing
Now you've written the book and it's due to land on your doorstep any day! It's a relief that the book is done, but your efforts aren't over. Unless you already have a large, existing audience for your book, you need to market it in order to get it to the people who need to see your work. 
If you can, start your marketing plan as early on in the process as possible. Remember that some podcasts and print magazines have a long lead time - perhaps 6 months ahead of schedule. Pitching your book over and over again is a tiring process, but one that is really important to its reception and success. Consider radio interviews, TV appearances, collaborations with other industry experts, gifting to influencers in your niche, Instagram Lives and pitching to online magazines. 
Remember that your book is evergreen, so you can continue pitching for articles and speak on topics relevant to your book long after its launch to maximise its impact. 
If you'd like to learn more about some other inspirational vegan authors check out our interviews with Ray Star and A.E. Copenhaver.