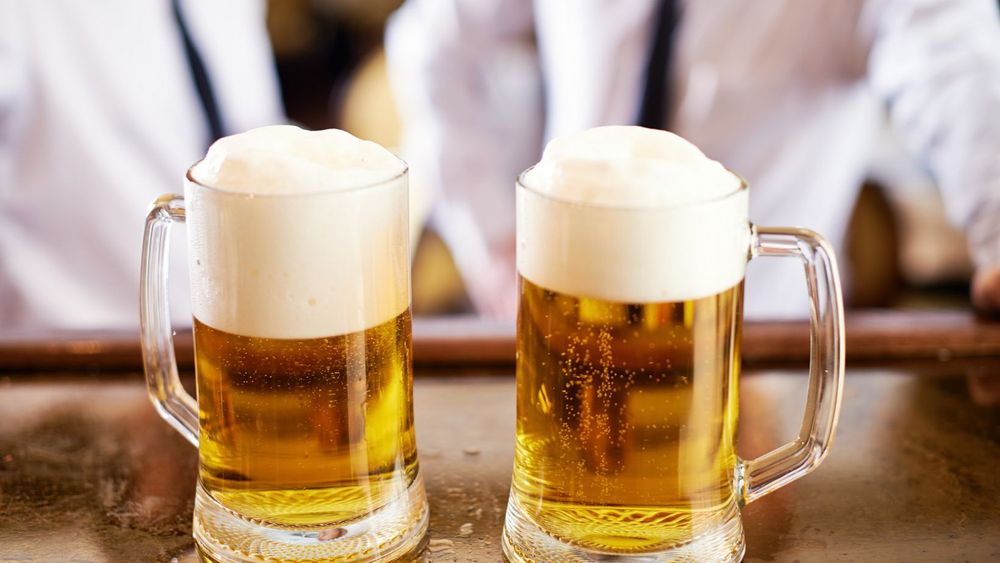 Mediaphotos/Getty Images Signature via Canva Pro
6 top-notch vegan lagers you may not have tried
As the weather grows colder, nights in with friends and family are ever more appealing, but that's not to say we can't enjoy a cheeky beverage from the comfort of our homes, and for the beer lovers amongst us, it's good to know that vegan lager is surprisingly common. Animal products like isinglass and gelatine used in the brewing process are pretty old-school now. 
So, rather than give a tidy list of solely big name lagers that just so happen to be vegan, we thought we'd do something special for you by highlighting six of the best vegan lagers that you may not have come across. 
It's time to pour your favourite bevvy and join us on a journey of pure lager exploration. Cheers!
Wrexham Lager Export
Wrexham lager puts the Welsh spin on the world's favourite beer recipe - the Pilsner. And if you've never heard of Pilsner before, they're what dominate UK supermarket beer shelves. Think of the likes of Budweiser, Stella Artois and Heineken. 
Now back to Wrexham Lager. Brewed to the original 1882 recipe, this vegan beer is essentially a 19th century German beer brewed with Welsh water. It's easy to drink and light on the palate - everything you could want from a session-able beer and more. Expect a smooth malty flavour, followed by a crisp finish. It's not just us that love Wrexham Lager. In fact, they have the awards to back up everything we're saying. Winning gold at the European Beer Challenge 2020, this brew was crowned a champion. 
To try or not to try Wrexham is up to you. But to those who do, iechyd da!
Alcohol content
5% ABV
Vegan statement from Barnivore
"Wrexham Lager is brewed from malted barley, hops and water. It does not contain any animal products, and we do not use isinglass finings for beer clarification." 
Duvel
There's something special about Duvel. This Belgian strong blond lager has so much to offer, it's like reading a good book. While we probably wouldn't recommend Duvel for parties and nights out, it makes a great accompaniment to good food and conversation. 
Duvel's smooth texture and exciting flavour make this lager something worth coming back to. Expect notes of citrus and candied fruit with a bit more bitterness than your average brew. While Duvel might not be the one for your average UK lager fan, its full flavour and intense sensations mean that for the beer aficionados among us, this one isn't to be missed. Brewed to the original 1871 recipe, it's clear why Duvel hasn't changed in well over a century. Simply put, it's perfect. 
Watch out with this lager. While the bottle may seem small, the alcohol content isn't shy. Just one 330ml bottle has the same amount of alcohol as a whole pint of Beck's (2.8). Don't say we didn't warn you!
Alcohol content
8.5% ABV
Vegan Statement from Barnivore
"The entire assortment of Duvel Moortgat, Achouffe, Liefmans, Maredsous and De Koninck beers are brewed without the use of products derived from animals (meat, poultry, fish, crustaceans, insects) and as such are suitable for vegetarians and even vegans."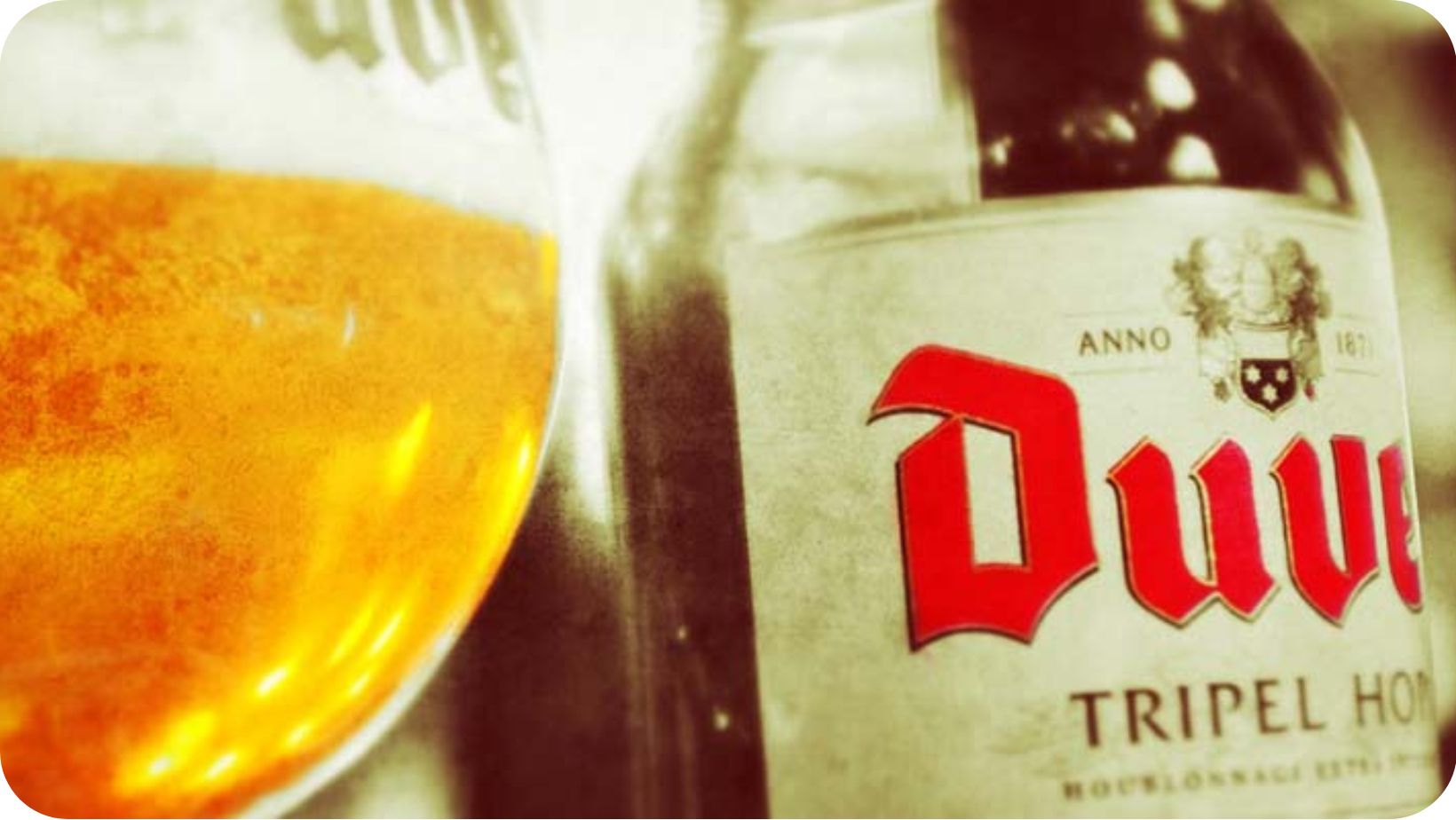 Staropramen 
When it comes to Staropramen, we might be a little biased. This is our favourite beer, after all! As the original Pilsner beer, Staropramen is essentially the Great Grandaddy of many modern lagers we know and love today. 
Taking that first sip of Staropramen, it's perfectly clear why the Pilsner caught on. This Czech lager is light and refreshing, with subtle hints of citrus. Think of a Peroni, but with a fuller flavour. If there's one thing to say about Staropramen, it's that it certainly hits the spot. Perfect for a sunny day or your personal life raft when any heat waves hit. You should definitely consider popping this extremely drinkable lager in your basket for any upcoming sessions. Also pairs well with food, nights out and great company. 
Alcohol content
5% ABV
Vegan Statement from Barnivore
"All Staropramen products with the exception of Cool Grep have vegan/vegetarian status." 
Budweiser Budvar
Budweiser, like you've never had it before. But don't be fooled. This is not the same American Budweiser that you're used to. Because Budweiser Budvar is Czech.
If you're a bit confused, let us explain. Budweiser in German means "beer from Budweis". When the founders of Budweiser USA visited the Budweis, they became inspired by its beer and brewing processes so they decided to name their American beer after the city. They even tried to mimic Budweis' famous beers in their recipe. But there was a problem. A brewery in the Czech republic had already been brewing a beer brandishing the Budweiser name since 1795. But since Budweiser USA bought the trademark first, Budweiser Czech Republic was forced to concede, hence the name Budweiser Budvar.
Right, onto the beer! Pour it into a glass, and the first thing you'll notice is it's crystal clear with a lovely caramel colour. Take a sip, and you'll see that it tastes nothing like its American counterpart.
Subtly bitter at first with a quick, crisp finish. Expect notes of caramel, malt and citrus. All in all, a nicely balanced lager with a superior taste and feel to many of the mass-produced beers out there. We'd take a Budweiser Budvar over a Budweiser any day. But we'll leave the opinions up to you.
Best served ice cold! 
Alcohol content
5% ABV
Vegan Statement from Barnivore
"Budweiser Budvar is brewed in Budweis city (České budějovice) only. We don't use any animal ingredients and brew style is suitable for vegans."
Franziskaner - Weissbier
Coming straight from the beer capital of the world, Munich, this weissbier's recipe has remained unchanged since 1363. Now isn't it comforting to know that even throughout all that medieval drudgery, people still had great beer to drink?
In the glass, Franziskaner looks and smells like a work of art. Golden, yet slightly hazy with subtle scents of dark fruits and winter spice. But it's when this lager hits your tongue that the magic truly starts to happen. Indulge yourself with this premium lager's creamy mouthfeel, smooth and delicious to the very last drop. Expect notes of dark fruit and orange peel with very little bitterness. Where this lager might surprise you is its herbal notes. Coriander and clove, to be precise, leaving you with a delicate aftertaste to enjoy. All in all an exceptionally drinkable lager.
Obviously, if you hate the taste of coriander, this one probably isn't for you. However, to many lager lovers around the world, Franziskaner Weissbier is nothing short of excellent! 
Alcohol content
5% ABV
Vegan Statement from German Way
Franziskaner Weissbier is brewed to the Reinheitsgebot, making it an entirely vegan product. To clarify, the Reinheitsgebot is a German brewing law, also known as the German Purity Law. It includes strict and clear guidelines on what can and can't be used in the production of beer. Animal products are never permitted. 
Asahi Super Dry
Our first and only entry from Asia, Asahi Super Dry, is Japan's number one beer. Brewed under the supervision of Japanese master brewers, Asahi is as premium as it gets. A lovely clear golden colour in the glass, you won't find many lagers crisper than this! Its silky smooth texture, subtle hints of citrus and all-round refreshing qualities are sure to keep you coming back for more.
Presenting a great middle of the road lager for your average drinker. With no overbearing tastes, Asahi Super Dry goes down well with most crowds. Perfect for a hot summer's day or just about any event where drinking's involved. 
Alcohol content
5.2% ABV
Vegan Statement from Barnivore
"All of our beers are free from animal-based ingredients and none are used to filter our beers. This means vegans and vegetarians can all enjoy our beers." 
Last Orders!
And there we have it, folks. It's closing time. If you've been drinking along with us, please pour yourself a tall glass of water and go to bed. Tomorrow might be a rough one. 
While you probably already knew of a few vegan lagers out there, we hope you managed to find something new. Who knows? One of these beauties could become your favourite for years to come. 
Before we leave, let us give you a parting gift. If you ever want to know if a brand of alcohol is vegan or not, head on over to Barnivore as animal products won't always appear on alcohol ingredient lists, so it's better to be safe than sorry. 
Looking for something alcohol-free to enjoy, check out the best kombucha drinks to buy.
*Always drink responsibly.