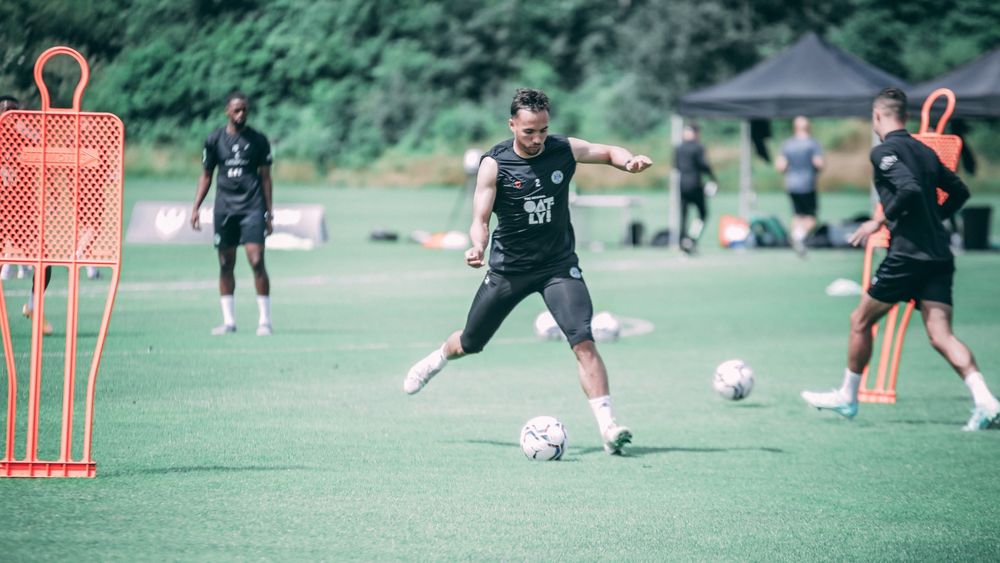 Forest Green Rovers
Being vegan is a real high! Exclusive interview with Kane Wilson
Forest Green Rovers is best known around the world as the first fully vegan English football club. This newly promoted League One side also boasts being the world's first carbon neutral football club too. Whilst at the club, all players and staff benefit from enjoying a balanced vegan diet, and for some past and present players; this lifestyle has been adopted into their personal lives too. 
V-Land UK sat down with Forest Green Rovers right-back Kane Wilson, the League Two Player of the Season. The twenty-two year old has made appearances for West Brom and England Junior teams and his vegan journey started before his career at Forest Green Rovers. Kane was also recently crowned Player's Player and Young Player of the Season, as Forest Green Rovers celebrated personal achievements following the final home match of the campaign.
V-Land UK (V-L): Congratulations on the Player of the Season Award. What an achievement! What was it like going out on the stage to receive it?
Kane Wilson (KW): Thanks, it was surreal! I thought Matty (Matty Stevens) was going to win the Player of the Season award. In my opinion, it could have been eight or nine of us from the team that could have won. Both Matty and Cadds (Nicky Cadden) have had incredible seasons too. But, it was me and I was fully grateful for it. The award will be on my fireplace for a long time as it's something I am going to be really proud of. I hope my son will be proud of me when he grows up and sees it. I thank the fans, I thank everyone that is involved at Forest Green because without them I wouldn't have got my hands on the award. 
V-L: What were the celebrations after winning the award like?
KW: It was a euphoria that I probably haven't experienced before which I'm going to chase and keep trying to experience because it is something that will stick with me for the rest of my life. It was a weekend to remember, I'll tell you that!
V-L: So Kane, how long have you been vegan?
KW: I have been vegan for just over two years. I went vegan on my own, then I joined Forest Green a couple of months after.
V-L: What made you make the change?
KW: I would be lying if I said originally I made the change for environmental reasons or anything like that. I had been suffering from an injury called tendonitis (inflammation of the tendon, a thick tissue that connects muscles to bones) in my knee. It was an injury that was painful, it was inconsistent and it was costing me games in my career. I started researching ways to make it better. I had seen some Netflix documentaries, like Game Changers and What the Health, and in one of them, there was an athlete who was a similar build to me who suffered from tendonitis his whole career. He went vegan and it nullified it. The vegan diet had helped reduce inflammation; the science behind it was really interesting. From that point I decided I needed to do it, to get rid of this injury.
V-L: What kind of impact did the transition have on your injury?
KW: Since that point, I haven't suffered with tendonitis since or missed any games that have been in my control. This is the only change I have had to make, and credit to this new lifestyle; everything has settled down.
V-L: Tendonitis aside, do you think being vegan has influenced you on the field in other ways?
KW: One hundred per cent, coming off the pitch, it helps me recover quicker, which means I can play more too.
V-L: Has your journey inspired anyone around you to make the change?
KW: My partner has gone a lot more plant-based, purely because we eat meals together. She hasn't gone fully vegan yet, but maybe one day. Some of my family have tried and some have made changes but not fully there yet either.
V-L: For many vegans, criticism for going vegan can become a regular occurrence. In the competitive sporting world, have you experienced criticism for choosing to live a vegan lifestyle?
KW: Sometimes being vegan is an easy joke to some, there is a lot of banter amongst male friends, but overall I haven't really experienced many negative views. Being vegan is a lifestyle choice and no one should judge anyone else's lifestyle.
V-L: That's encouraging to hear! Is there anything you'd like to say to any sport and fitness readers that are on the fence about making the change?
KW: I would say it's how you feel after doing it, physically and mentally, it is how I view consuming meat, what I take into my body and of course, things like recovery time. The reason I stick to being vegan is the extra energy I get, it's almost euphoric. It is like a drug, being vegan is a legal high!
We couldn't agree more - thanks for chatting with us Kane and best of luck with the rest of the season, we're rooting for you! When it comes to sports performance and recovery, plant power is the pioneering way forward. If you're concerned about protein intake why not try Roots 'n Shoots vegan protein powder, still not convinced? Check out these five world-class Olympians you didn't know were vegan or vegan MMA fighters who still kick ass.