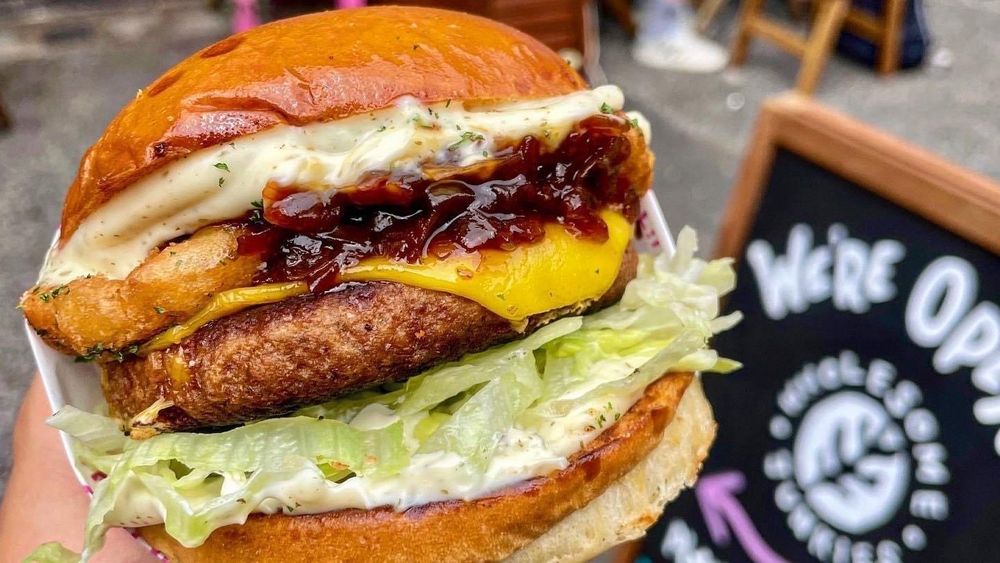 Wholesome Junkies
Best way to spend 72 hours as a vegan in Manchester
Pack your umbrella and get ready for a trip to the rainy city! V-Land UK are spending 72 hours in Manchester and we're taking you along with us. We hope this handy little vegan travel guide can provide you with lots of inspiration for things to do when you visit the capital of the North. 
Where to stay
Manchester has plenty of options when it comes to vegan-friendly hotel stays to suit all budgets. Premier Inn's famous all you can eat breakfast now has vegan options, including Garden Gourmet Cumberland sausages with their traditional hash browns, beans, cooked grilled tomatoes and mushrooms. Copthorne Hotel in Salford Quays serves vegan options in their restaurant, including a sandwich, pasta dishes, a burger and dessert. The Midland Hotel, located near Manchester Art Gallery and a short walk to the Arndale Shopping Centre offers a vegan afternoon tea starting at £30 per person.
Breakfast options
If your hotel doesn't have the breakfast options you'd like, don't skip the most important meal of the day! You'll notice it's very easy to find vegan food in Manchester. Make your first morning truly memorable by visiting HAMPTON & VOÚIS for a stack of their vegan pancakes. Choose from Jammie Dodger, Lotus Biscuit, Biscoff and Bueno or Vegan Nutella and Bourbon Biscuit stacks. If sweet treats in the morning aren't for you they also make delicious avocado toast, housemade beans on toast or peanut butter, banana, apple and cinnamon porridge. If you fancy a fry-up, head to the Northern Quarter and visit Koffee Pot for a hearty breakfast including tofu scramble and GoodLife vegan sausages with all the trimmings!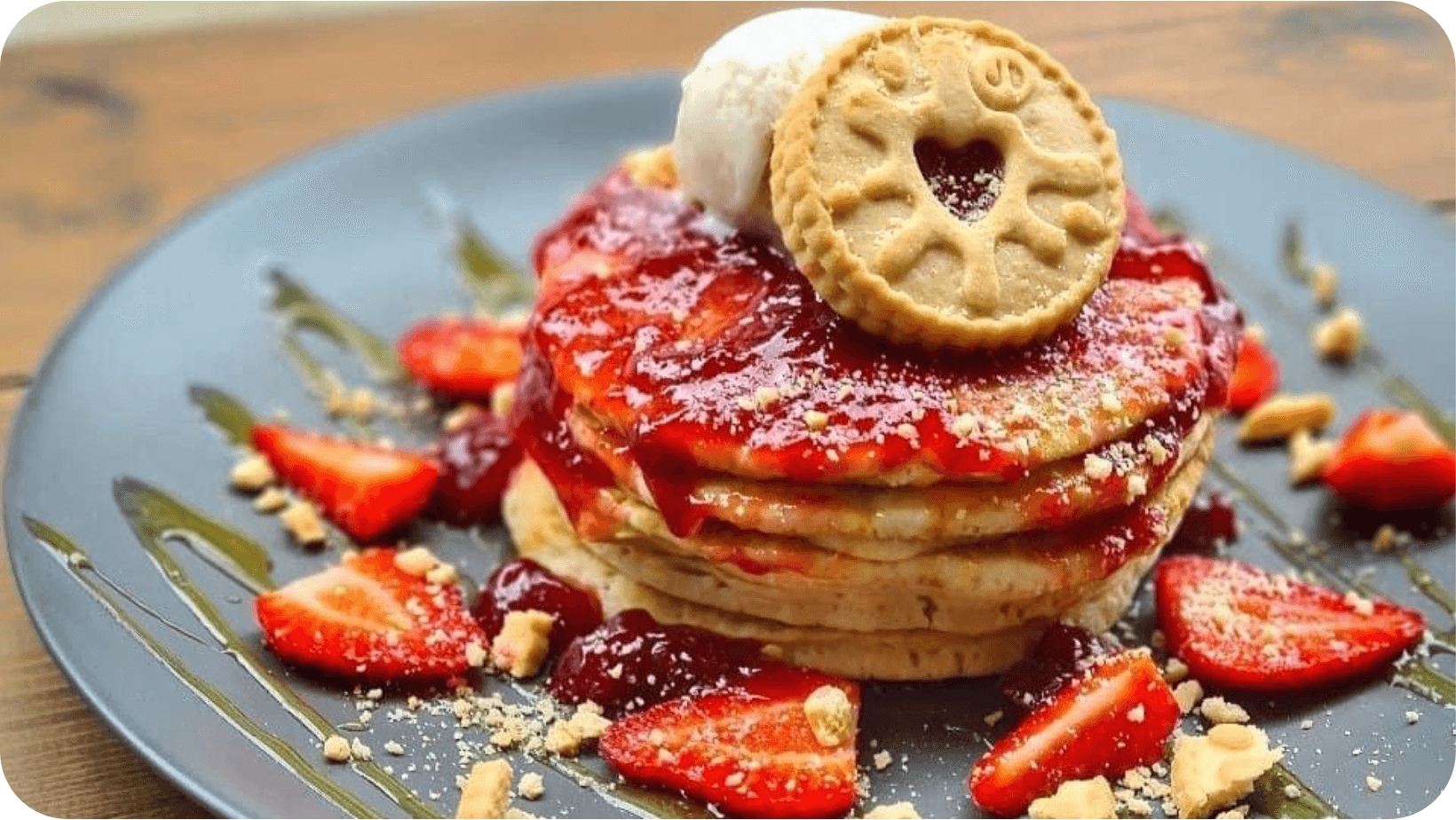 Day one
On day one it's easy to find something to do in Manchester. We previously mentioned Manchester Art Gallery, which serves vegan food in their Café. Manchester is also home to the Museum of Science and Industry where you can browse exhibits and experiment in their interactive gallery. For shopping, visit Afflecks in the Northern Quarter to find vintage clothing and slow fashion, vegan cosmetics from Soapy J and more.
Day two
On day two if you're feeling adventurous, on a tram ride from Manchester to Didsbury, you will find Fletcher Moss Park & Parsonage Gardens. The park is named after Alderman Fletcher Moss, who donated the park to the city of Manchester in 1915. Enjoy nature in all its splendour with free entry, and the Didsbury pub nearby has a large amount of vegan options on their menu, a thoughtfully selected variety including soup, curry, mushroom and ale pie, salad and a burger. 
Manchester's Metrolink is easy to navigate and was named one of the best tram networks in the world in 2019. Perfect for vegan travel on your quest to find more restaurants outside of the city. Do your research; there are many!
Day three
On day three, if you're not too full after breakfast, we'd suggest checking out Grub a 15-20 minute walk from the city centre and not far from the Arena: a street food venue which holds Plant Powered Sundays each week with all-vegan food vendors (which is exactly how we discovered some of the best vegan food in Manchester!).
If you're staying in Manchester city centre, particularly if you're going to a gig at Manchester Arena, visiting Wholesome Junkies, located near Victoria Station is a must! Deep fried chick'n wings, messy burgers, loaded fries and a range of desserts including the best vegan cakes in the biz from Teatime Collective, you can catch them at the Northern Quarter Makers Market on the second Sunday of each month for vegan cakes, doughnuts, brownies and more. The Makers Market usually has a couple of vegan food options and often has sustainable arts, crafts and vintage clothing.
Getting your Purezza fix in the Northern Quarter or heading to The Vurger Co. are more delicious evening meal options. If you're looking for something a little more up-market, The Allotment Vegan Eatery offers vegan tasting menus, small and large plates with cocktails, a vegan drinks menu, and a wine list.
What to do at night
Manchester's nightlife is vibrant and there truly is something for everyone. Whether you decide to visit one of the city's theatres, take in some live music at a music venue large or small or head to a bar or club you'll never be without a place to go! We find most bars in the city are helpful when asked for help selecting vegan drinks and many bars have vegan small plates and bar snacks. We would recommend checking out what's on at Matt & Phreds jazz club in the Northern Quarter, at happy hour if you buy two selected drinks (see the menu on their website) you get a free pizza which they can make vegan for you. Dirty Martini on Deansgate also have a great selection of vegan cocktails and snacks. 
Have we missed your favourite Manchester hangout? Comment on Instagram and tell us where to go next time!
If you enjoyed our vegan travel guide to exploring Manchester, we think you'll love checking out Edinburgh and Glasgow's best vegan food and animal tourism: how to practice it ethically.