Holly Farndell
Edinburgh and Glasgow's best vegan food
On a recent trip to Scotland – we were warmly welcomed by not only the beautiful Scottish landscape and friendly locals, but also the range of vegan food just on our doorstep. We began our trip in Edinburgh spending time with family, which meant finding places that catered well for vegans, non-vegans and kids. Some of our favourite Edinborough vegan discoveries were…
Naked Bakery
Naked Bakery is a vegan gem tucked away in the beautiful cobbled streets, just under a ten-minute walk from the hustle and bustle of Princes Street. Stepping into the cafe, you're greeted by neon lights, flower walls and vibrantly intricate vegan cupcakes that you'll want to post all over Instagram immediately.
There are tonnes of sweet and savoury options, from waffles to burgers to cakes and smoothie bowls – you'll be spoilt for choice. Since Naked Bakery specialises in incredibly arty cakes, it felt rude not to try one. Between us, we ordered the white chocolate blondie cake, carrot cake, 'chicken' & 'bacon' waffles and a 'cheese' toastie. The vibrant pink waffles were a feast for the eyes and included some cult favourite meat-free alternatives from This. But the cakes really were the star of the show, extremely generous portions, super moist and a real variety of unique flavours to choose from - they're truly some of the best vegan cakes we've tried. This place is certainly a must for Edinburgh vegans, we can't wait for our next visit to try even more from their menu.
The Dome
If you're after a spot of fine dining or have a special occasion to celebrate, then The Dome is the place to go for some out of this world Edinborough vegan food. We dined in the Grill room, which is so incredibly ornate and grand, you'll feel like a princess. They cater for a range of diets including gluten-free, dairy-free and kids, and whilst their vegan options are limited, they certainly don't scrimp on flavour or experience. 
For starters, we enjoyed the spiced sweet potato cakes, served with cucumber salsa and a chilli and mango dressing, which was sweet and perfectly zingy. As for the main, they served a seared cauliflower steak with curried chickpea stew, topped with pickled red onions. You really can't go wrong with a vegan curry, and everything here tasted so fresh and flavoursome, each bite was a culinary experience. And finally, the dessert, a warm chocolate brownie served with coconut ice cream and caramelised mango, and some salted caramel ice cream – delicious! 
A lot of vegan options in non-vegan restaurants tend to resort to a vegan burger or similar, so dining at The Dome felt like a real treat, tucking into a carefully considered meal that highlights the diversity of the humble vegetable. It may not be an everyday go-to, but it's certainly up there as one of our favourite fancy vegan dinners.
Dishoom
With every location you visit, Dishoom is always a unique experience but still offers that homely, hearty vibe, and the vegan options are truly incredible. So we were excited to share the experience with our family at Dishoom's Edinburgh location.
First up, we ordered the okra fries, which are always a must-have at Dishoom. We also tried the slightly charred gunpowder potatoes, which paired perfectly together with the chole chawal. This chickpea dish was super rich and spicy, certainly not for the faint hearted. This was served with a side of rice and sweet halwa, which was an entirely new flavour for us and really helped balance the spice: it reminded us of the filling of a peshwari naan – so yummy! Overall, Dishoom is a great option for dining with larger groups, as you can order a bunch of small plates to share around and try something new every time. 
Next up, we headed to Glasgow to spend some time with friends. With Glasgow in particular being renowned for its vegan community and eateries, we were really excited to try a couple of their most recommended places…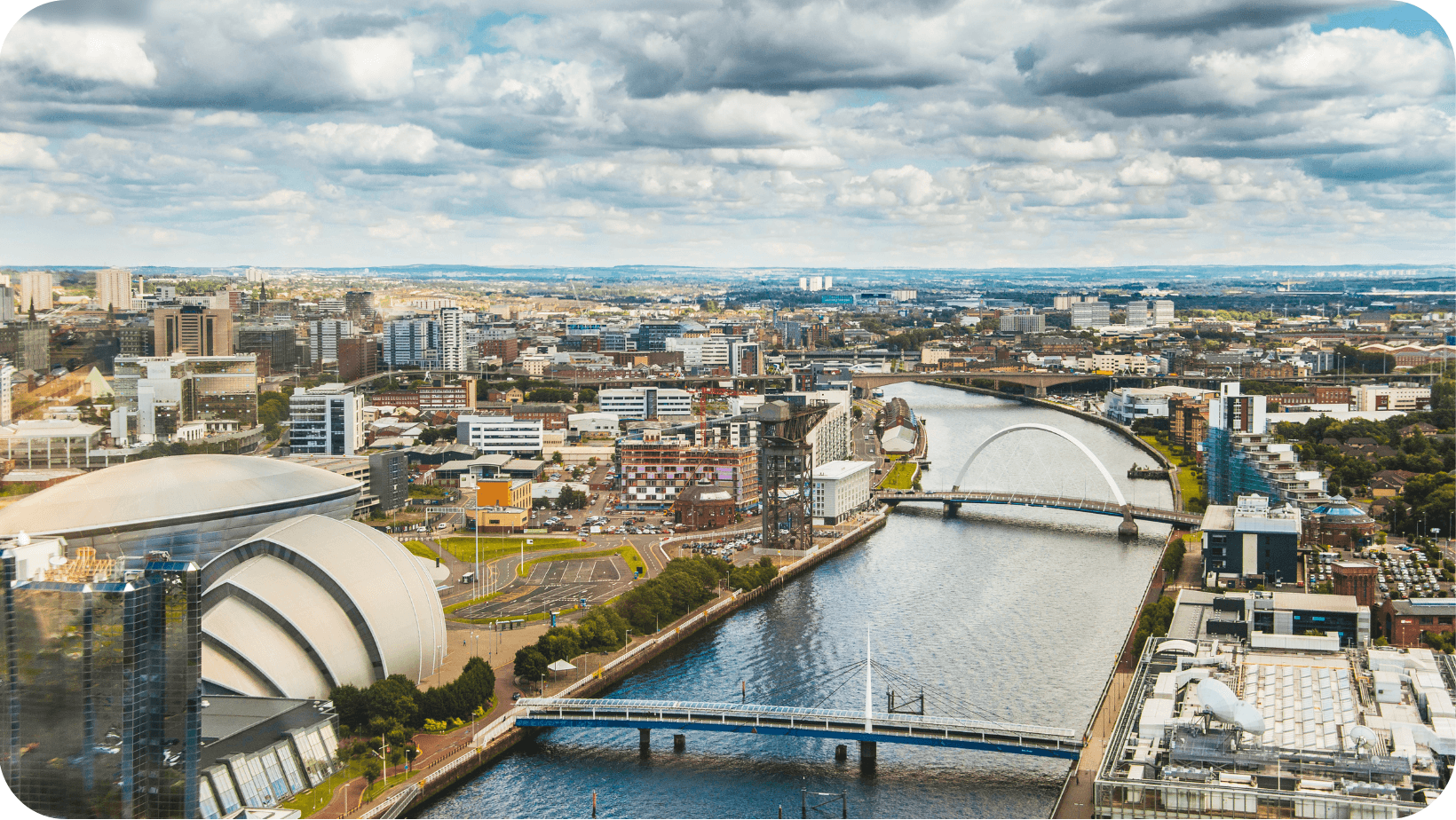 Mario Guti/Getty Images via Canva Pro
Puti Vegan Cafe
Puti Vegan Cafe was top of the list of vegan places in Glasgow, and for good reason. They offer a range of Pan-Asian dishes created with mock meats and tofu, and honestly, this has to be some of the best vegan food we've had. 
We ordered the salt & pepper chips, mixed veg with sweet & sour sauce, vegan chicken satay on skewers and bibimbap with vegan beef, all of which were incredibly flavoursome. The portion sizes were so generous, and could even be shared between a few people if you wanted to try more from the menu. What really stood out to us was the meat-free alternatives they offered with their dishes, the 'chicken' satay skewers were so crispy and realistic in texture, and the bibimbap 'beef' dish was so tasty offering something really different from our usual mock meat 'go-to's'. Everything was just as you'd hope from your favourite Pan-Asian dishes, without leaving that heavy feeling.
The location was just a fifteen minute walk from the city centre, and the staff were incredibly friendly. Our Glaswegian friends (who have a typically veggie/meat-eating diet) couldn't wait to go back and share it with more of their friends – we wish they had a restaurant in England.
We finished the night off at Abandon Ship Bar, which we also recommend for delicious cocktails, great vibes and really cool interiors.
The Glasvegan
Another top recommendation for Glasgow vegan food is aptly named, The Glasvegan. We were so excited to try this place after seeing their range of vegan pancakes on Instagram. 
We ordered the death by chocolate pancakes which were irresistibly sweet. They were American-style, fluffy, filling pancakes, covered in a sweet chocolate drizzle and whipped cream: the clue is in the name, we have such a sweet tooth but this did, actually, nearly kill us off. As much as we loved these we would probably go for something savoury and a milkshake next time. We also tried the breakfast roll with square sausage and a potato scone – so quintessentially Scottish and a really satisfying brekkie. They offer a great range of breakfast and lunch options – including a gluten-free menu – as well as a milkshake or smoothie to suit any mood. We can't wait to visit again and try some of their ice cream milkshakes, which sound to die for.
Ramen Dayo!
With our friend's recommendation, we headed to Glasgow's west end to check out the museums, more Glasgow vegan food and Ramen Dayo! The perfect place to duck into on a rainy day if you're after a bowl of rich, heartwarming ramen. Although very unassuming from the outside, stepping into Ramen Dayo! feels like stepping straight into a traditional Japanese eatery. It's an intimate, incredibly atmospheric place decked out with the most beautiful Japanese decor and memorabilia. 
We ordered the steamed vegetable gyoza dumplings to start, which were so tasty and moist, along with the togarashi fries. For mains, we had the tantanmen ramen with textured vegetable protein and the shiitake and porcini ramen. The tantanmen was especially creamy with a slight kick, and the vegetable protein was so meat-like that it even comes with a warning on the menu. The shiitake ramen was bursting with delicious umami flavours and a plethora of textures from the assortment of mushrooms. And if ramen isn't your thing, they have lots of other options for both vegans and non-vegans, from katsu curry to donburi dishes, so it's the perfect place to visit with friends. Just make sure to book ahead, this place is incredibly popular! 
We absolutely loved our visit to Scotland and discovering some of the best vegan food there is to try. At V-Land, we love to travel and share our UK vegan discoveries with you along the way - check out Brighton businesses supporting the vegan community and top places to eat in Camden if you're visiting London.