Lynchpin Holywood
Craving a tasty vegan brunch near Belfast? Visit Lynchpin Holywood
If you drive 5 miles north-east of Belfast, you can find the intriguing town of Holywood, which lies on the shore of Belfast Lough. It is a moderately sized town with bags of character bursting with bars, restaurants, and cafés. On the main street, a not-so-hidden gem stands - Lynchpin, which is popular with the locals but also draws in vegans from further afield in search of top-quality vegan brunch in Northern Ireland. 
The owner, Joe, has hospitality in his genetic makeup. The location is where the former Lynch's Bar - a part of the old Belfast Hotel once was, which was a run by his grandmother Mo and the once smoking room of the bar is now a bright and airy modern café.
The venture started in late 2021, and while the venue did boast a large selection for vegans, it was only for Veganuary 2022 that Joe and vegan head chef Ethan took the plunge to make the entire Lynchpin Holywood menu plant-based! This was only expected to be for the month, but based on its success and the joy they felt from creatively designing dishes, they haven't looked back. They also pride themselves on waste reduction, freshly preparing only what they intend to use each day. This means a more sustainable and ethical business practice and higher quality food which isn't batch made. 
The mark of an outstanding brunch spot for us is good coffee. We had an oat flat white that had just the right amount of kick but seemed to be a light refreshing roast. We also sampled one of their delicious smoothies, a fruity mixed berry. They also offer the addition of vegan protein powder if you wish - great for the health-conscious among us.                                                 
                                                                                                                                                Let's get to the main event - Lynchpin Hollywood's food. Prior to our visit, everyone said the same thing, "You have to get the hash." Well, we did, in its newest iteration - The Grand Hash with all the trimmings, and it did not disappoint. The clearest way we can describe it is an elegant take on a local delicacy, the famous Ulster Fry, with a twist.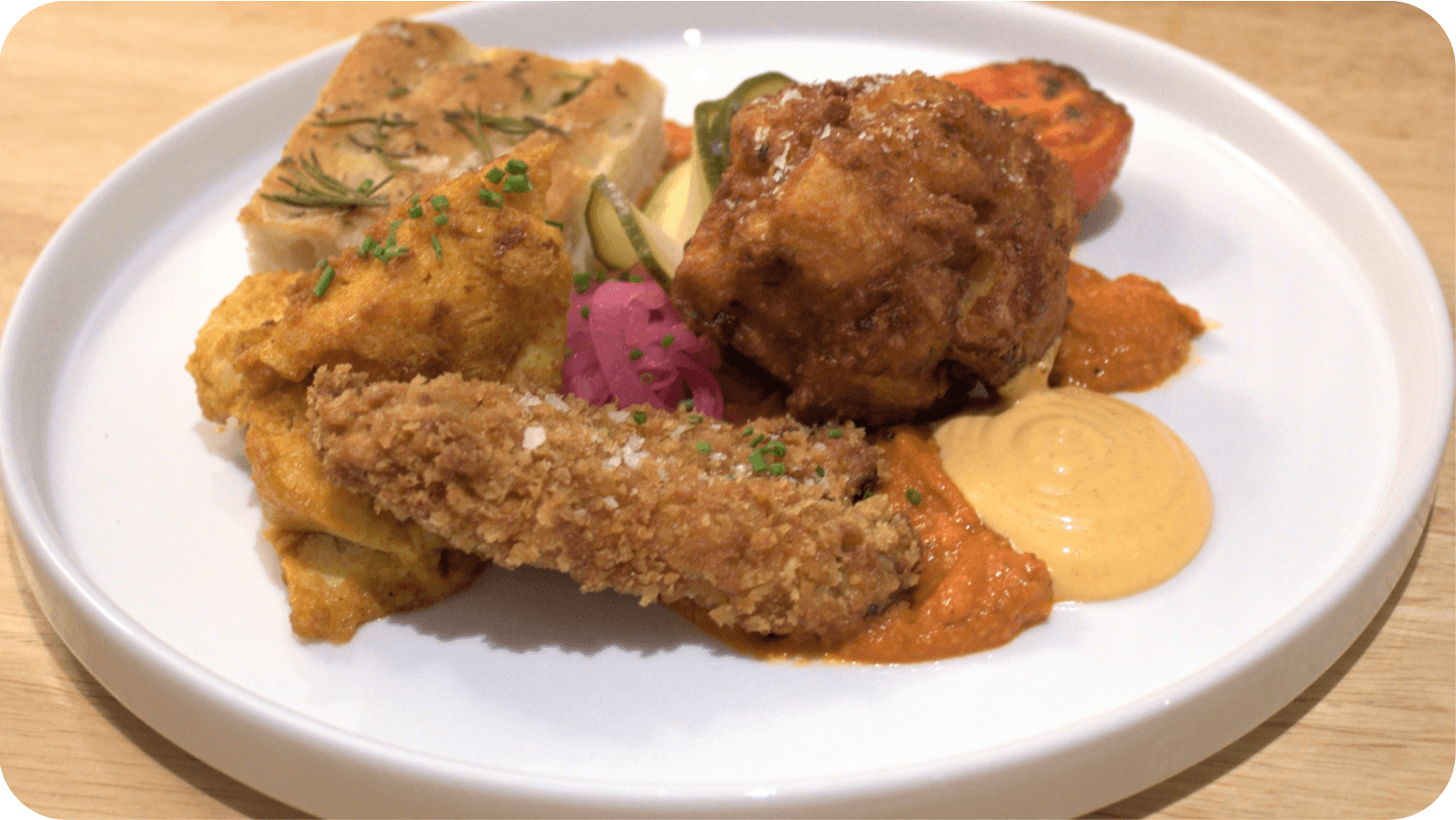 Sarah Sonner
The house hash - Ethan's well-kept secret recipe - is feel-good, comfort food at its best. Potatoes combined and cooked carefully to that perfect ratio of soft and fluffy on the inside and crispy on the outside. The scrambled tofu is great, an egg alternative that goes far and above in flavour and would delight even a non-vegan. 
The focaccia bread is thick but not too dense and is perfectly salty and seasoned with herbs. Our personal highlight was the panko oyster mushroom. Taking a bite of the crispy outer breadcrumb into the soft juicy umami taste has left us keen to go back for more. All of these components, combined with romesco sauce, smoked aioli, roast tomato, and pickles, come together harmoniously in a sweet, smoky and salty fusion. 
We also tried the soup of the day, a Mexican bean broth with the spice and heartiness of a chilli but blended to give it a lighter quality. This came paired with a focaccia sandwich topped with roast celeriac and butternut squash, charred red peppers and pickles. The two worked well together to equal a filling and flavourful meal. 
We rounded off our vegan brunch with a taste of their newest recipe - sugar donuts, freshly baked that morning. We were told that it was the first time they had made them, which we struggled to believe. Soft and sweet and exactly what was needed to finish our visit. They also have numerous other sweet treats available, including cakes, cookies and more!
Our visit to Lynchpin was an overall great experience. Friendly staff, cosy ambience, and tasty food. We would definitely recommend it to anyone seeking vegan grub in the Belfast area.
If you can't get to Holywood straight away, why not try our tomato, garlic and rosemary focaccia recipe? And be astonished by the growing number of plant-based milk.