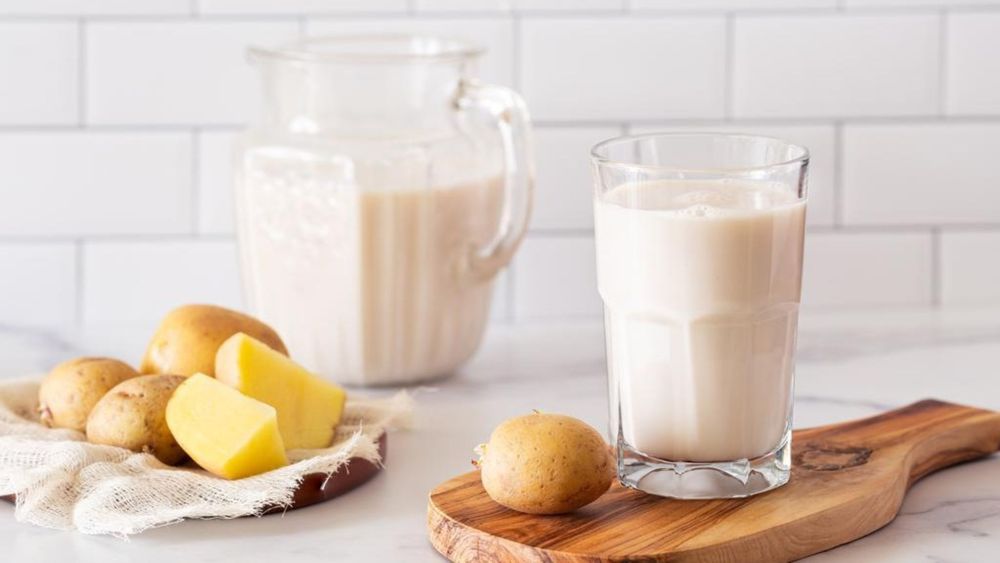 lindahughes/Adobe Stock
7 unusual vegan milk alternatives worth trying
Long gone are the days when soya milk was the only option when in search of an alternative to animal-based milk. As the demand for plant based milk brands has grown so has the breadth of possibilities. In the early days of the expanding plant based range, almond milk became a popular alternative to soy, but it was short-lived. It was oat that soon stole the much-coveted position as the best plant based milk out there.
These are not the only options though. Walk into any large supermarket and the myriad of choice can be overwhelming. When faced with an ever-expanding wall of different plant based milk brands, it can be difficult to make a decision. Here at V-Land UK, we like to try the newest brands, especially if the offering deviates somewhat from the norm. So, with this in mind, here are some of the more unique vegan milk alternatives for you to consider. 
Potato
It would appear you can make plant based milk out of almost anything. Potatoes are not a vegetable you immediately think would make good milk, but you would be wrong. It is the perfect choice for those with nut allergies or if avoiding soy. It is less of a concern for the environment too.
Dug has to be the go-to potato milk brand with sweetened, unsweetened and barista to choose from. Despite being a relative newcomer, it is available to buy in Waitrose and via their own website.
Quinoa
Quinoa may initially seem like a more unusual base for milk but this grain works in the same way that rice does. If you want to maximise your intake of protein then drinking quinoa milk will help on this front compared to other options. As quinoa became more popular it did put some pressure on less developed parts of the world who mostly produced it for local consumption. However, it is easy to grow and a hardy crop and as demand has increased, other parts of the world have started to cultivate the grain, including Scotland. This makes it more sustainable and less environmentally damaging.
It is hard to find though. Fortunately, Holland & Barret stocks the award winning brand, Lilk, which blends quinoa with oat and coconut to dreamy effect.
Pea
As the saying goes, we need to give peas a chance. And don't worry, it won't be green, as the peas that are used are yellow split peas. This provides for a heartier, thicker milk, which is surprisingly creamy. As a legume it is nutritionally dense and also has a lower impact on the environment. Can this be considered the best vegan milk for these reasons?
It appears to have become a more popular choice and there are quite a few brands now making this type of milk. This includes Mighty M.lk, which can readily be found in many of the major supermarkets.
Macadamia
Macadamia definitely feels like one of the more extravagant milk choices out there. Even sourcing the nuts themselves can be a challenge. Milkadamia can be found in specialist stores and online but it is worth seeking out. As far as nuts go, they are much more sustainable than other nut-based options as they are a crop that more easily adapts to different growing conditions.  
Hemp
Hemp is a super food and a super crop. It is a nutritional powerhouse, and it can even be used to build houses and make material for clothing. Given such positive credentials, what's not to love about this plant.
Its milk has a much deeper, earthier taste than other plant based alternatives. Gaia, who we reviewed earlier this year, blends hemp with oat. The perfect combination, it transpires. If you want to really indulge, their chocolate milk should not be missed as it is by far the best plant based flavoured milk money can buy. 
Hazelnut
Many plant based milks are made using nuts and one that works well for baking and coffee, is hazelnut. It is much nuttier in taste and from an environmental perspective compares favourably to other nut based options. We are fortunate too in that the plant based behemoth, Alpro, produces this variety. This means it can be found in many supermarkets both on the shelf and in a chiller cabinet.
Tiger Nut
Despite its name, tiger nuts are not nuts, they are tubers. This means it may be a great choice for those with nut allergies. It is a popular drink in Spain, India and Nigeria. While big in these other countries it is not very much used in the UK. Rude Health sell one (however, it's not suitable for those with nut allergies).
Why not consider experimenting with some of these unique vegan milk alternatives while baking. Our recipes for chocolate cake and brownies both require plant based milk as ingredients. The different flavours the milks offer could really elevate these already yummy treats. And who knows, you could just stumble across what you consider to be the best vegan milk for you.