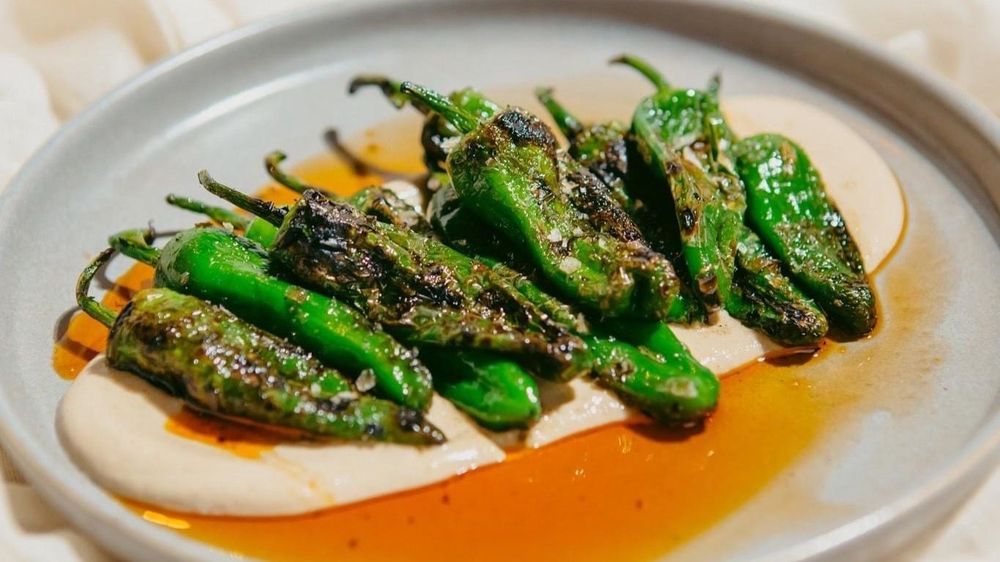 V | OR | V
Discover V | OR | V: A superb restaurant in Sheffield
If you are looking for a tasty vegetarian restaurant in Sheffield which has a plethora of vegan options, V | OR | V have got you covered. They are tucked away along an industrial side street in Sheffield's bustling Kelham Island. V | OR | V prides itself on the use of organic, seasonal and locally sourced ingredients where possible.
This hidden gem has been cooking up a storm since 2019, with its head chef Danny Lynn creating a wonderful vegetable-focused menu. They offer small plates with the aim of sharing which pairs perfectly with the friendly relaxed atmosphere they have created. In this beautiful room you're surrounded by plants, reclaimed wood and enthusiastic diners.

When V-Land visited in Veganuary, the restaurant was serving an entirely vegan menu.
Drinks
To drink there is a whole range of vegan beers, wines, spirits and cocktails. You can also enjoy soft drinks, including fresh juices and mocktails, and hot drinks.
We tried the raspberry mule cocktail, which was a rich and juicy blend of refreshing raspberry with a tasteful hit of spiced rum, which perfectly complemented the fruity flavour.
The staff also recommended the pineapple julep from the mocktail menu, which was a thirst-quenching balance between sweetness and acidity, with a refreshing quality added by the sprig of mint used to garnish. It may have been a mocktail, but it didn't feel like it needed anything else.
Starters
To start we had a small bowl of olives and some flatbreads. The olives were succulent and served with rose petals, so had a delicate floral flavour. 
The hemp seed za'atar flatbreads really felt like an introduction to the rest of the meal. The tear-and-share nature of the flatbreads provides an opportunity to break the ice with whoever you're dining with, whether that be friends, family or a date. 
It combined sharp pickled vegetables, creamy aubergine moutbal and botanic herb oil on top of a wholesome flatbread. It opens your taste buds to the wonderful flavours you're about to experience as well as to the sharing nature of the rest of the meal.
Main course
Next we had a selection of sharing dishes. These were all constructed around a single vegetable, each dish had a range of delicious flavours, but the star of the show was always unapologetically the vegetable at the heart of the dish.
As they were brought over to us, the beautiful dishes immediately made your mouth water, but they were so visually striking that you almost didn't want to eat them! 
The first sharing dish we had was a kohlrabi katsu, which combined the earthy breaded kohlrabi with a Yorkshire rhubarb tonkatsu sauce. 
Next we had crispy pink fir potatoes, these felt like a warm hug, the ultimate comfort food. The potatoes themselves were crispy, the flavour was smoky with a slight heat, delivered with the perfect amount of salt. To accompany these potatoes you got a delicious velvety saffron aioli.
For our third sharing dish we ate roasted Calabrian chilli cauliflower, combining sweet black garlic, crunchy hazelnuts and a fresh tangy pesto.
Finally we had the jerk Neepsend oyster mushrooms, our highlight of the meal. The charred succulent mushrooms were served with a sweet and spicy pineapple scotch bonnet jam which complemented the flavours perfectly. It was also served in a flat dish with the red cabbage causing a dramatic red pool in the dish.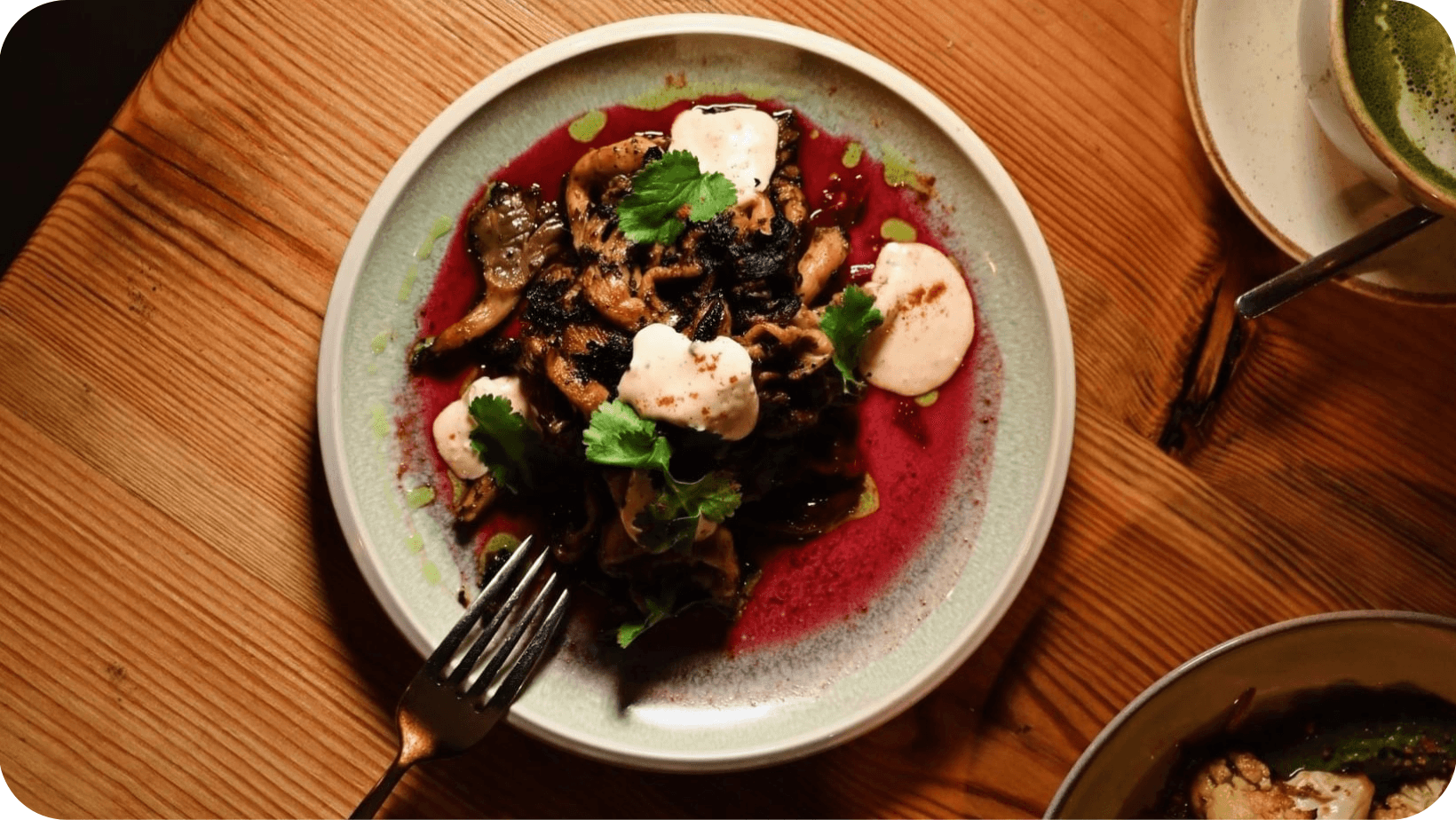 V | OR | V
Dessert
Although at this point we had eaten lots of food, we couldn't help but get something from the dessert menu. We were recommended the Guiness and Sheffield Bullion chocoflan. This was the perfect end to the journey this meal had taken us on, with the decadent chocolate being paired with botanical hibiscus crema and a burst of chilli heat.
Although the restaurant was busy as we finished our meal, we were lucky to have the chance to talk to one of the owners, Matt Burgess. He highlighted the growth in popularity the restaurant has had over the past few months, with Veganuary bringing in lots of new customers. 
With such a diverse and exciting menu, we asked how often it changes. He explained how the process has developed over the four years they have been open, updating a few dishes every month so there are always plenty of new tastes for regulars to experience.
We also discussed how lockdown had impacted their business and how the takeaways they offered over this period inspired them to open in a second location: V | OR | V Grill House with Sheffield Plate in Sheffield's Orchard Square.
If you are looking for a fully vegan restaurant in Sheffield to grab a spot of lunch check out our review of Humpit Sheffield.