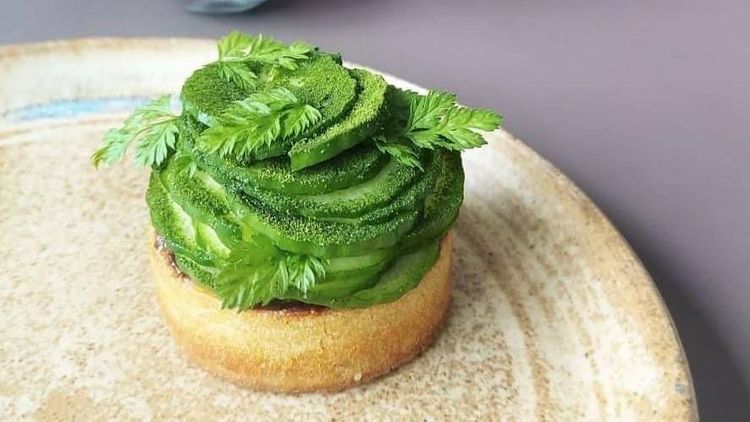 Restaurant Ark
Fall in love with the Copenhagen vegan scene
Copenhagen has been one of Europe's hidden gems until very recently. With the rise in popularity of their Fashion Week, powered by their sustainable design and a more conscious approach, the Danish capital has attracted the best of everything, making it a vibrant hotspot with everything to offer and a perfect vegan travel destination. We visited recently and have come up with the ultimate guide to Copenhagen's vegan food and culture.
To start, let us mention its airport. Whether you are coming or going, Copenhagen is probably one of the most vegan-friendly airports we have ever been to. Joe & the Juice is a fail-safe (not only throughout the city, but in all Nordic countries) with their freshly squeezed juices, shakes and sandwiches. If you are looking for a quick bite, most cafés will offer drinks and some vegan buns (check out ARKET or Copenhagen Coffee Lab) and if you have time, there are plenty of options for a full meal, ranging from poke to Asian dishes. 
Copenhagen vegan breakfasts…
The Danes love their first meal of the day, and buns and pastries are part of their national culture. Perhaps kick off the day at Kaf, a fully vegan Copenhagen restaurant that offers baked goods, brunch, lunch and everything in between. If on the other hand, you prefer a lighter meal, we recommend Landbageteriet, an organic bakery with lots of vegan and gluten-free options. We tried their Kanelsnegle (a huge cinnamon roll, typical in the Nordic countries) and their Fastelavnsboller, a delicious, sweet bun filled with pistachio cream and decorated with chocolate and nuts. And only a few meters away, you'll find Torvehallerne, a food market by Norrebro station. You'll find local and gourmet food, but our best tip is to stop by Tante T, a tea shop where you'll find the highest-rated matcha in the city. The market has outdoor seating, so take advantage of it and soak up some vitamin D on a sunny day.
Hot tip: Danish breakfast mainly consists of sourdough bread with butter and cheese. However, if you find yourself in a spot with no vegan options, you can generally ask for jam instead. 
…and a spot of shopping
If you fancy mixing pleasures (food being one, and design being another), you are in luck - this is the city for you. Pop into Apotek 57, the cutest little café inside FRAMA, a store of namesake multi-disciplinary design brand where you'll find home goods to skincare products. Another spot you can't miss is Louise Roe Studio. Their offering ranges from the sturdiest and most aesthetically pleasing ceramics to beautifully woven rugs. Their Roe Bar features a striking metallic kitchen, and although their vegan menu is limited to drinks, bread, a delicious salad, and a plate of great looking hummus, it is a space worth spending some time in. It is also laptop friendly, so if you need to do some work - sit at their bar and watch passers-by.
A hint of art
Copenhagen has a wide list of museums and galleries; most of them have their own cafés or eateries to have a bite before or after visiting their exhibitions. Statens Museum for Kunst's own SMK Kafeteria offers soups and bread as their main vegan food. However, their olive focaccia is worth the trip over - even if you are not interested in art! The Designmuseum also has a cute café, Format, where options include drinks, bread and a yummy seasonal salad. And lastly, don't miss Apollo Kantine, a vegetarian restaurant and café located within the courtyard of the historical cultural institution Kunsthal Charlottenborg.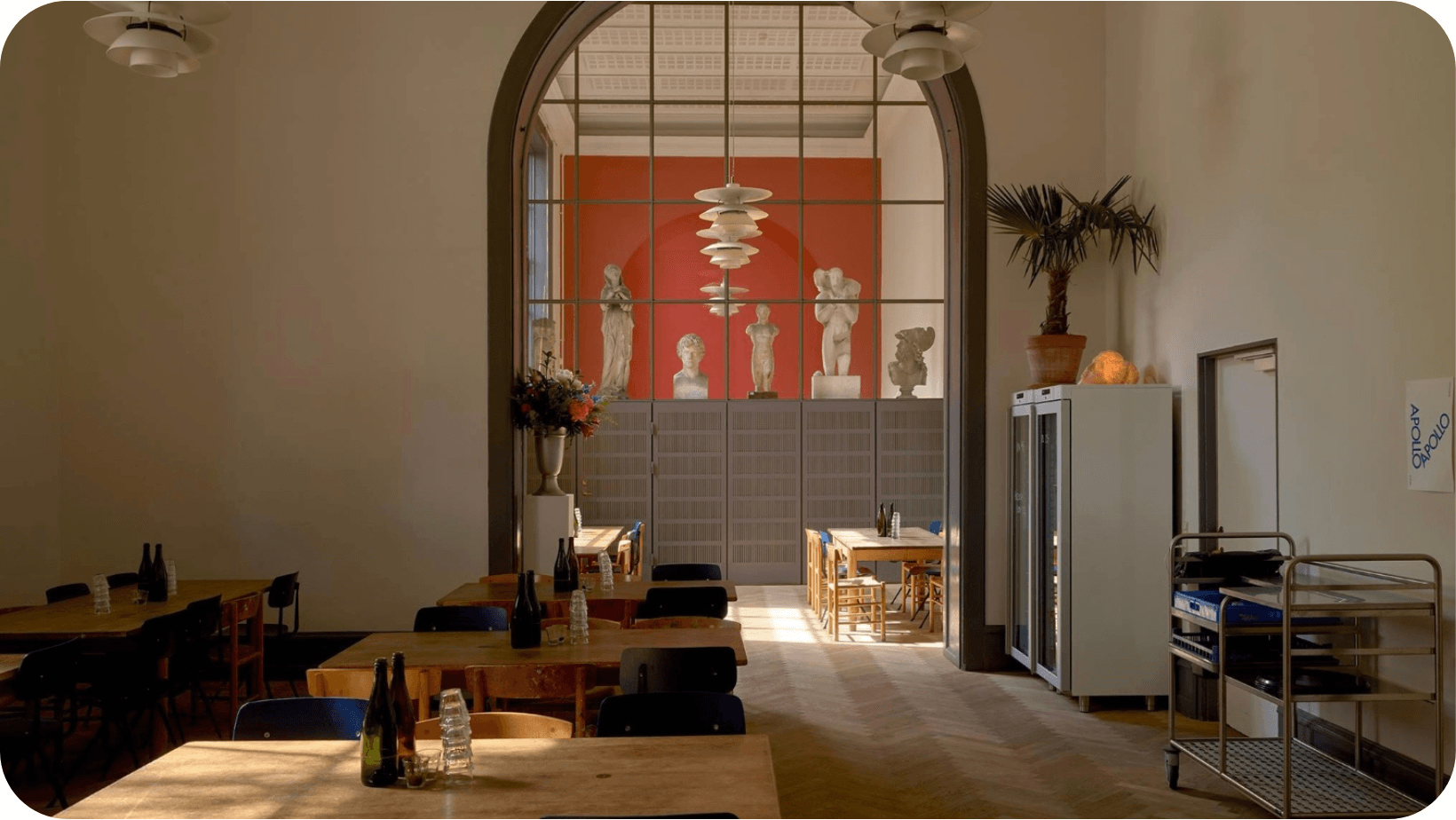 And some lunch or dinner
As you can probably already tell, Copenhagen has an eclectic range of cuisines. One could argue Middle Eastern food is one of the most vegan-friendly, and we suggest trying out The Real Greek for a quick, but comforting gyros or Gaza Grill if you find yourself at the Meat Packing District. There you'll discover Hija de Sanchez, a Mexican restaurant with different locations in the city and with a higher-end sister restaurant called Sanchez. And if you crave spicy food, at The South Indian, in the hip neighbourhood of Vesterbro, you'll find heartwarming curries and naans. 
Honourable mentions
We recommend checking out GRØD, a porridge bar bringing an exciting menu made up completely of oats: you can have a more traditional breakfast bowl or switch it up with a savoury risotto!
Another honourable mention in the Copenhagen vegan food scene would be Ark, the first vegan restaurant awarded a Green Michelin Star in the Nordics, if you are looking for a fine dining experience. 
As you can tell, the Danish culinary experience is rather bread-heavy, but it is also full of fresh, vibrant and seasonal products. We hope you follow in our steps and try out the best of Copenhagen's vegan food and culture!
If you're a culture vulture, check out our interview with sustainable futures artist, Saskia Saunders, or how art can be a form of activism.