Greenstone Lodge
Greenstone Lodge: Cosy vegan B&B nestled in the Scottish Highlands
Here at V-Land UK we are constantly searching high and low to find you the best places to travel to, and on this occasion we have focused on the high, visiting this amazing little vegan B&B in the Scottish Highlands.
Welcome
Greenstone Lodge sits in the Bridge of Orchy in Argyll and Bute, and is on the famous 96 mile long hiking path of the West Highland Way. Many people arrive at this Highland B&B on foot after a long day's walk and are lucky enough to be greeted with a slice of delicious homemade vegan cake - all of the food provided is fully vegan, they even request non-vegan products to not be brought on site. We travelled to Greenstone Lodge by car, with a parking space provided, and were very relieved to discover we still got the cake!
Discovering the local area
Once you're loaded up on cake, it's a good time to explore the stunning scenery on your doorstep. As you leave the front door you will immediately find yourself on the West Highland Way with possibilities of going in either direction. If you go right, over the Bridge that gives the village its name, you keep travelling uphill for around a mile and a half and are rewarded with the breath-taking sight of the surrounding Munros and the views down to Loch Tulla, you can then descend into nearby Inveroran and walk back past the loch and along the river Orchy. For the even more adventurous you can head left and within 3 minutes be at the foot of Beinn Dorain, a Munro measuring a height of 1076m, only 9 metres shy of Mount Snowdon.
Dining at Greenstone Lodge
Once you have built up your appetite it's a perfect time to head back to the room, the rooms are quirky, stylish and cosy and come complete with their own personal dining area. We had chosen to eat there that evening, and it's tricky not to immediately turn your attention to the menu board in the hallway to start trying to choose which dish to go for. Fortunately whilst we were deciding we were able to nibble on the homemade Scottish shortbread and slurp the Scottish roasted coffee provided in the room.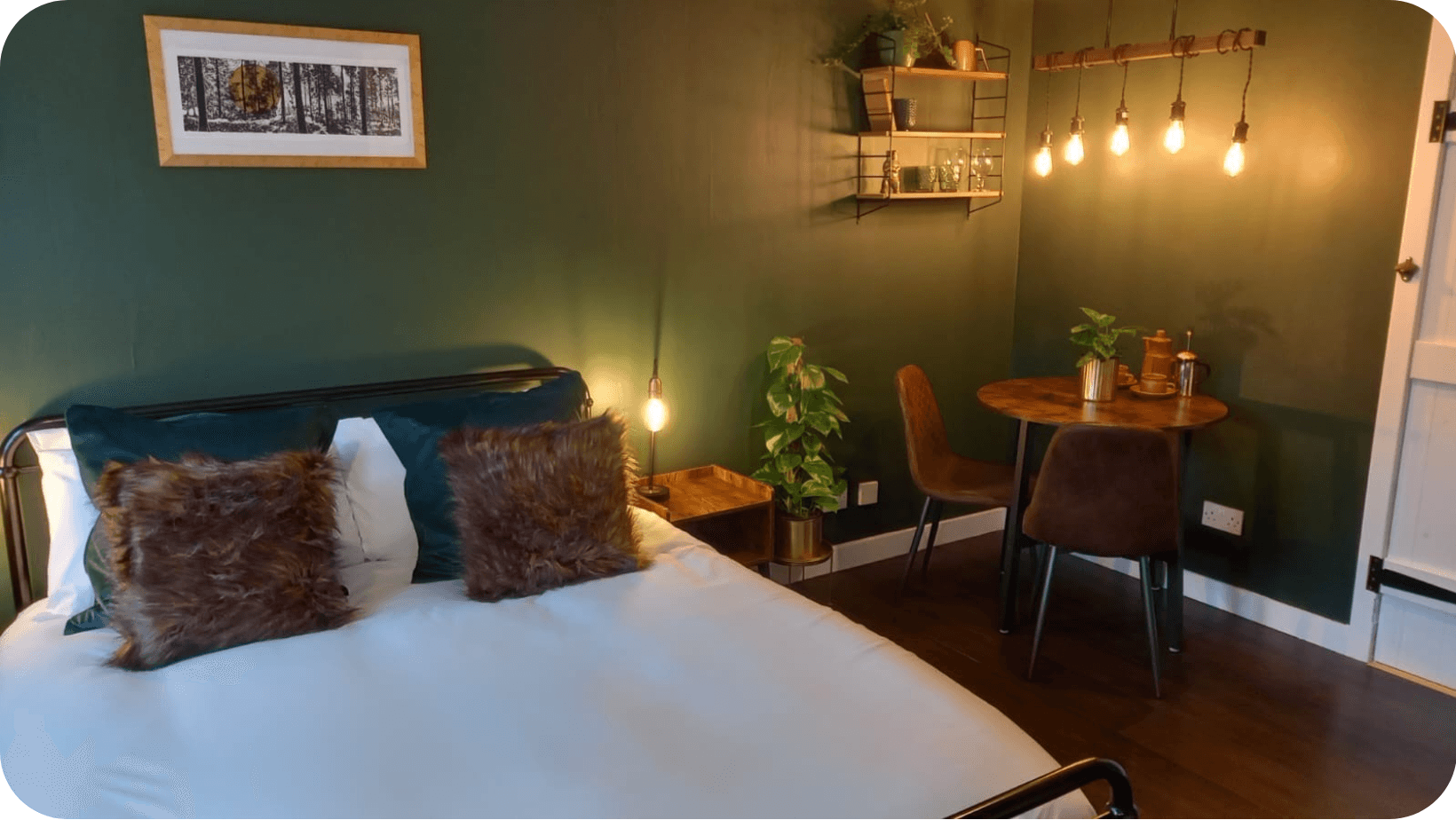 Greenstone Lodge
The menu is always changing and offers plant-based takes on Scottish classics, such as haggis and white pudding bon bons, with whisky sauce and a raspberry chilli chutney, and also dishes from further afield such as the smoked tofu saganaki with lemon roast potatoes and a cucumber mint salad. You can choose either a two course meal at £25 per person, or three courses at £30.
The dinners are hearty, wonderfully presented and taste marvellous: prepared by B&B co-owner Chris, who was a head chef before opening Greenstone Lodge with Hayley. Almost every element of the food at Greenstone Lodge is homemade by the pair, which makes your stay at this cosy vegan B&B even more of a unique experience.
Breakfasts
After a great night's sleep you'll need a solid breakfast to fuel your adventures, and the offerings won't disappoint, with the option of going for the full Scottish: including haggis, Lorne sausage, and potato scone or the continental: featuring cinnamon buns, granola, fruits and plant-based charcuterie and cheese. There is also a constantly changing special, which whilst we were there was 'Lorne Order', two homemade Lorne sausage patties with melted cheese and brown sauce in a sourdough bun, which was as mouth-watering as it sounds. There is even a breakfast baguette available to take away for anyone who either wants to leave very early or who doesn't do breakfast.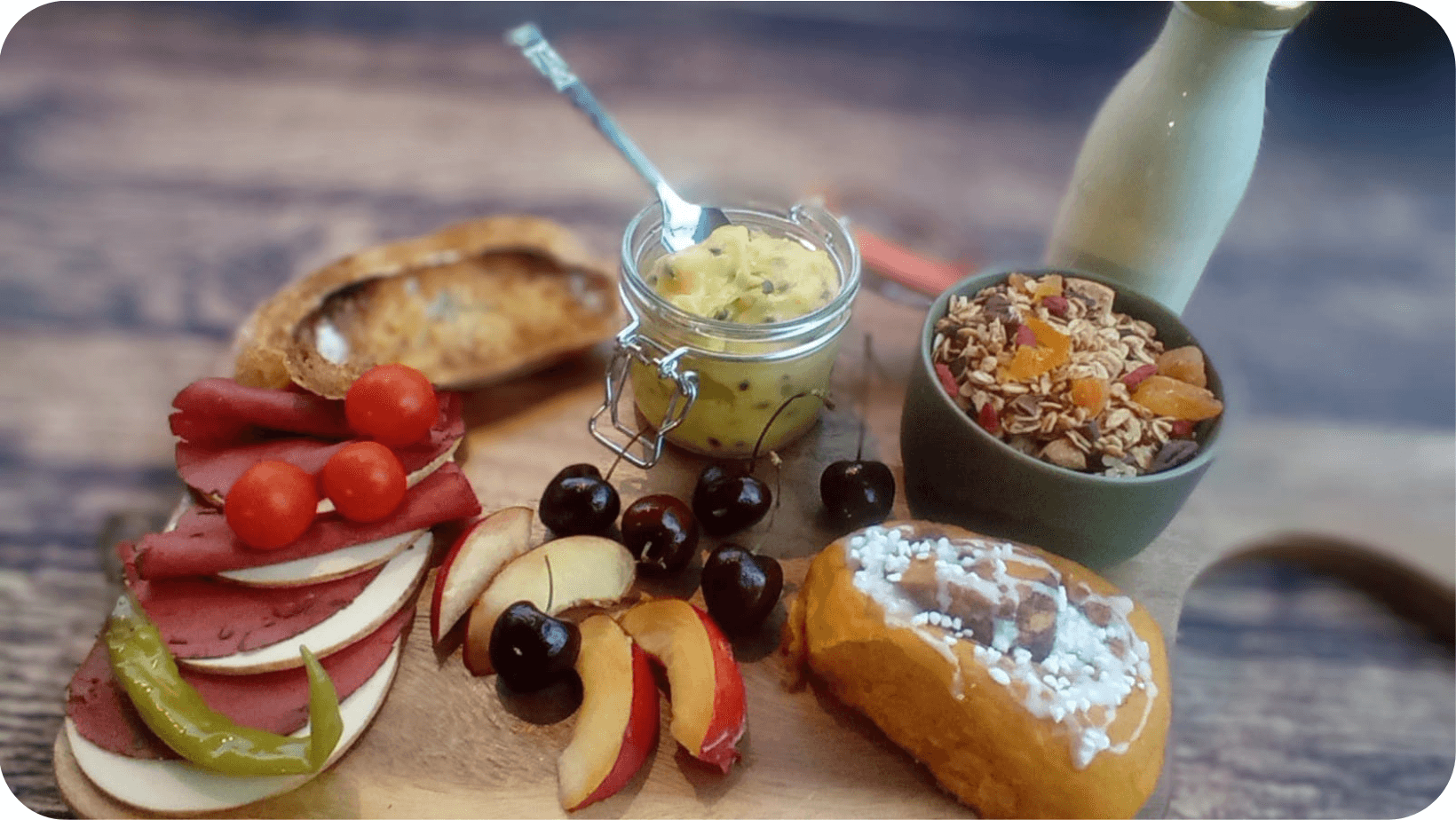 Greenstone Lodge
The food doesn't necessarily need to stop at breakfast though, and for £15 you can order a packed lunch including even more homemade plant-based goodies such as pie, tart or calzone and a very generously sized slab of flapjack.
Highland adventures
Once your bellies are full and you head outside you'll no doubt agree with us that The Bridge of Orchy is the perfect place to base yourself to explore this beautiful part of the world. Ben Nevis, the UK's highest peak towering 1345m into the sky, is just 40 miles away, the same distance as Oban where you can catch a boat to various Scottish Islands or visit a whisky distillery. Just 12 miles away is the Glencoe Mountain Ski Resort, which is Scotland's oldest, where you can ski, snowboard and sledge in the winter and mountain bike or go tubing in the summer. If you're travelling without a car you can still easily get around as there's a train station in the village with direct trains to Glasgow, Fort William, and Oban, or alternatively a bus which picks up and drops off at many of the tourist destinations.
Although we were there in April and had fantastic weather, from previous experience Autumn is our favourite season to visit the Highlands with the seasonal foliage, and the rooms would feel cosier. Even if you get caught in a downpour, which can happen in this part of the world, rest assured that waiting for you back at your B&B is your own personal outdoor clothes drying cabinet and some more of that amazing plant-based food.
If you're visiting Scotland check out our guide to Edinburgh and Glasgow's best vegan food.