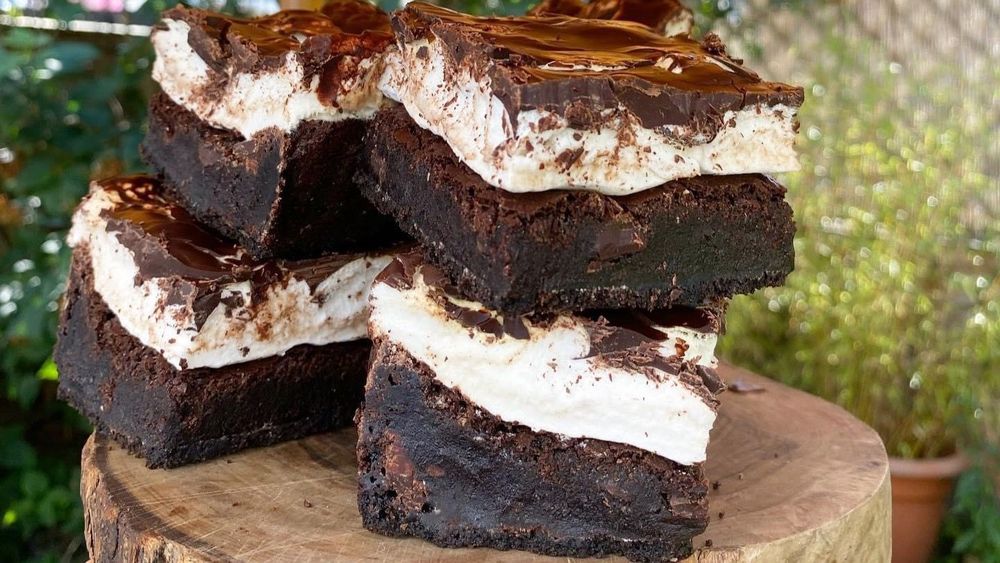 Herbivore Vegan Deli
Herbivore: Must-try vegan deli in Bristol
When we heard about this vegan deli in Bristol, we just had to visit; Herbivore Deli is located at 'Cargo' in Wapping Wharf. Aptly named, 'Cargo' hosts a splendour of eateries and small businesses in a community of converted cargo containers. 
Cargo is right next to the harbourside, so you can pick up a bite to eat and enjoy the sea breeze, or dine in at one of the restaurants upstairs. (That's right, there are two floors!) Herbivore Deli is on the lower level and is run by business partners Danielle and Janice. 
Although they might 'possibly be the world's smallest vegan deli', as they proudly self-proclaim, we spent an entire morning with Danielle as she told us all about the ethos behind Herbivore Deli. Centred around ideas of sustainability and community, this vegan deli sources the majority of its goods from local, independent businesses.  
Herbivore is packed wall-to-wall with vegan delicacies from the likes of Tubby Tom's hot sauce based in Gloucester, Mr Fitzpatrick's cordials in Bishopston, Bristol, to their very own chutneys and jams made in-house. As any good deli should, they have vegan no-bee honey and a shelf stocked with vegan chocolate and sweets from well-loved brands like Doisy & Dam and H!P. At the back of their shop is a daily rotating counter of salads, toasties, pastries and sweet treats, all lovingly prepared by Danielle and Janice using seasonal produce.
Our hostess kindly prepared us a board of their most loved baked goods: butternut squash and caramelised red onion frittata served with pesto and rocket, slices of their sweet potato nut roast with cranberry and apple chutney, the gooiest chocolate brownies, and salted tahini almond shortbreads for last.  
Butternut squash & caramelised red onion frittata 
The cleverly named Frittata Farinata, thanks to its spicy chilli kick, was our personal favourite. We were amazed by the simplicity of its ingredients, chickpea flour, black salt, lots of water, and any vegetables you have to hand. Danielle went for butternut squash, caramelised onion, and mustard, which was deliciously smoky and sweet. The outside of the frittata was baked until crispy and golden brown, whilst the inside was moist and spongy. The amount of chickpea flour needed for the frittata means it's full of protein. The generous dollop of Seggiano pesto on top gave the pastry a touch of acidity and sharpness. The pesto itself is a crowd-pleaser which people often pop in for.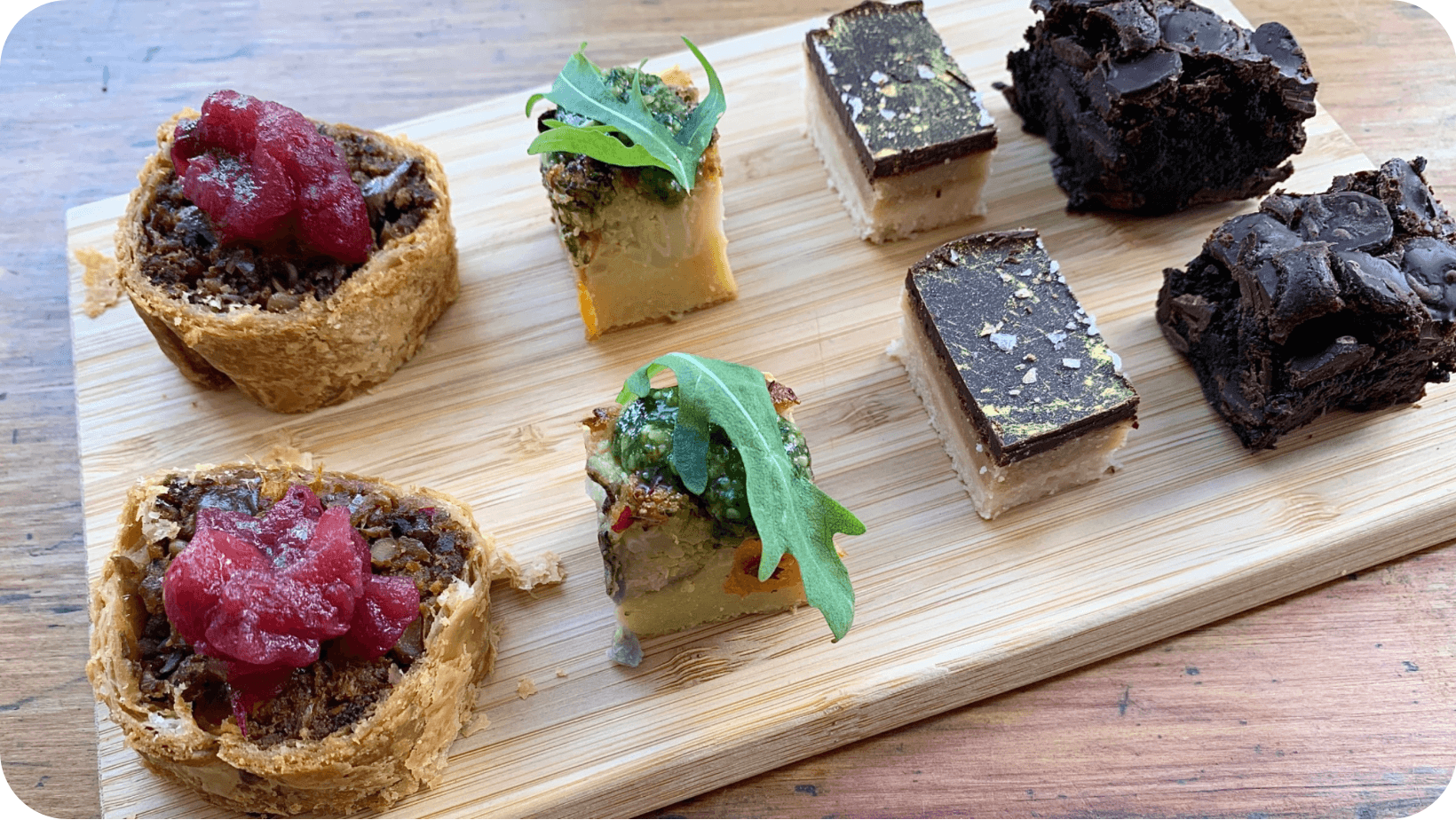 Amelia Ling
Sweet potato nut roast with cranberry and apple chutney
Hearty and packed with a ton of vegetables, the nut roast had mushrooms, celery, garlic and onion, to name a few. It looked similar to a sausage roll, with the signature buttery and flaky pastry, but with the more full-bodied filling of a nut roast. It was even topped with walnuts for that extra wintery feel. Their very own cranberry and apple chutney separated each bite with a tangy finish. 
Chocolate brownie & salted tahini almond shortbread 
A vegan chocolate brownie is always a winning choice. Layers of doughy chocolate, dark chocolate chips and a combination of soft brown and white sugar. Lastly, from our plant-based platter we had the salted tahini almond shortbread. We couldn't believe how syrupy and sweet an ingredient like tahini could taste. The almond shortbread was held together by coconut oil and maple syrup, which Danielle confirmed were the perfect binding agents. Compared to the soft shortbread, the thin layer of tempered chocolate, dusted with gold dust and sea salt, held itself together so well. 
Artisanal vegan cheeses 
The best part is their impressive range of artisanal vegan cheeses. We tried a vegan blue cheese from Honestly Tasty which was made from the same live cultures as a dairy-based blue cheese. The wedge of cheese was creamy off-white with edges that had started to mould. It was easy to spread and went perfectly with some pesto and capers.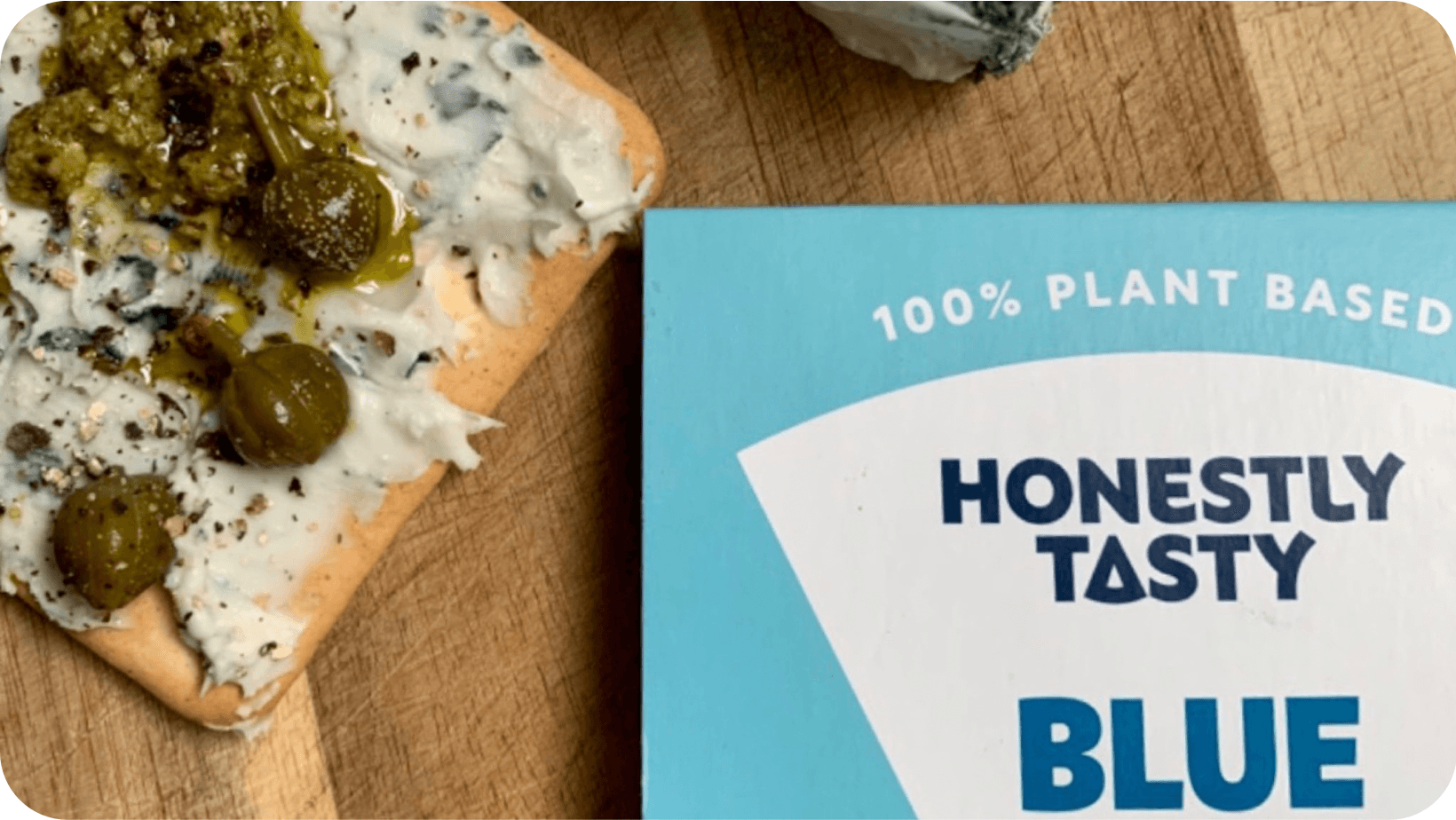 Amelia Ling
Danielle also treated us to a vegan cheese spread from a London-based company called Kinder Co. Unlike many vegan cheeses, Kinder Co's artisanal vegan cheese is made from cashews and only a small amount of coconut oil. It tasted great melted as we had it inside a chestnut mushroom and chilli jam toastie. Because there was little coconut oil the toastie had a much lower melting point and so the cheese melted slowly whilst the mushrooms had a chance to brown. 
Lastly, we tried another London-based brand, I Am Nut OK, Sauvignonsense cheese, infused with cabernet sauvignon unused red wine grapes from various wineries. It also had red veins for imitation. Delicious and sustainable. I Am Nut OK are well known for ageing and fermenting their cheeses to maintain that traditional process and flavour.  
By the end, we felt truly spoilt by how many delicious homemade goods and top vegan brands we had sampled. Herbivore Deli even shared that they would love to create their own vegan cheeses one day, especially after testing and selling so many for the past few years. The ambitious duo want to build on the catering aspect of their business and spend more time outside of the shop at weddings and local events. 
We cannot wait to see how they grow in the next few years, and we will certainly be back soon for a midweek treat. 
If you want to find out more amazing places to visit as a vegan in Bristol, why not start with the best vegan restaurants in Bristol.