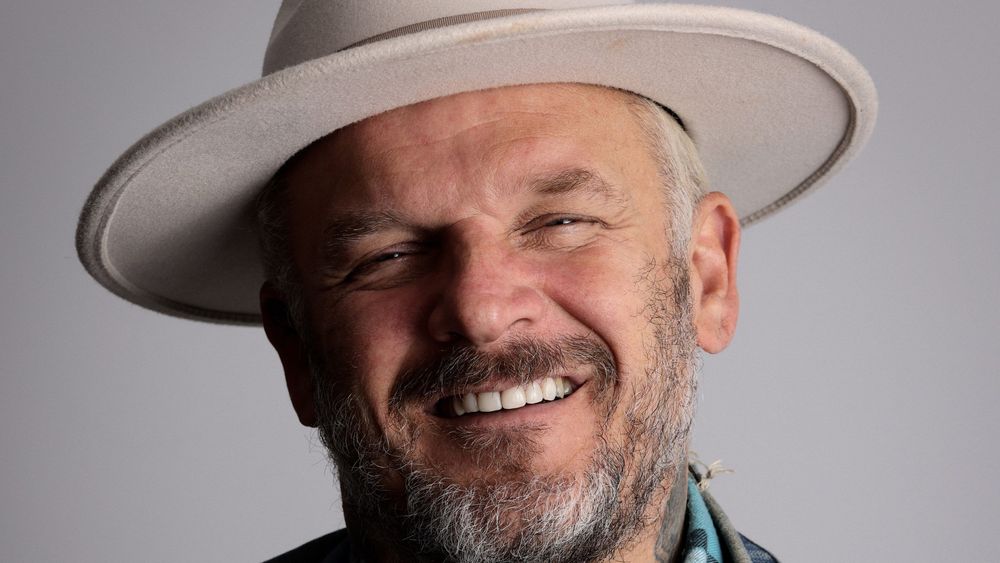 Dan Bentley
Matt Pritchard: Highs, lows and journey to veganism
Matt Pritchard may be most well-known for his days at Dirty Sanchez, however, Dirty Vegan chef Matt Pritchard nowadays is a far cry from those times and is a dedicated vegan with a new interpretation of what living live to the full is all about as he explains in our chat.
V-Land UK (V-L): Please tell us about the transition and journey from Dirty Sanchez to Dirty Vegan? 
Matt Pritchard (MP): Well it was a pretty simple transition really. I started researching veganism - I know a lot of vegans who are endurance athletes - and a lot of sources encouraged me to watch Cowspiracy, so I did. The next day I went vegan, no questions asked. I haven't looked back since and that was 2015. I guess I'm getting older! I can't be doing Dirty Sanchez all my life and I absolutely love animals so it just made absolute perfect sense, and as I'm getting older I am 'waking up' far more, which is a good thing and a bad thing.
V-L: Your talk at Vegan Camp Out this year was received extremely well. Were you nervous? How did you prepare?
MP: Yeah I was nervous, I always get nervous when I do stuff like that, and especially when you go on stage in front of all those people. How did I prepare for it? Well, I have done quite a lot of talks in the past but I wouldn't say I'm a professional by a mile off. I wanted to share my journey with people and let people know about what I do in life, what a lot of people think vegans can't do, like the endurance stuff, and just keep going, you know, on a vegan diet. 
I just wanted to share with them exactly what I've done as a vegan and the lengths that I've gone to prove to others that a vegan diet doesn't make you weak and it actually does the complete opposite. I really enjoyed that gig and everyone there was absolutely really nice to me.
V-L: Not many people knew until your talk that you rowed the Atlantic, please tell us a little bit about that?
MP: How can I put it, rowing the Atlantic in a few words, it was the best experience of my life. It was super super hard, but I absolutely loved it. Why? Because I was switched off from the world. I'm not really good with, well it's just noise, I look at the world as one big noise and when I was out there, there was no noise, no emails, no social media, no nothing, there were no interruptions. It was just beauty and scenery as far as the eye could see. I was constantly exercising and I was in a happy place, peaceful and quiet and I'd absolutely love to do it again just to get away!         
V-L: People that meet you describe you as a humble down-to-earth person,how do you keep yourself grounded despite your popularity and how have you overcome any personal struggles, obstacles or challenges?
MP: I guess it's just the way I've been brought up. I know I'm not nasty. I think dealing with so many nasty individuals in my life and being treated badly, taught me a lesson to not act like them and just to be nice.
Everyone thinks I'm positive all the time, I'm not, like when I'm locked on my own in the house it's hard to explain, I quite enjoy being lonely but I'm a very lonely person. My confidence I have trouble with, but I try and be as positive as possible and try and help spread that to others.
V-L: You and your dog Lemmy P have the most beautiful bond. What we really want to know is when you've been away have you ever video called him?
MP: Oh, mine and Lemmy's bond is something else, when I'm with him I don't feel lonely.
Do I videotime him when I'm away? Damn right I do! I even phoned him from my telephone on the boat! I speak to him all the time. I lay here and tell him stories. If I'm crying or if I'm upset he knows and he comes over to me, cwtches me (Welsh phrase for hug) and makes me feel better. He knows me inside out, I know him inside out it's a bond I dont think I'll ever have again, he's just the best dog ever.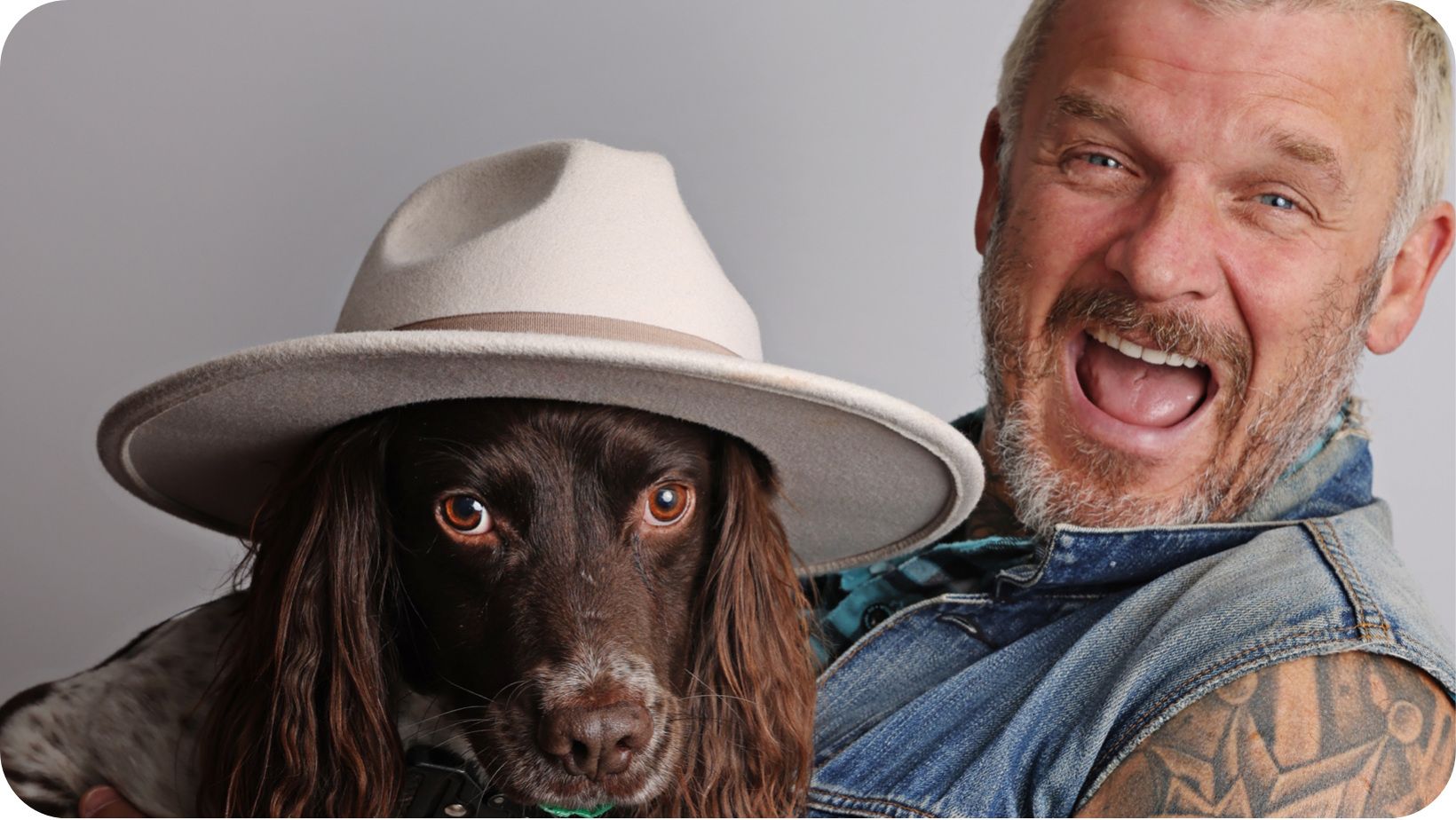 Dan Bentley
V-L: Please tell us about SWYD and the inspiration behind it?
MP: SWYD came along in the Sanchez days when I was partying non-stop and barely sleeping. We got into the car to go filming, I hadn't been to bed, I was as high as a kite, Dan Joyce said you need to go to bed and I said "Shut up Dan I'll sleep when I'm dead". Everyone laughed and it stuck from there and basically back then sleep when you're dead meant party like hell and non-stop no sleeping and all that kind of stuff but as I got older it's basically live your life to the full and then you've got plenty of time to sleep when you've lived your life to the full. When I go six foot under, I want my body to say "Thank God for that", hence sleep when you're dead: keep on man, keep rocking it, keep going - don't stop!
V-L: You support many causes including Dean Farm Trust animal sanctuary, what called you to support these causes?
MP: I've supported many charities in my time, often the bigger the charity the less money actually goes to the charity to be able to help out the cause, hence why I don't support them anymore. (There was one charity I supported that I had to leave, I found out the guy at the other side was getting up to no good so I didn't want to have my name tarnished by being involved with it.) 
Dean Farm Trust asked me if I wanted to be a patron, I went on to have a look at what they do and they are such a small charity and it's amazing what they do and I thought well, I know that every single penny that I raise for these people goes to the animals, so I'm not having my pants pulled down. Charities these days they get on my nerves a bit because all the money should be going to the charity. Dean Farm Trust do an amazing job and they are nice people.
V-L: Any plans for the future? Will we see another book?
MP: I'm working on the third book now, so the last three days I've been in the kitchen cooking. It's due to come out August 2023, I'm enjoying putting the recipes together and it's looking good.
There's some other exciting news coming out which I can't say anything about, I can't say yet but it has to do with food and it's going to be a ripper and I can't wait to launch it and to let everyone know about it.
We can't wait to hear your news and get a copy of your upcoming book! We wish you all the best.
If you're interested in learning about other famous individuals journeys to veganism you will love to read about top footballer Kane Wilson's story and Sean O'Callaghan's (aka Fat Gay Vegan).