Thibault Courtoisier
Meet Thibault Courtoisier: Bake Off champ and vegan patisserie pro
The Bake Off journey of French vegan patisserie chef Thibault Courtoisier, is an influential catalyst to say the least. Winning a high profile competition like this carries the potential to change the British public's perception of vegan baking and food. The process remains quite a mystery to many, so coverage at this level is undoubtedly helping to answer the many questions surrounding plant-based baking. V-Land UK were pleased to hear from the winner himself!
V-Land UK (V-L): Great to meet you Thibault. V-Land would like to begin by saying congratulations on your 'Bake Off: The Professionals' win in 2020! How did it feel, and what did you take from the experience?
Thibault Courtoisier (TC): Unfortunately, we did not win Bake Off exclusively with vegan patisserie. Even though I was vegan at the time, the team captain I worked with whilst filming Bake Off was not. Quite the contrary actually. I feel that with these kinds of TV shows, it is really hard to be vegan and succeed. We have seen what has happened in the last few years with cooking shows and vegans around the world. Especially when those shows have a secret challenge and do not give you the choice of utilising your own ingredients.  
V-L: Business is booming in Cardiff at Pâtisserie Verte since your win! It must feel amazing to share your love of vegan baking with so many. How did you transition from baking your delectable macarons from home to selling countless more at your vegan patisserie?
TC: I was still an employee when winning Bake Off, creating Pâtisserie Verte at the end of 2020. We never had a physical shop as we always wanted to have some 'freedom' from feeling anchored here in Cardiff. As you said, we started making our macarons from our home kitchen. After a successful flurry of sales at farmers' markets around South Wales and South England, the demand vastly grew and became unmanageable in our own kitchen. We were producing 1500 macarons a week. So, I sourced a new space that I was able to turn into a kitchen and prep everything from there. But with demand increasing again, I had to move to an even larger premises! Our unit now is about 2200 square feet, so hopefully my team and I will be there for a little while.
The aim of the business is to feed delicious vegan patisserie to as many mouths as possible. The initial idea was to mainly sell business to business. But alongside growing a business during the lockdown procedures, business to business became very challenging. We got the opportunity to sell our products to some larger events all over the UK through a wholesaler, which gave us a sudden surge in sales and customers trying vegan patisserie.    
V-L: You have very generously revealed your vegan macaron recipe through an online masterclass! What can home cooks and aspiring pastry chefs expect when they attend? 
TC: Due to COVID rules, we hosted masterclasses over Zoom as we weren't able to do the alternative, which we can't wait to start teaching again at our unit in person. The masterclasses are open to everyone, where both home cooks and professionals can obtain new skills. The aim of the course is to create macarons with the students that they can then enjoy at home. There is a huge gap in vegan cooking skills, so the idea of teaching them is really exciting for me. One wing of the business we are aiming to develop is the consultancy: we want to be able to teach people from all over how to make really tasty and beautiful patisserie. 
As you said, we generously revealed our macaron recipe, but if this move can help more people try vegan products or even just plant a seed in their head, then that's a win for us!
V-L: Of the four supersized macarons you produce for your street patisserie 'Dirty Macs', which flavour is the most popular and what inspired you to bring them out to the streets? 
TC: When designing the menu for our Dirty Macs, we needed a bit of everything in terms of flavours and things that people could relate to. For example, we created a 'Ferro' macaron which was advertised with the slogan "It's like Ferrero but better" to draw people in. I think this one was definitely the big favourite. It's made with a hazelnut macaron shell, chocolate mousse, praline paste, and roasted hazelnuts dipped in a 'magnum' crunchy chocolate glaze. This was served with whipped cream, warm chocolate sauce, more hazelnuts and praline paste on top. We wanted to make sure they lived up to the name!
Dirty Macs aim was to eradicate the depiction of having a macaron on the balcony of a really posh hotel in the centre of Paris with a cup of tea or coffee. Bringing that flavour experience to street food events and public spaces was behind the process of starting this product range.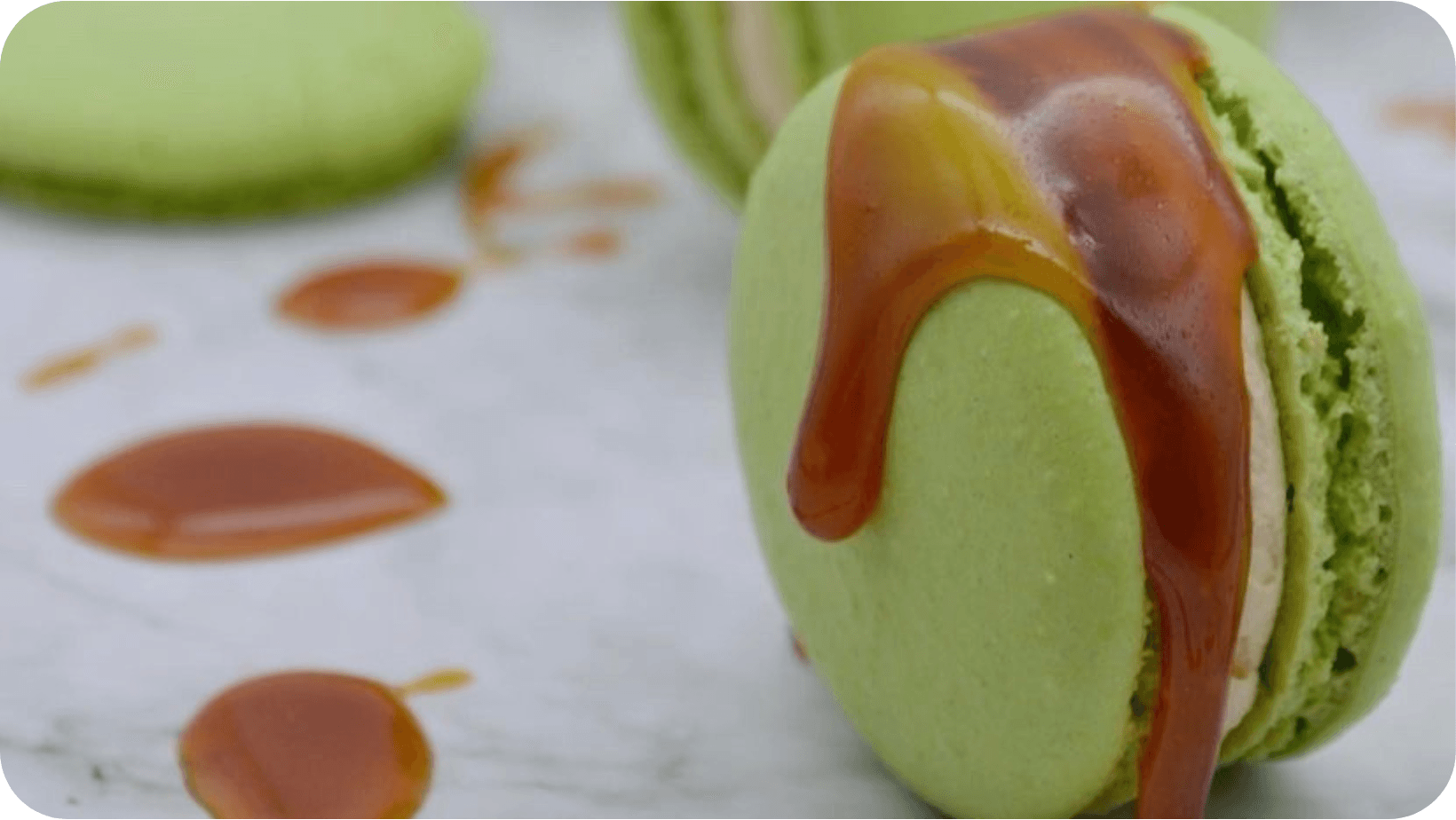 Thibault Courtoisier
V-L: You've demonstrated incredible resilience over the last few years. From being runner up in the 'UK Sugar Championship', securing second place on the 'Bake Off' spin-off series 'Crème de le Crème' in 2017, entering and winning 'Bake Off: The Professionals' during COVID and becoming a father! Tell us what kept you going?
TC: Thanks, to be fair it has been quite a rollercoaster for sure! But I am not the kind of person who quits. I have dreams and goals in my life, knowing for a fact that they won't be achievable if I'm not putting the work required in. I am determined and know what I want, which I have to say helped me over the years (most of the time). I don't think I could've done all of this without my partner Cari, mother of our amazing daughter Gwendolen. I am getting all the credit because I was the one who won Bake Off. She truly deserves some of the credit as she practically single-parented 9 out of 10 weeks whilst I was amid stage and work. She supported our family financially when starting the business, working full-time here and teaching translation to pay the bills. I cannot thank her enough for what she brought to our family, our business, and our lives.
V-L: You've spoken before about the importance of sustainable business and shopping locally for your ingredients. Was sustainability the initial reason you decided to go vegan, or were there any other motives behind the decision? 
TC: Before going vegan, we knew there were some issues going on with animal farming and the environment, but we didn't understand the scale. We educated ourselves on the subject after going vegan, reading articles and exposés. But the main reason unfolded upon returning from France after Christmas, where we were vegetarian for the holidays. I didn't really have the guts to tell my parents I didn't want to eat meat, as it was a really sore subject. We ate a lot of cheese during that holiday, and after returning home to the UK, we had really bad stomach pains for about 2-3 weeks. We decided that was it for us and went vegan. We have three big motives behind the decision, really; in no particular order, they are animals, the environment and our health. 
V-L: Have you got any exciting upcoming projects or delicious new treats coming this year? 
TC: In 2023, our concentration and focus will be wholesale, gaining new customers and trying to send our products further afield. We have a couple of dates in the diary with events planned such as the Abergavenny Food Festival in Cardiff and the Foodies Festival in Bristol. We will be selling our Dirty Macs and presenting a couple of demonstrations!
V-L: As a Frenchman, is it safe to say your journey into veganism may have felt quite daunting at times? Cheese is a fundamental part of French cuisine and culture. It would be great to end our discussion with what advice you could give anyone feeling veganism isn't something they could realistically establish as their lifestyle.
TC: It hasn't been easy, for sure. A lot of our family members were really against it to begin with (tends to happen being the son of a butcher and fishmonger!). We still get the odd comment every now and then. When we first went vegan, lots of them were scared we wouldn't be getting the nutrients needed to thrive. We actually researched more about nutrition than ever before, to make sure we proved them wrong! All I can say is that I felt much better after only a few weeks of going vegan. I was sleeping better, I lost weight and felt much more energised.
I never really craved cheese that much to be honest. Lots of people tell me it's the hardest hurdle when considering veganism. If you crave cheese, think of what goes into it and how horrid the dairy industry actually is. It might just stop you from wanting that piece of cheese again! It's crazy to think that before meeting Cari, I was the kind of person who would say "I'll never date a vegetarian."
I would say the best thing to do is educate yourself on what is going on behind the walls of the farms we see everywhere. Extend that research into nutrition and the environment. If these three things won't make you change, then I do not know what would. Although it can be quite daunting, you do not have to go 100% at the start. Bit by bit is probably easier and it's not the end of the world if you have some days where you mess up. Don't beat yourself up. Just do better the next day!
Thibault's description of the ingredients in those Dirty Macs has definitely unleashed an urgent need for something sweet! We've got you! Here's 5 vegan chocolate bar brands to add to your shopping list.