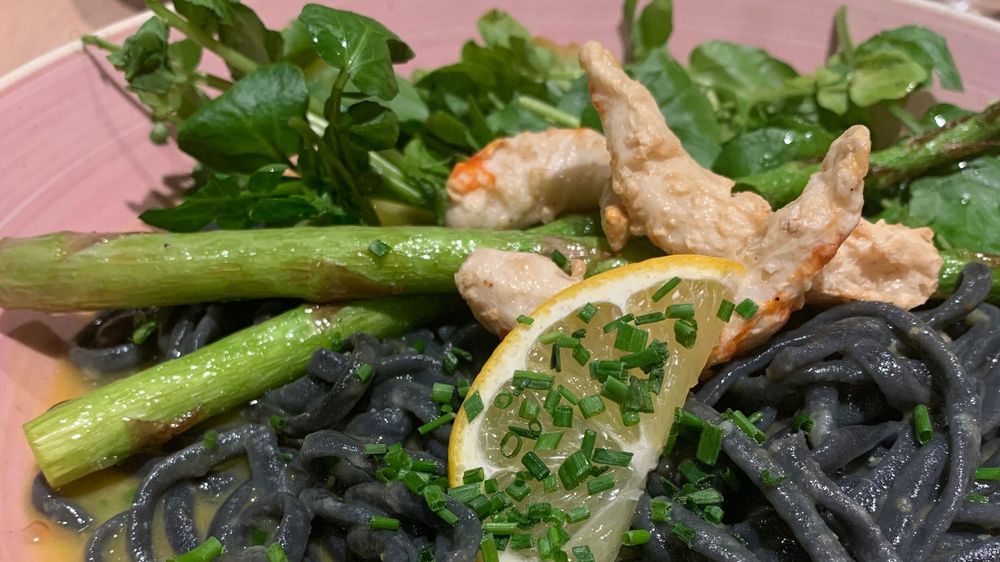 Amelia Ling
Pastan: Bristol's handmade plant-based pasta specialists
Last month we had the pleasure of visiting Pastan in Bristol, an artisanal, fresh vegan pasta restaurant that recreates a wide selection of European, namely Italian, pasta dishes. Sat snug between the river Avon and south of the city centre, this plant-based eatery is a hidden gem, perfect for a midweek meal or a Saturday night dinner date. 
Bristol's newest vegan restaurant, Pastan recently opened their doors in January. They have also been located in London and Manchester for several years since the success of their pop-up shops. 
Pastan is one of many restaurants to take part in an initiative called Carbon Free Dining. The initiative aims to counterbalance the environmental impact of dining by inviting diners to add a small charge onto their food bill in exchange for a tree to be planted in 'developing countries' such as Cameroon and the Philippines. The trees create food sources and jobs for local communities, which means more children have a chance of going to school and getting an education.
By choosing to dine at Pastan in Bristol, you can take part in this incredible global enterprise and enjoy some delicious vegan Italian food, all at the same time. 
What's on offer
If you book a table you can expect to walk into a modern space with pink bricked walls, low hung lights, and a plethora of dark, leafy green plants. A long table and bar stools divide the bustling from the cosy seating area. We took a seat and were greeted by our wonderful host who suggested we start with an elderflower spritz with St-Germain liqueur and fresh rosemary. Floral and sweet, the subtlety and lightness of the drink acted as a good palate cleanser before our starter. 
We chose the Portofino, a platter of 'buffalo mozzarella', tomatoes, and basil, doused in olive oil and served with freshly baked bread. We were notably excited to try their 'mozzarella', as most vegan cheese is often served cooked, perhaps melted, and in accompaniment to a main dish. It was made with tapioca, so it had lots of elasticity and could easily take on different flavours and be cut and spread like a soft cheese. It was one of few vegan cheeses we have tried that can be eaten by itself, and in large amounts. It was salty and mild, not too tangy, and so creamy and milky to taste. The Portofino is a must if you want to try a plant-based take on an authentic Italian dish.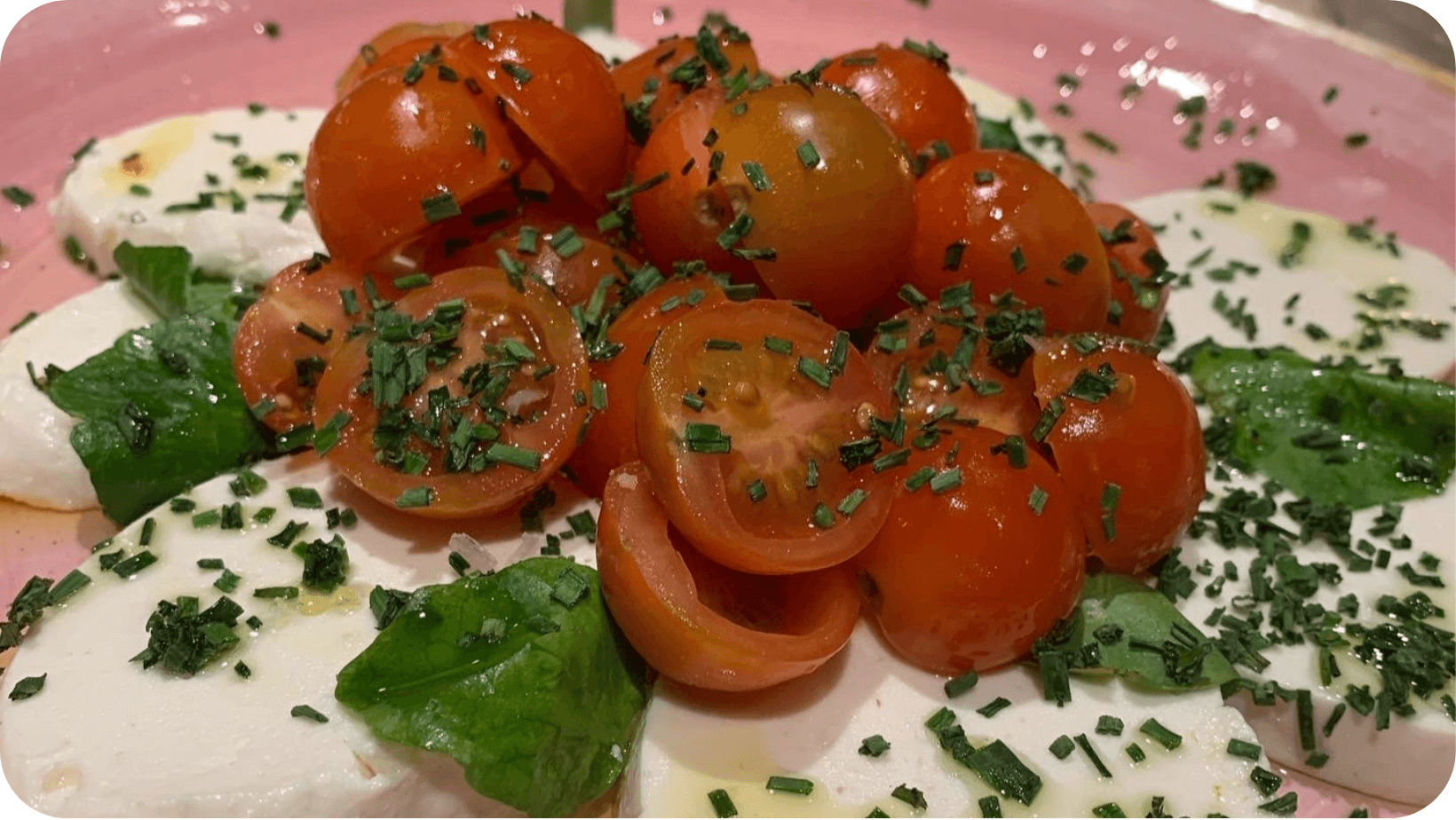 Amelia Ling
We found it hard to decide which pasta to go for as there were dishes from all over Europe, a Russian stroganoff, a Barcelonian spicy tomato pasta appropriately called 'Catalonia', and of course, Italian classics such as gnocchi, cacio e pepe, and carbonara.
We went with the cleverly named 'Caspian Sea', a charcoal-infused tagliolini, with dill hollandaise sauce, and vegan shrimp. The novelty of the shrimp caught our eye and we were interested to see how an egg-based dish like hollandaise could be made vegan. We also chose the Russian-inspired 'Umami Stroganoff' which was made into a deliciously creamy vegan pasta and replaced traditional beef for pulled shiitake mushrooms. 
The 'umami stroganoff' incorporated three kinds of mushrooms: shiitake, porcini and truffle. The porcini was cooked into a velvety and rich sauce that was more silky than creamy, and the shiitake was pulled into almost a meatball that had the stringiness of beef - which was great! Although named after its full-bodied, umami flavour, the texture of the shiitake was by far the best part of this dish. The sprigs of tarragon cut through the balanced taste of the umami with a pungent taste of aniseed.
Authentic European dishes veganised
We have to credit Pastan for how well they pair their sauces with the most complementary fresh, vegan pasta. Creamy, thick sauces are often matched with tubular pasta such as paccheri that hold more sauce. Their dish 'Vegan Red' serves a classic basil and tomato sauce with chitarra, a long and thin pasta, like spaghetti. Pastan's artisanal pasta is handcrafted in-house and made fresh from scratch every single day. Each bite had a distinct bounce, especially the thicker-cut pasta such as the paccheri.  
The 'Caspian Sea' accompanied tagliolini, a type of long ribbon pasta, with a buttery hollandaise sauce. We were surprised with how tangy and sharp the sauce was, it had a thin and slightly oily consistency which differentiated it from a more creamy pasta, like the stroganoff. Shoots of watercress were decoratively placed on top of the dish; it was an impressive sight: long black pasta with sheer yellow sauce and vegan 'shrimp.' The vegan shrimps, like the pulled shiitake, gave the meal more protein and substance. They didn't have a strong flavour but we believe their strong resemblance added a playful addition to the nautical dish. 
At Pastan they are incredibly generous with their portions, so for dessert we were tempted by the Affogato, one last homage to Italy. Vanilla ice cream served with espresso coffee. We instead went with their most popular dessert, mini doughnut balls with a gooey Biscoff centre. The doughnuts are small enough to eat whole and we were delighted by the sensation of them popping in our mouths and surprising us with an intensely biscuity filling. Pillowy, deep fried dough, dusted with icing sugar, they really are the perfect finish to your meal. They even have a slight taste of cinnamon which warms the tongue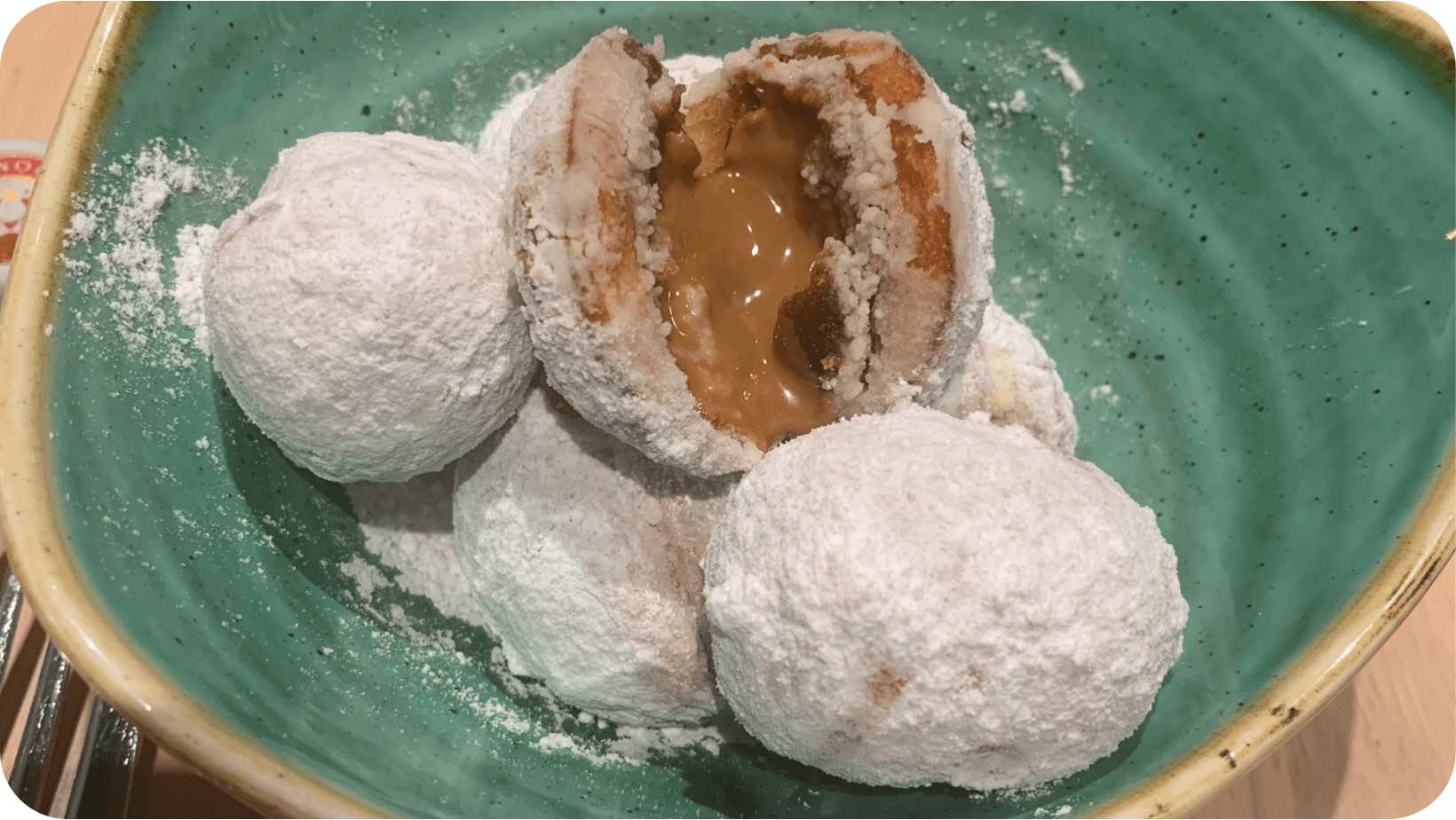 Amelia Ling
Pastan in Bristol are proud of the food they serve and we can see why. They told us they know their food is good when people come back for more. Let's just say, we're ready for seconds. We can also find branches of Pastan in London and Manchester.  
If you're looking for other exceptional eateries in Bristol check out Bristol's best vegan restaurants.