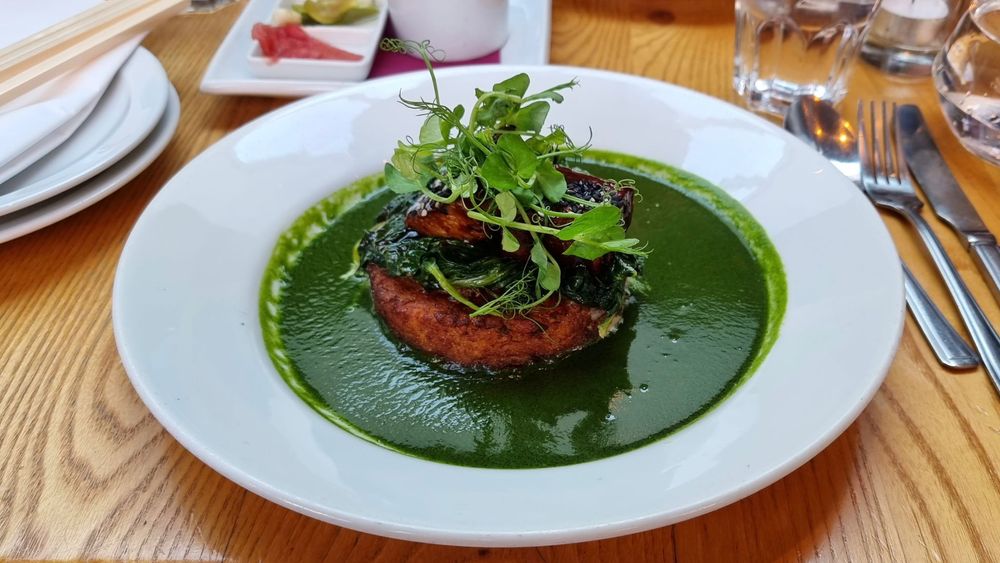 Aaron Calder
Terre à Terre: Outstanding food that just happens to be meat-free
Terre à Terre is a stunning, multi-award-winning restaurant in Brighton that opened in 1993; founded by chefs Philip Martin and Amanda Powley the restaurant is known for its colourful, artistic, and tasty vegetarian and vegan food. Before a plant-based diet became mainstream, they showed that a meat-free dining experience could be thoroughly enjoyed by everyone, not just vegans or vegetarians. Terre à Terre serve mouth-watering à la carte food that has seen people travel across the country to try their exquisite dishes.
When we arrived, we were greeted by friendly staff and the manager Matt who took us to our table and talked us through the menu. We mentioned that we're vegan, and they recommended some dishes, confirming that some vegetarian options could also be made vegan. 
Almost all of the menu options appealed to us, and it would be a hard choice to choose just one each, but luckily, they do a sharing appetiser which features samples from the menu. While we waited for the food, we admired the well-lit interior with lots of seating and a small garden area, perfect on sunny days.
When the starter arrived, we were given a brief description of the food. We were amazed at how stunning it looked and smelt. This is vegan food at its best, with no mock meats in sight. We couldn't wait to get stuck in. The standout dishes were the Karekatsu Smoked Tofu, Kentucky Fried Cauliflower and Charred Aubergine Zhuganoush. 
As starters go, it was a very generous serving, and we were blown away by the crispy deep-fried tofu in teriyaki sauce. This well-marinated tofu would win over any carnivore or tofu dodger. The delicately flavoured cauliflower in breadcrumbs was a taste explosion, and passing diners stopped to ask us what we ordered - it was visually stunning.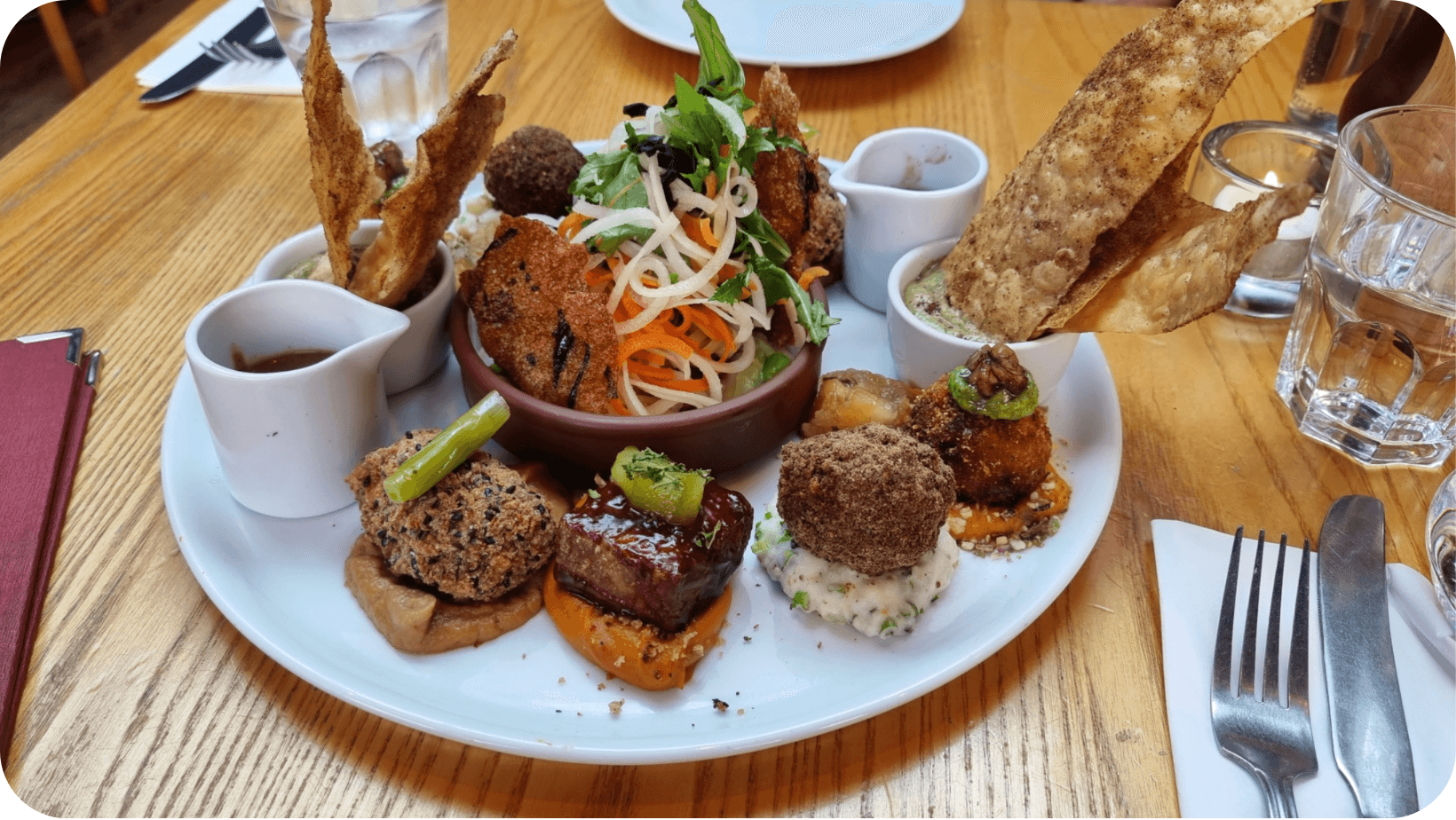 Aaron Calder
For our main courses, we shared Rosti Spinach and Sneaky Peeking Steamers. The rosti was made with crispy potato, onion and garlic on a bed of deep vibrant green sautéed buttered spinach finished with cream. It would normally come with egg, which they replaced with the most delicious umami-flavoured tofu. This dish is worthy of an Instagram post as it's so beautifully presented. 
The steamers were wonderfully soft steamed rice buns stuffed with Szechuan mapo tofu, ginger and bok choy. They came in a wooden steamer basket and were paired with kimchi Chinese cabbage, Lapsang Souchong pickled watermelon and miso chilli sauce; we enjoyed every bite of both dishes. Adding the different sides to each bite of the steamers made every mouthful taste unique.
It was time for pudding, so we ordered, Snap, Crackle and Choc, a deep, rich, creamy 70% cacao mousse on a toasty hazelnut praline and chocolate shortbread, served with mandarin sorbet. The pudding was a work of food art, decorated with tiny pink pepper aquafaba meringues and chocolate crack shards. The bitterness of the rich chocolate mousse paired with the ripe and refreshing sweet mango sorbet was a winner in our eyes and mouths. 
As we enjoyed our pudding we commented on how far vegan desserts have come - dairy is not needed. We already had our eyes on the other puddings for our next visit. They offer a sweet sharing plate, which is ideal when you can't decide on one dish.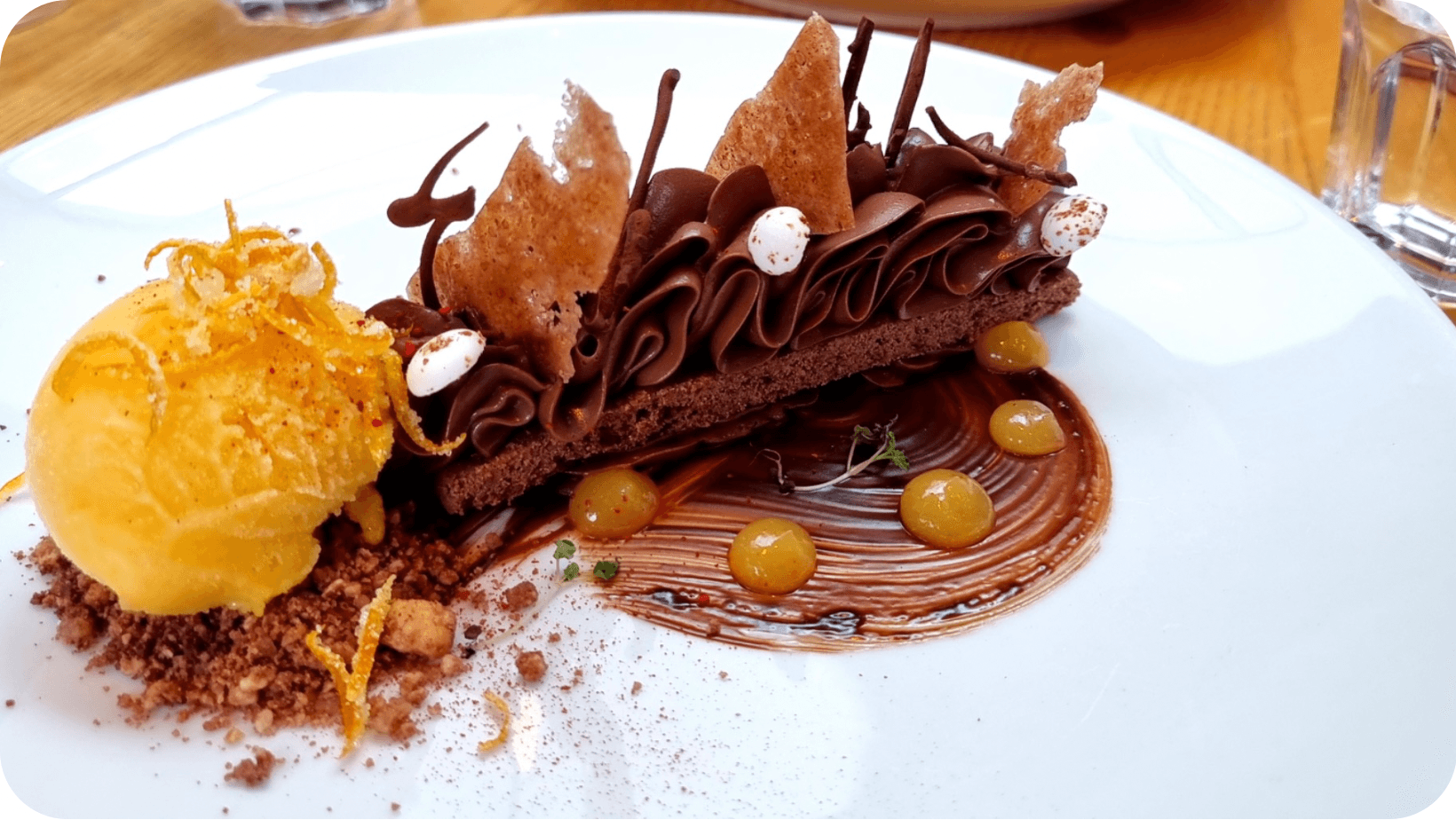 Aaron Calder
It's clear why Terre à Terre is so successful after so many years. Every element of the menu was well thought out, and when it's combined with excellent service and beautiful décor, it's a dining experience we will never forget. If you're looking for something very special in Brighton, this is the place to go.
Has reading this whet your appetite? Check out our interviews with French gastronomic chef Alexis Gauthier, and Antonio Alderuccio the man behind the award-winning Plant Club.