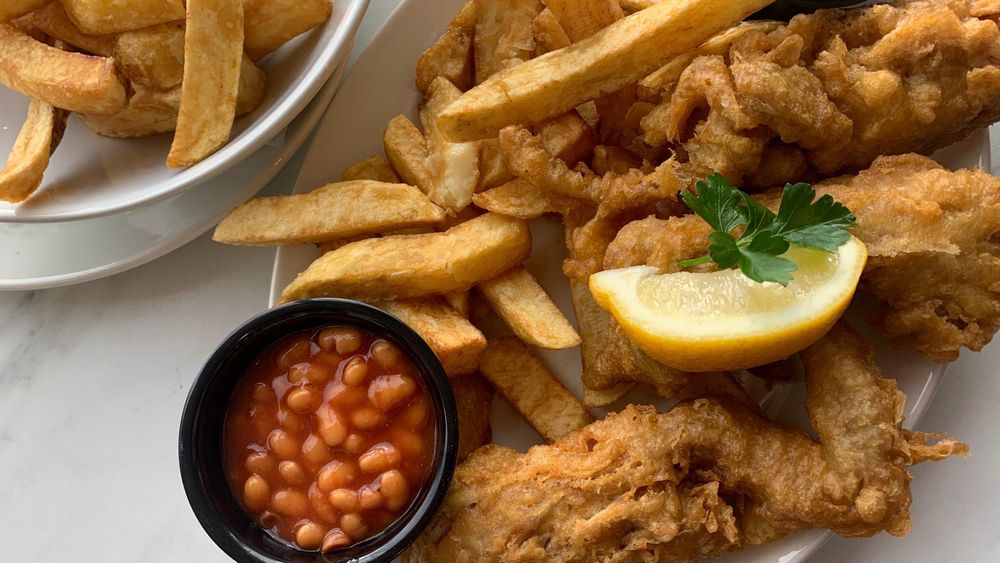 Holly Farndell
Best 4 vegan fish and chips in Brighton
A day at the seaside would not be complete without a belly full of fish and chips, and being the nation's favourite dish, it's important to know where to find the best local chipper. But what about vegan fish and chips? It's a whole other ball-game, so basing ourselves in one of the best vegan food spots in the UK, we're on a mission to find out what vegan fish and chips Brighton has to offer!
Little Jack Fullers 
Little Jack Fullers is a go-to for locals in Brighton and for good reason - being under a 5 minute walk from Brighton Pier in Kemptown, welcoming customers with a smile and lots of recommendations up their sleeves, it's the perfect seaside chippy to enjoy on a summer evening. We were really impressed by the range of vegan options on their menu and the versatility of ingredients to suit every appetite. 
The Jackfruit Scampi has a great texture to mimic fish - and whilst this meat-alternative is incredibly juicy, the panko crumb made it really crunchy with the perfect pop of spice. We loved that they paired it with garlic mayo. The chips are everything you'd hope for - they're chunky and great for dipping in curry sauce or drenched in vinegar. The cauliflower wings have a really soft texture with a kick of spice - they're a great size portion for sharing and have a really delicious airy and crunchy batter, pairing perfectly with the hot sauce.
Many places use tofu and nori covered in batter as a great alternative to your traditional battered fish, and LJF have their own 'Tofish' elevated with a spicy batter and garnish. It's super moist in texture and has a strong fishy taste from the nori, so if you're longing for that traditional 'fish and chips' taste, this is the one for you. It's even served with a vegan tartar sauce with a zingy lemon flavour. But the battered gherkins or as LJF have coined them, 'Frickles', are definitely our favourite. A really unique idea and perfect if you're a lover of pickles - they're juicy and tangy and are the perfect contrast to pair with sweet chilli sauce.
LJF started their vegan menu as they felt that everyone deserved a good plant-based alternative. And with a great range of options and feedback from their customers, they've seen just how much customers appreciate being able to find options to suit everyone in their group, both vegans and non-vegans alike. We can't wait to visit again, and the Bimini Bon Blossom is certainly next on our list to try.
Harry Ramsden's
If you've been to a major seaside town in the UK, you will most likely have stumbled across a Harry Ramsden's restaurant or takeaway. It's a great all-rounder for chippy lovers and has recently added a vegan meal to its menu. 
The Vegan Fish & Chips meal is made using banana blossom, an amazing natural and flakey alternative to fish, and is served with your choice of side and vegan tartar sauce. We really liked that this was a subtle nod to 'fish' as it didn't have an overpowering taste, and was served as 3 small goujons - perfect to share or to eat all to yourself! They really go to town with the batter which had such a fluffy texture and perfectly balanced out the inner filling. It's not one to make you feel light and fresh afterwards, but that's what you expect with fish and chips. The chips are always so good from here, proper chippy chips and a good amount of big fluffy ones and small crispy ones, great to pair with their flavorful and subtly spicy curry sauce.
Located opposite Brighton Pier, this is a great option if you're eating out with friends and family who aren't vegan.
No Catch Co
No Catch Co was launched as the first totally vegan fish and chip shop in Brighton in 2021 by members of the animal rights organisation Surge, jumpstarting their mission to 'stop emptying the oceans, it's time to stop killing fish'. We love that their passion for saving the seas and our planet was brought to one of the top vegan spots in the UK, and has been a hit with non-vegans too. Located just behind the British Airways i360, this is a great location to get away from the crowds in a quieter part of town. They have a huge range of large and small plates that mimic some of our favourite traditional chippy choices - from vegan cod to battered saveloy, prawns to chicken drumsticks, and of course mushy peas and gherkins - they have something for every appetite. 
At the top of our list to try is the battered sausages and chips - a chip shop staple but is missing in the Brighton vegan market currently. Although their triple cooked chips aren't necessarily traditional chippy-chips (if you know, you know) they are delicious nonetheless, and give that fluffy, chunky pub chip vibe. No Catch certainly aren't afraid to push the boat out with their range of options and experiment with what an amazing plant-based diet has to offer - we can't wait to see them open more locations around the UK.
The Little Fish and Chip Shop
Located in the Hollingdean area of Brighton, The Little Fish and Chip Shop is perfect for a Friday night takeaway, serving up a super substantial range of vegan alternatives including Tofish, Banana Blossom, Jackfruit 'Fishcake', Battered Dog and vegan Prawns. This joint is a firm favourite amongst Brighton locals, and is run by the brains behind Baby Bao at The Pond, another top spot for Brighton vegans. We can't wait to visit and give their battered dog a try!
We love that independent businesses like The Little Fish and Chip Shop are making room for more sustainable alternative options, and we hope that our non-vegans friends will enjoy a more mindful and delicious choice for their next takeaway!
So whether you're after an independent chipper that caters to all your mates, a sit-down joint to enjoy with your family or a fully vegan business to support, there's something for every occasion and location. And as some parting advice from a local - a takeaway on the beach should be enjoyed with caution - Brighton's seagulls take no prisoners! 
If you're hungry for more fish and chip content (who isn't?), check out our guide to some of the best vegan fish and chip options around the UK.