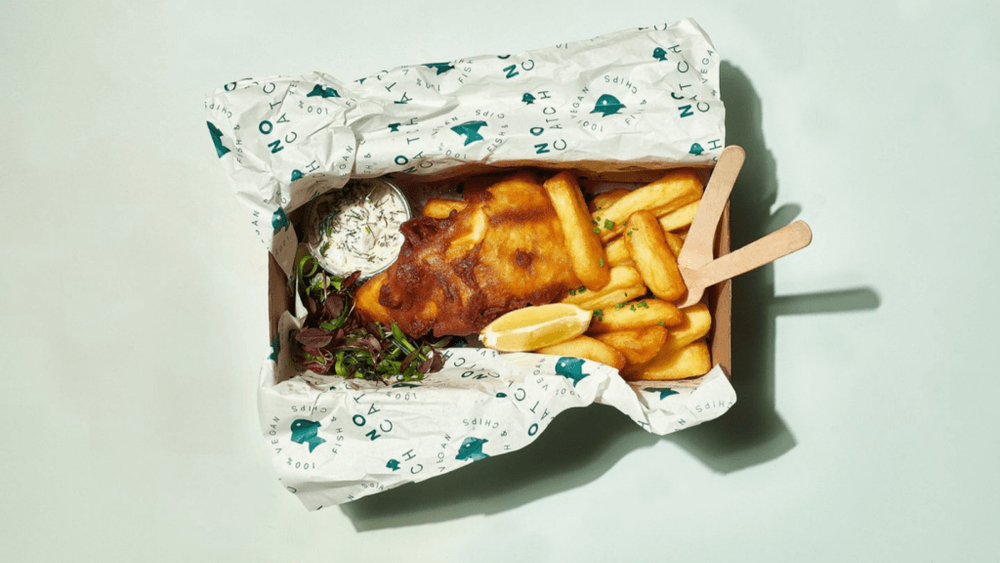 Vegan Fish and Chips
Want fish and chips? We've got it covered
Fish and chips are as quintessentially British as it gets. It is estimated that over 380 million meals are served at chip shops every year. This includes nearly 170 million portions of the traditionally paired fish and chips, which results in a level of consumption that is detrimental to both our planet and to the animals served upon people's plates.
Seaspiracy, a controversial documentary from 2021 aired via Netflix, looks at the impact the fishing industry is having on our oceans. In its conclusion, it proclaims a vegan/plant-based diet is the best solution to the problem, and thankfully, there are an increasing number of vegan seafood options across the British Isles. Listed below are just some of our favourite spots where you can grab your plant-based fish and chips fix.
Unity Diner
The signature dish at London based Unity Diner is their delectable fish & chips. The restaurant was founded in September 2018 as a not-for-profit, in order to fund animal rights work. Their award-winning fish & chips is a popular choice, serving a truly scrumptious beer-battered tofish (tofu-fish) cod and chunky chips, sided with mushy peas, tartare sauce and a chunky lemon wedge. It is an absolute must-have!
The No Catch Co.
The No Catch Co. is a Unity Diner inspired concept. Following the success of the fish & chips dish at the diner, the team worked on bringing a dedicated vegan seafood restaurant to Brighton which over the years has become a go-to destination within the vegan community. The restaurant has been a huge success and we're pleased to hear they're planning to launch more branches in locations across the UK. We cannot wait. In addition to traditional fish & chips they have everything from veganised smoked haddock to prawns and calamari and indulgent sweet treats on offer for dessert. Top-notch.
The Cornish Vegan
Based in the county's capital, Truro, The Cornish Vegan is a hidden gem. They choose locally and sustainably sourced products, and most of their range is made by hand, in their own kitchen. Their fish & chips is cider-battered banana blossom and served with a choice of fries, mushy peas, tartare sauce and lemon. For a closer chip shop experience you can also opt for their curry sauce and pickled onions.
Top tip: try to grab a table in the small but perfectly formed courtyard at the back of the restaurant, particularly when the weather is nice.
The Veggie Chippy
The Veggie Chippy is a top-rated takeaway on Happy Cow. Found to the north of Birmingham city centre it was the first vegetarian fish & chip shop in the UK. Now mostly vegan you have soya "vish" or battered "vod" to choose from. Their menu is extensive and includes pies, pasties and battered sausage as well as curries, pizzas and burgers. Something to meet everyone's taste.
MONO
MONO is a vegan community café bar in Glasgow with an established reputation for good beer, cocktails, an all-vegan menu and gigs. The venue hosts an exciting range of live music events but the top attraction has to be their battered tofish supper.
JJ's Vish & Chips
JJ's Vish & Chips have 2 locations in Leeds and Manchester. Established in 2019 there is battered banana blossom or tofu fish to choose from. With an extensive veganised chip shop menu there are many other battered options including banana and pineapple fritters. Perfect chip shop fayre. Given they are also a top-rated takeaway on Happy Cow it is another one not to be missed.
Sutton and Sons
Sutton and Sons have several locations across London. While not a vegan chain they have an extensive plant-based menu. Their signature dish is made from banana blossom which is marinated in seaweed and samphire, before deep-frying in their own batter. With lots of other veganised chip shop alternatives, the fishcake is worth a try too.
With vegan fish and chips becoming more mainstream by the day, there is a hopeful future ahead for our blue planet if we continue to adapt menus as the above restaurants have so expertly demonstrated, and leave fish where they belong - in the sea.
If you are still hungry for some more fish and chip content check out our favourite fish & chips in Brighton.