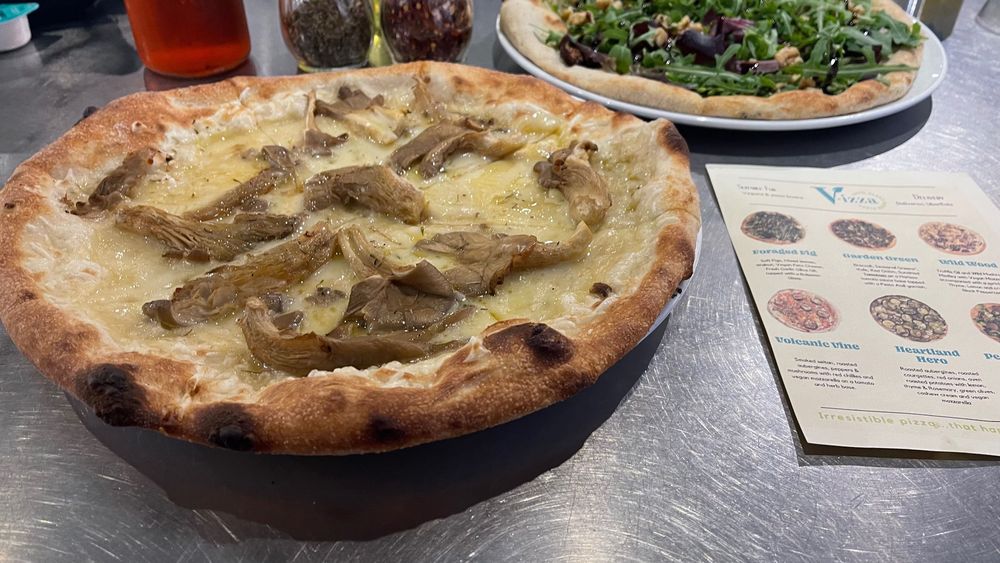 Louise Giddings
V-izza: London's hidden gem for vegan pizza
If you're on the hunt for some of the best vegan pizza in London, look no further than V-izza, born from a love of creating unique flavour combinations.
You can tell a lot of thought has gone into each handmade pizza created at V-izza. From toppings like cashew cream, fresh figs and oyster mushrooms, it feels like V-izza is paving the way for unique vegan pizza in London. 
Their vegan pizzas are available on Uber Eats and Deliveroo: you can order their vegan pizza in Camden, Fitzrovia and Wood Green on either delivery app. 
Foraged Fig Pizza
First up on the menu was the Foraged Fig Pizza. With fig being a more unusual topping, we were particularly excited to try this pizza. 
This was topped with finely sliced fig, mixed leaves, walnuts, and finished off with a drizzle of balsamic vinegar. 
The sweetness of the fig was balanced out perfectly by the tanginess of the vegan feta cheese base. 
The mixed leaves on top made the pizza feel very fresh, and the walnuts added a final nutty flavour which really married up all the ingredients. 
A great bonus about this pizza was that it didn't feel as heavy as some traditional pizzas. It was light and crisp with high-quality toppings.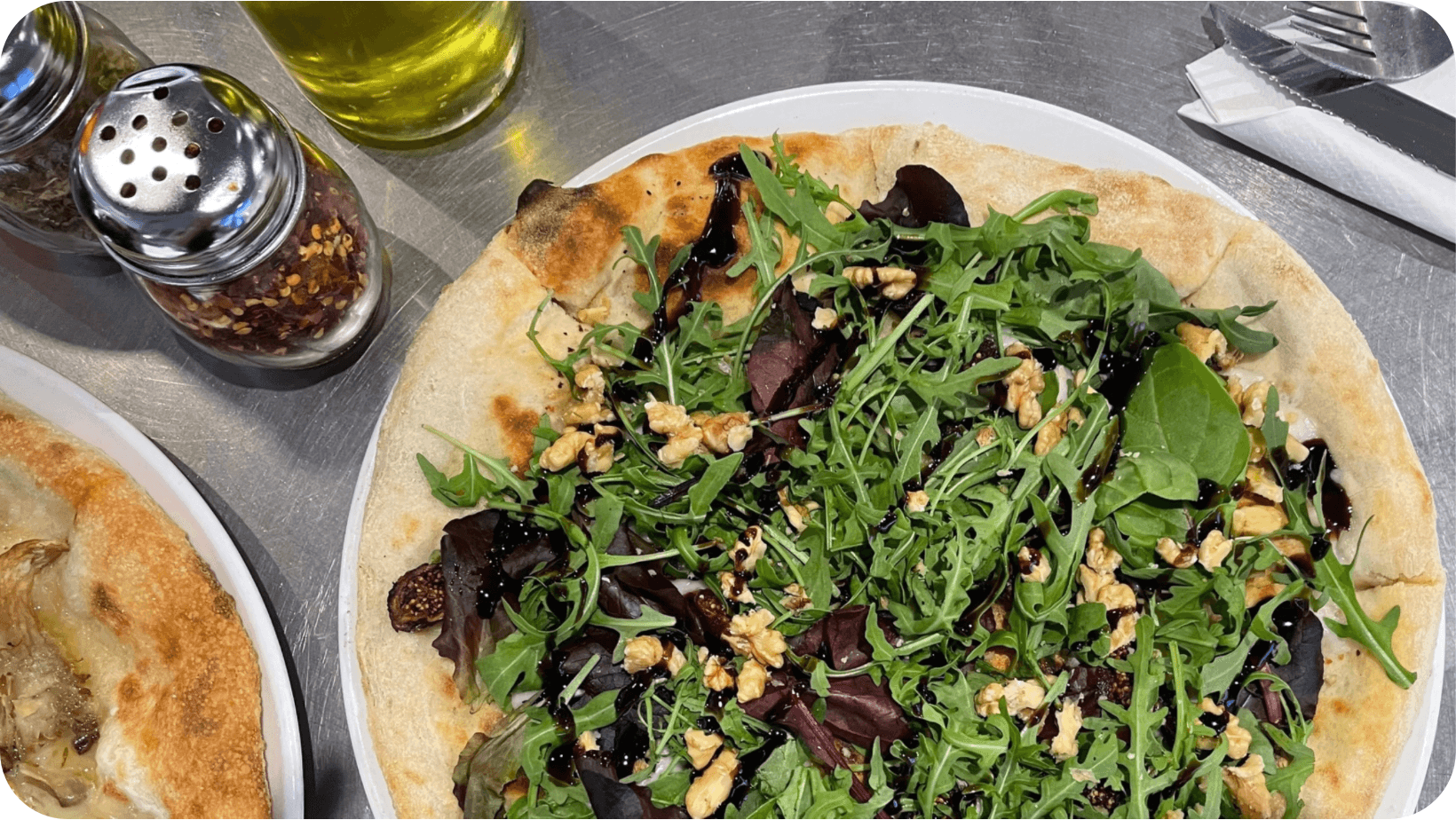 Louise Giddings
Wild Wood Pizza
Secondly, we tried the Wild Wood Pizza. 
Taking it back to basics, this pizza had a vegan mozzarella base, topped with wild oyster mushrooms and a generous helping of olive oil. This was finished off with a sprinkle of lemon and crushed black peppercorn. 
The Wild Wood Pizza is a guaranteed crowd pleaser. The combination of the oyster mushrooms and truffle oil complemented each other perfectly: V-izza got the balance just right, adding just enough truffle oil so that it didn't overpower the other flavours. 
The vegan mozzarella was particularly impressive and mimicked its traditional dairy counterpart. It was stringy and gave us that classic cheese pull, which can be a struggle with vegan cheese! The delicious and soft texture made it a fantastic base for this pizza. 
And finally, the sprinkle of lemon and crushed peppercorn on top was the fresh kick that really topped off this pizza. 
Their pizzas truly live up to the hype, and offer some unique flavour combinations that we've not seen before. So be sure to look out for them on your next weekend takeaway night or for a weekday treat. 
As the ultimate comfort and sharing food, it's essential that vegans can access good pizzas; we speak with Mike Hill, co-founder of One Planet Pizza, to get the lowdown on how pizza can be delicious and sustainable. And if you're heading down to sunny Brighton, check out some Shroomin' Flower Power Pizza!