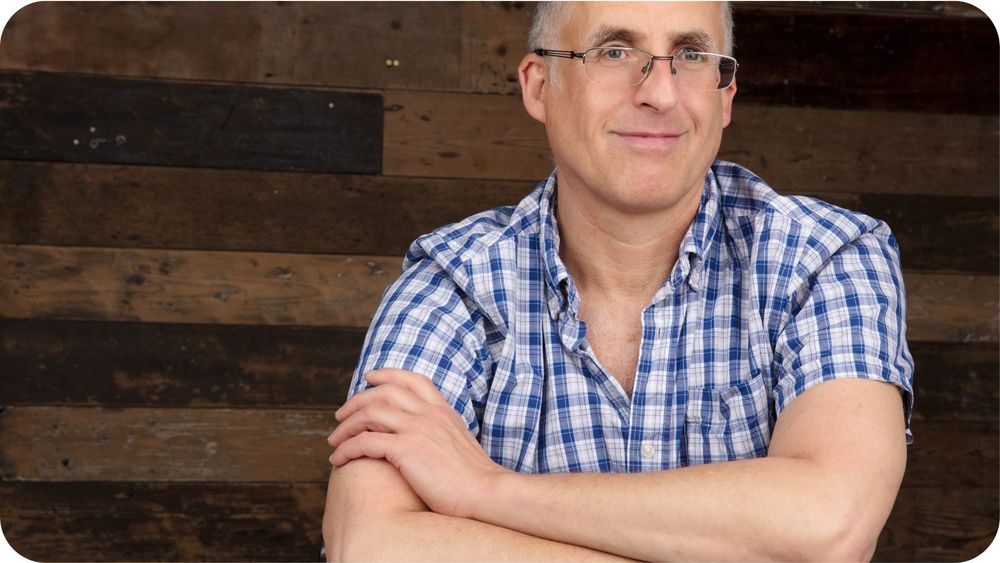 Tim Barford
How Vegfest's founder grew it from a small fayre to huge festival
The UK's biggest indoor vegan festival will return to Olympia London (aka Olympia Exhibition Centre) on November 12th for a weekend packed with delicious vegan food, interactive talks, guest speakers, product launches, and a host of exciting vegan vendors selling their wares with samples and tasters to enjoy. With the key focus this year being entertainment, visitors can expect plenty of laughs, games, music and an amazing line-up of vegan businesses and influencers too. We sat down with Tim Barford, Vegfest founder and owner of Yaoh, one of the UK's first hemp companies, to find out how a small vegan fayre, became the huge success it is today.
V-Land UK (V-L): Vegfest is a success story many business owners dream of. What started as a vegan fayre in Bristol two decades ago is now one of the most prestigious vegan events in Europe. What was the inspiration to create a vegan festival?
Tim Barford (TB): I went pretty much plant based in 1980 aged seventeen, and attended my first animal rights rally then too. I recall noting that everyone was chomping down on cow burgers and wearing leather, whilst protesting about blood sports, and that memory has stuck with me. In 1984 I went vegan and spent a lot of the 80s and 90s partying and travelling as I was doing vegan outreach throughout that time. My thing was to throw parties for any excuse, the food would be plant based, the conversations would open up around good times, food, and had a feel-good factor, something very different from the animal rights scene.
I went vegan for what I call 'holistic' reasons. In 1984, as a young man, going vegan ticked every box I could think of - as a disaffected youth of the Thatcher generation, no longer did I focus on the problems, I could now focus on the solutions, and live a life in alignment with my values. It was only in 2015 I developed an animal rights perspective and began to understand veganism as a position against the wilful commodification of all animals, alongside the benefits for human health, sustainable food supply and environmental benefits that whole food plant based diets bring to the table.
Come 2002 I went to the London Vegan Festival at the Conway Hall and my partner's son aged fifteen was asked to leave because he wasn't vegan. As we left - not best pleased as you can imagine - I thought, "This isn't going to work, it's too closed, too moody, too dark, too unwelcoming, and no one's going to go vegan like that". So, I said to myself, "Ok let's do my own show and put the rock and roll into veganism and have some fun and games with it". Then, the next year Bristol Vegan Fayre came about on World Vegan Day 2003.
Bez from Happy Mondays headlined the after party and we had great crack. That day, the colour, spirit and fun, complemented by music, gave an entirely different vibe to the scene, and we never looked back. Not everyone was a fan, but a whole new movement was born.
V-L: What has the journey been like? 
TB: The journey has been fabulous. As I approach sixty and with two decades of vegan events behind me, the way I feel now, it's all been worth it. And there are many people who have benefitted from these events, and by extension animals and the environment. We've had so much fun with it, and so many good results, that any tough times along the way seem to be part of the fuel to succeed on so many levels. Fly straight and trust a little in the unknown. You definitely need those qualities to last in the events industry.
The last few years have ruined a lot of people and businesses, especially the events trade. It is only for the headstrong if truth be told. And the vegan scene can be pretty merciless too – what happened to Vegan Camp Out last summer is a really horrible example of how we can turn on ourselves as a movement. But you know what? This work needs doing. Don't be shy. You got a timetable? Get on it.
V-L: What advice would you give people that are finding their vegan path?
TB: Be consistent, be kind, seek learning outcomes that include everyone, avoid punitive exclusionary puritanical approaches, be humble and don't stop growing, learning and hoping. Oh and an important one; don't forget the B12.
V-L: Exhibitions are a great way for companies to stand out and grow as a business. What advice would you give to vegan business owners looking to make their brand stand out?
TB: So many businesses have come through these events and flourished. The trick is to learn how to get the best out of an event dependent on your business model. Not everyone has the same aims at a show. For example, subscriptions direct to the consumer are a popular model these days, bypassing the previous route of supplying distributors and retail outlets. Whilst others are looking for year-long customers shopping online instead of sales on the day. The clever thing to do if you are getting started (and we have a lot of new startups at Vegfest this year!) is to come in on a starter level, learn the trade, and see how to get the best out of the show before considering scaling up for the next year. At the same time, when you launch, you launch, and there's no better way to launch than at a major vegan event, and we have quite a few launches - exciting!
V-L: This year sees the return of VegfestUK Awards, what do you look for in a VFA winner?
TB: Yes, the 16th year for the awards, and fortunately it's not me that has to look for a winner, it's the people who vote online who make that call. I love the awards and putting them together.
V-L: What's next for Vegfest?
TB: Vegfest UK London 2022 is approaching and it is quite a big ask. I love it and am riding the waves. Once we get past this event we'll have a look for 2023.
We'll see you there Tim, we can't wait! If you haven't grabbed your tickets yet, there's still time and you can buy one ticket and take a friend for free too! Love a vegan event? Check out Vegan Kids Festival and Fat Gay Vegan's London Vegan Social events.