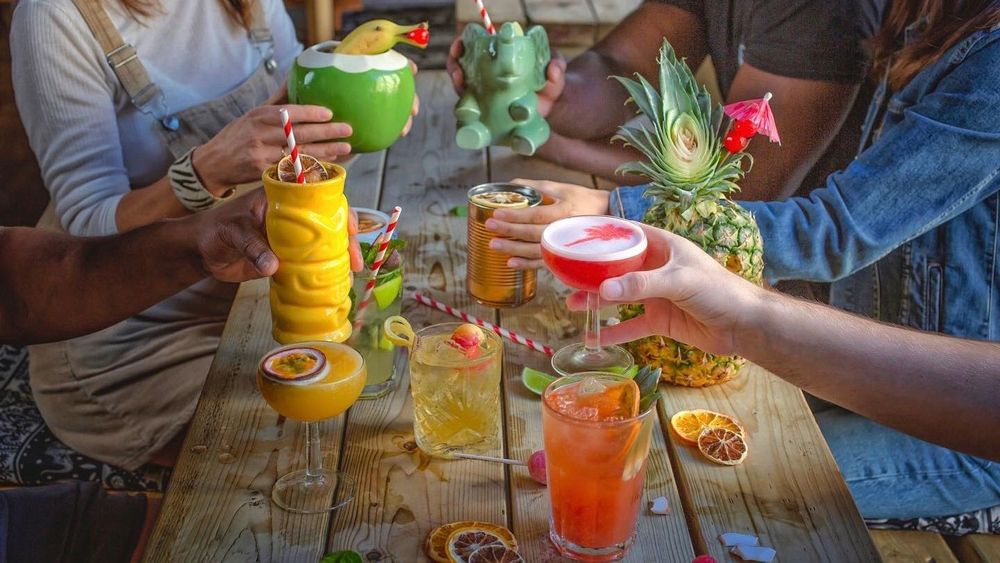 The Coconut Tree
Where to go for vegan cocktails in Bristol
It can be hard to know what cocktails are vegan, especially when you're at a bar, or in a city you've never been to before. That's why I've compiled a short, but concise, list of the best vegan cocktail bars in Bristol so you can still enjoy a happy (but ethical) hour. If you're ever in the South West city and fancy a cocktail or two, there's some vegan-friendly bars you just can't miss. This list was decided by three key factors: originality, looks, and, of course, flavour.  
The Coconut Tree's 'cocotails'
First up is The Coconut Tree and their cleverly named 'cocotails.' The Coconut Tree is a Sri Lankan restaurant that serves up delicious vegan options, including their extensive vegan cocktail menu. Their cocktails are heavily influenced by Sri Lankan spice and heat, but also juicy tropical flavours such as pineapple, mango and coconut. If you love rum, this bar is for you. Their 'sriki tiki' incorporates coconut and gold rum with the sweet taste of both pineapple and guava, topped off with a generous squeeze of fresh lime.
As for looks, their glasses and drinking ware make for the best photo opportunities. Brightly coloured tiki cups, elephants, candy skulls, and even fresh pineapples. As someone who loves an espresso martini, the 'sri-presso martini' is an Asian-infused classic that is now a go-to. Vodka, coffee and vanilla liquor are all shaken together with cardamom-infused sugar to create an enticing herbal aroma. Cardamom is a Southeast Asian spice that has a deep peppery taste. 
Alter Ego 
The best vegan cocktail bar near me for a classic cocktail. Not the most original, but an excellent choice for a great price. Alter Ego is a sports bar along 'the strip' down Whiteladies Road, meaning it's snug against several other great bars. Perfect if you're in the mood for some pub-hopping.
You can have your cocktails to-go, that's right, takeaway cocktails, or sit in and enjoy some live sports. They do an incredible frozen margarita that's perfect for a hot day, or a raspberry daiquiri if you still wanna stay cool but fancy something a bit sweeter. Their pina colada is the best creamy vegan cocktail, just remember to ask for no whipped cream and you're set. Aside from that, their pina colada is all traditional: coconut cream, dark rum and pineapple juice. The bar staff are incredibly accommodating and are able to make any cocktail you ask for, even if it's not on the menu.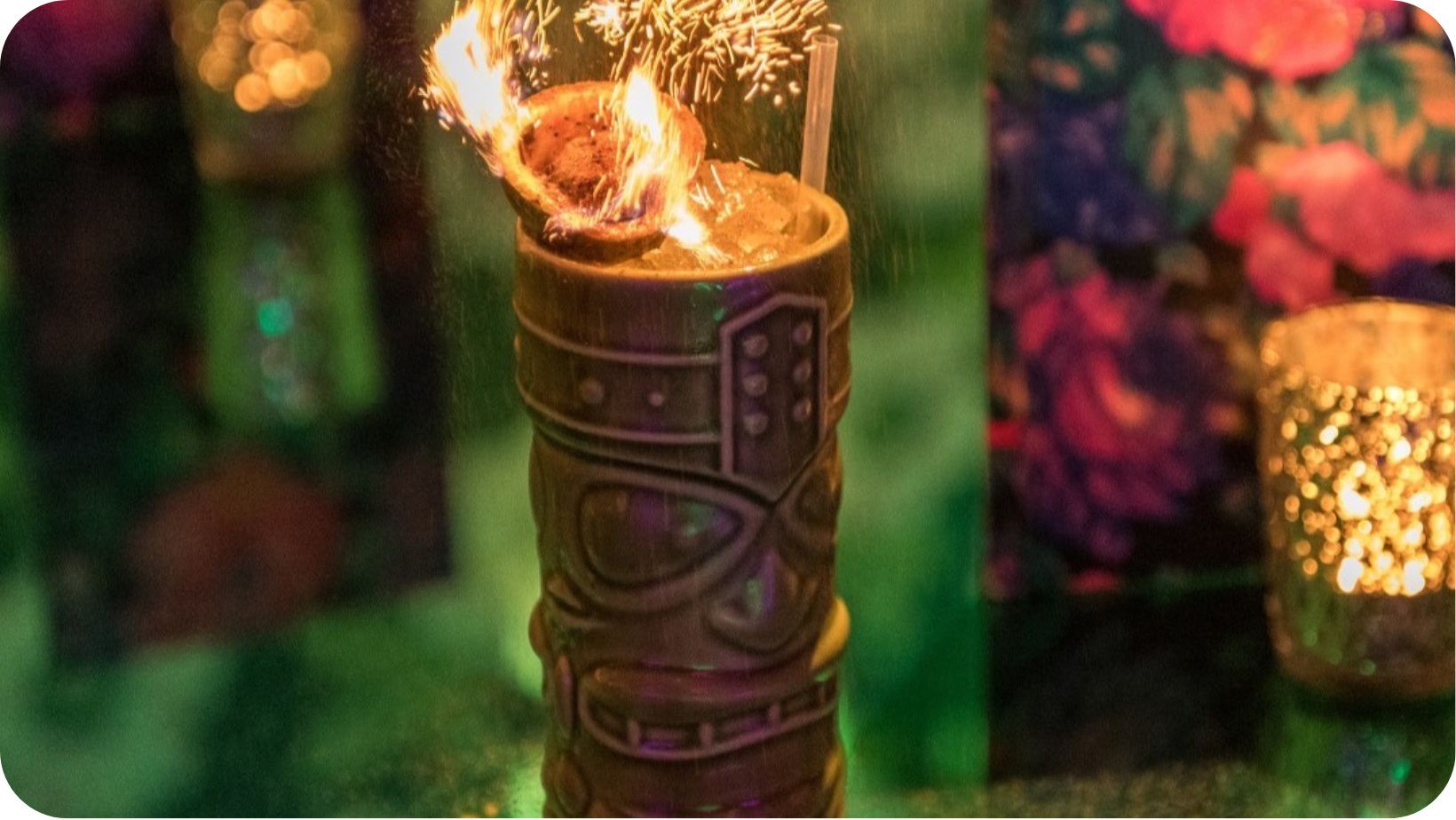 Blame Gloria 
Although this one's new on the scene, Blame Gloria's fuschia floral decor has made a big impression on those of us who love an Instagrammable cocktail bar. From a glitter walkway to rooms dressed in pink wallpaper and disco balls, this underground bar is a feminine fantasy. With a selection of over thirty cocktails, it's no understatement to say that Blame Gloria are serious about their cocktails. Although they aren't a vegan cocktail bar, there's plenty of cocktails that are free from cream, milk, honey or egg whites - their menu is thankfully labelled so you can be certain. Their speciality cocktail, 'Peach Pie' is a personal favourite that mixes southern comfort and amaretto with pineapple, white peach, and citrus juice. It's a super fruity vegan cocktail that's sweet and goes down a treat. If you're vegan, you'll know sometimes it can be hard to find a vegan-friendly beer, so it's great that Blame Gloria serves Peroni, Asahi, Estrella, and even Blue Moon.  
The Florist
Aptly named, this elegant bar is literally decorated like a florist. Classy and sophisticated, The Florist is the perfect place to dress up and treat yourself to some posh vegan cocktails. Although it's not a gin bar, you're gonna have to love gin for this one because The Florist specialises in gins and liqueurs that have fruity and floral notes. Of course, you can still have a beer or a glass of wine, but their flavoured gins are notably luxurious. The decor changes from room to room, but you can't miss the faux pink blossom tree, ornamental flowers hung everywhere, and even an entire wall of flowers. Their vegan cocktails are listed on their website, so it's easy to know what's for grabs.
Like all the cocktail bars in this list, they have some delicious alcohol-free cocktails that are vegan. I love their selection of Everleaf aperitifs, especially in the 'Coconut and Cherry Blossom Martini' which mixes 'Marine' with coconut cream and pineapple juice for a silky sipping cocktail. Alcohol-wise, their 'Flojito' makes for a nice change from gin, if you like Bacardi. The drink combines Bacardi coconut, pineapple and ginger liqueur, guava juice, almond syrup and mint. You have to give it a try - it's refreshing, light, and fruity. As for looks, originality, and flavour, this girly bar scores pretty high on the list and is a must if you're ever in Bristol. 
If you fancy something to eat before your drinks, check out best vegan restaurants in Bristol or if you simply fancy something non-alcoholic to drink, have a look at what we've said about Perfect Ted Matcha: a refreshing, sparkling matcha drink that you're bound to love.