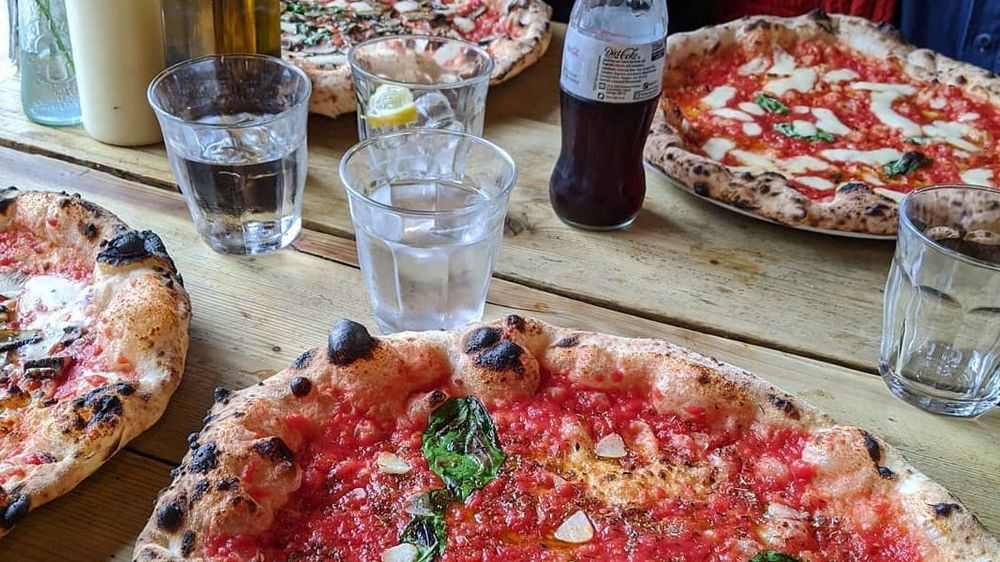 Lucy Ireland
7 best vegan pizza places in Manchester
From Naples to New York, to Detroit to... Salford? Here is our roundup of the best vegan pizzas in Manchester. Believe us when we say it's been very difficult to narrow them down! From adventurous flavours to authentic Neapolitan pizza, there should be something on the list to tempt everyone. Warning: do not read this list whilst hungry! 
Rudy's
Rudy's on Cotton Street in Manchester was listed as one of the best pizza restaurants in the world by international guidebook, Where to Eat Pizza in 2016. Their first restaurant opened in Ancoats, Manchester in 2015 and has since expanded to nine sites in Manchester, Liverpool, Birmingham, Leeds and Sale, Stockton Heath and Soho. Their marinara pizza is authentic and delicious, and they often have vegan specials. 
Four Side 
We can confirm that their pizza is as good if not even better than their burgers. Fluffy yet crisp Detroit style pizza comes in classic margherita and vegan pepperoni with red onion, an olive crumb and vegan mozzarella. They also have more unusual toppings such as house made NDuja with potato, roast tomato, mozzarella and chives on a white base and a tofu 'egg' Florentine pizza with carrot 'pancetta' on miso buttered spinach. Served with garlic knots, tots or rosemary or truffle fries you can't go wrong with a Four Side! Find them at Electrik bar in Chorlton-Cum-Hardy or order on Deliveroo.
Pizzology 
We don't know what they put in vegan Pizzology pizzas but they are addictive! The thin and crispy bases are covered in marinara sauce and rich, melty vegan cheese. It's so moreish! Their toppings menu contains all of the usual suspects, vegetables, pineapple with the welcome addition of vegan 'pepperoni, chicken, sausage and mince'. Find their contact details to place your order on their website.
Nell's
You can find Nell's pizza at Common, The Beagle, and at Kampus. Their crisp, delicious New York style pizza is served by the slice and available in 14" or giant 22" pies. Some will remember Nell's international news coverage over 'Slice-Gate' when police told them their giant slices didn't count as a "substantial meal" during 2020 COVID restrictions. We beg to differ, they are huge slices! Nell's 14" pizzas are also available to order on Deliveroo.
Purezza
Purezza, the UK's first all-vegan pizzeria, originally from Brighton with restaurants in Hove, Bristol and Camden, opened the doors to their new Manchester restaurant in 2021. We tried their margherita pizza and it was the perfect classic Neapolitan. The vegan mozzarella was delicious and their melty, cheese filled dough balls lived up to the hype!
Crazy Pedro's
Crazy Pedro's "part time pizza parlour and full time tequila and mezcal bar" sell pizza by the slice and whole. Their vegan options "Can't Cook Won't Cluck" with "not chicken" nuggets, potato waffles, beans and red or brown sauce and "Giuseppe's Not Sloppy He's Vegan" with hot spiced "not beef" chilli, green pepper, onion and jalapeno are perfect enjoyed in their Bridge Street beer garden in the summer, and sometimes essential when you've enjoyed a few too many Hooch's in their Northern Quarter pizza parlour and basement bar! Also available to order on Deliveroo.
Matt and Phreds
Matt and Phreds are a bit of a wildcard, a basement club hosting live jazz, funk and soul acts in the Northern Quarter, but they are certainly a wildcard we'd recommend. Matt and Phreds pizza is absolutely delicious. They do one vegan option with a tomato base, garlic oil, a generous amount of spinach, red onions, spring onions and olives. Their happy hour deal "buy two selected drinks and get a free pizza" is very popular amongst those in the know! Check out their gig calendar and book a table here.
Where are your go-to vegan pizza places in Manchester, or anywhere else in the UK for that matter? Tag us at your favourite pizza place on Instagram and let us know! If you're a pizza fanatic read our interview with the co-founder of One Planet Pizza. If you simply love excellent Mancunian vegan food check out scrumptious takeaway vegan wings and vegan kebab eateries.