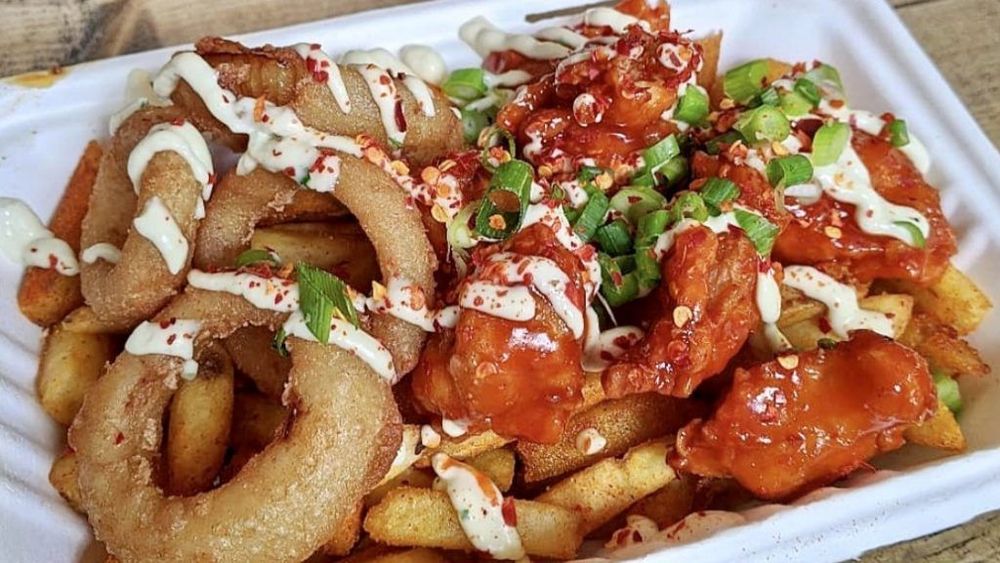 Lucy Ireland
5 best takeaway vegan wings in Manchester
To paraphrase Mindy Kaling, we have the right to life, liberty and vegan wings! Here's a list of our 5 favourite places to pick up some of the best vegan wings in Manchester.
Herbivorous
You can find Herbivorous in their Withington restaurant or at Hatch on Oxford Road. We can't get enough of their Buffalo 'Chicken' Wings, in a deliciously spicy Buffalo sauce with garlic and herb mayo, spring onion and chilli flakes. Grab a portion of wings for £7.50, wings and fries for £10.50 or loaded wings and cheesy fries with Herbivorous' house-made cashew cheese sauce for £11.50. Also available on Deliveroo and UberEats.
V-Rev
V-Rev's 'Buttermilk' fried seitan wings are available as original, maple garlic or Nashville hot. Topped with fresh chives and served with ranch dip. 5 wings for £5.95 is available on Deliveroo.
Wholesome Junkies
Wholesome Junkies' oyster mushroom wings, £7, are crispy, deep fried mushroom with your choice of dip. Although technically not styled as wings we couldn't have made this list without also mentioning Wholesome Junkies Chikn bites, available in small for £7.50 or large for £10 with dip, they also come in some of their saver boxes with fries starting at £8.50. They'll be available to order on Deliveroo and UberEats.
BrewDog
Buffalo Cauliflower with vegan mayo dip and your choice of canned or fresh draught beer? We'll put our order in now! Buffalo Cauliflower is £9.50, £18.95 with two snacks. Vegans have fries, corn on the cob and sweet potato fries to choose from and beers start around £4. BrewDog is available on Deliveroo and UberEats.
Vegan Shack
They may technically not be "wings" but we started breaking the rules at Wholesome Junkies and there's no turning back now. You'll be glad we flouted the rules when you try Vegan Shack's Chick'n Tenders, three tasty vegan 'chicken' tenders with a dipping sauce for £6. Order on Deliveroo, UberEats or click and collect.
There you have it, our favourite vegan wings and similar vegan fried 'chicken' dishes in Manchester. We can absolutely vouch for the burgers, fries and more on all of these menus too - they are some of the best vegan food you can get your hands on in Manchester. Now all you need to do is crack open a cold one and place your orders.
If you are a Mancunian vegan foodie you may want to check out our articles about The Vurger Co and the 7 best vegan pizza places in Manchester.