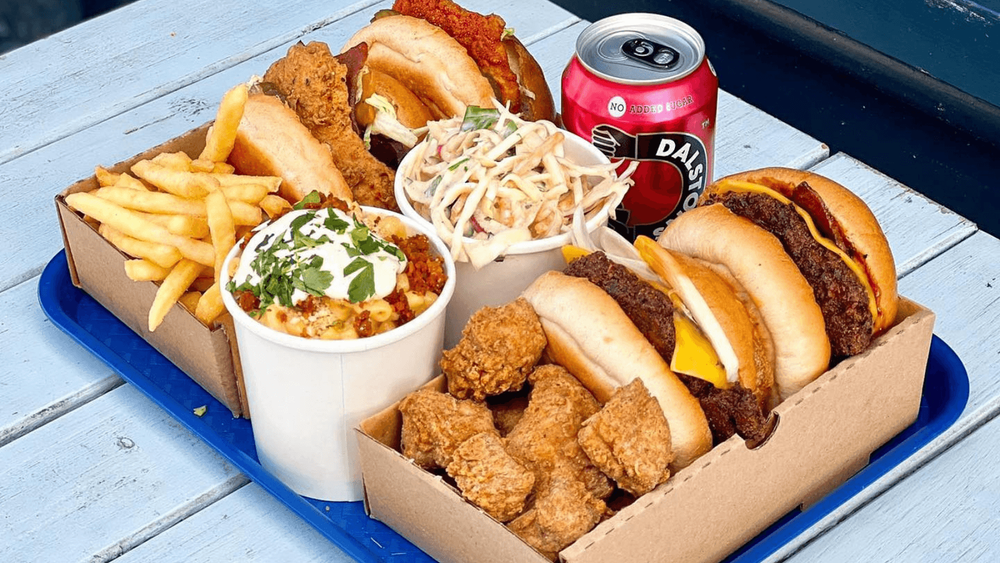 Temple of Seitan
Best vegan burgers to sink your teeth into
Many non-vegans harbour the misconception that those on a plant-based diet miss out. There are tens of thousands of edible plants and with almost everything non-vegan having already been veganised, this simply isn't true, of course. Vegan food is everywhere and if there is one option that excels in choice and variety, it has to be the burger. If you are old school, then there is the healthier bean or jackfruit burger. However, there is an increasing number of "meatier" options these days. Such patties will form the basis for many a dirty vegan burger. These naughty but nice burgers come in many forms, made of seitan, soy or even pea protein. They are often complemented with buns, toppings and sauces that have to be seen to be believed. And boy, at V-land, we have seen and we believe.
With so many to choose from, narrowing down which vegan burger restaurant offers up the best vegan burgers is a challenge. We have tried though and here are our top ten go-to restaurants across the UK. 
Frost Burger
The self-proclaimed badass of street food and we agree they are, Frost Burgers can be found in Liverpool. With an extensive menu of 'beef' and 'chicken' burgers, you are spoilt for choice. Their more unusual offering will satisfy anyone with a sweet tooth as their 'Candy' burger is a double patty with cheese, onion and BBQ sauce, served in a glazed donut. This really does elevate the concept of the dirty vegan burger, taking it to the next level.
Temple of Seitan
This vegan fried chicken brand has grown in size and popularity since its humble beginnings at festival and street food markets in 2016. Temple of Seitan opened its first permanent location in Hackney but now serves from many delivery, takeaway and restaurant locations across London. Plant-based chicken made from seitan is their signature offering and includes the 'Nashville Hot' and 'Buffalo Glaze' burgers.

However, for those who prefer a beef style patty when it comes to burgers, you won't be disappointed. As they say, "Hail Seitan!", and we do.
Ready Burger
The world's first 99p plant burger has arrived. With prices like that, Ready Burger is a vegan burger restaurant that is considered to be a plant-based version of McDonald's. With two locations in Crouch End and Finchley Road in London, more are already planned and we can't wait. 
Oowee Burger
Oowee has four locations to choose from. Dalston and Brixton in London and Picton Street and Baldwin Street in Bristol, where it all started. They have a team of chefs making their patties and sauces by hand and a local baker supplying their buns, and it shows. With an extensive menu of fourteen burgers it is hard to pick a favourite but it does mean there will be something to suit everyone's taste.
Biff's
Back in 2017, Biff and Cristina started a street food stall serving up deep fried jackfruit as burgers and wings. Jump to 2022 and Biff's now has the UK's largest vegan delivery and takeaway network. You can also find them being served up at many restaurants like Brewdog Dalston. You'll therefore be hard pressed to find a part of the UK where their burgers, such as the 'The Basic Biff Cheezeburger' and 'The Hot As Hell Burger', can't be found. If you have no luck on their Biff's location finder, not to worry, they are now also exclusively available at Waitrose.
Flower Burger
Flower Burger launched in 2015 in Italy before coming to the UK. They first arrived in London but now also have a location in Brighton. In April we were thrilled to be invited to the Fitzrovia location and we wrote about our experience tasting all of their amazing burger creations. They are the most colourful burgers you will come across, they are packed with flavour and are healthy too. With so many junk food burger options out there it is great to also have the traditional bean burger represented in such style.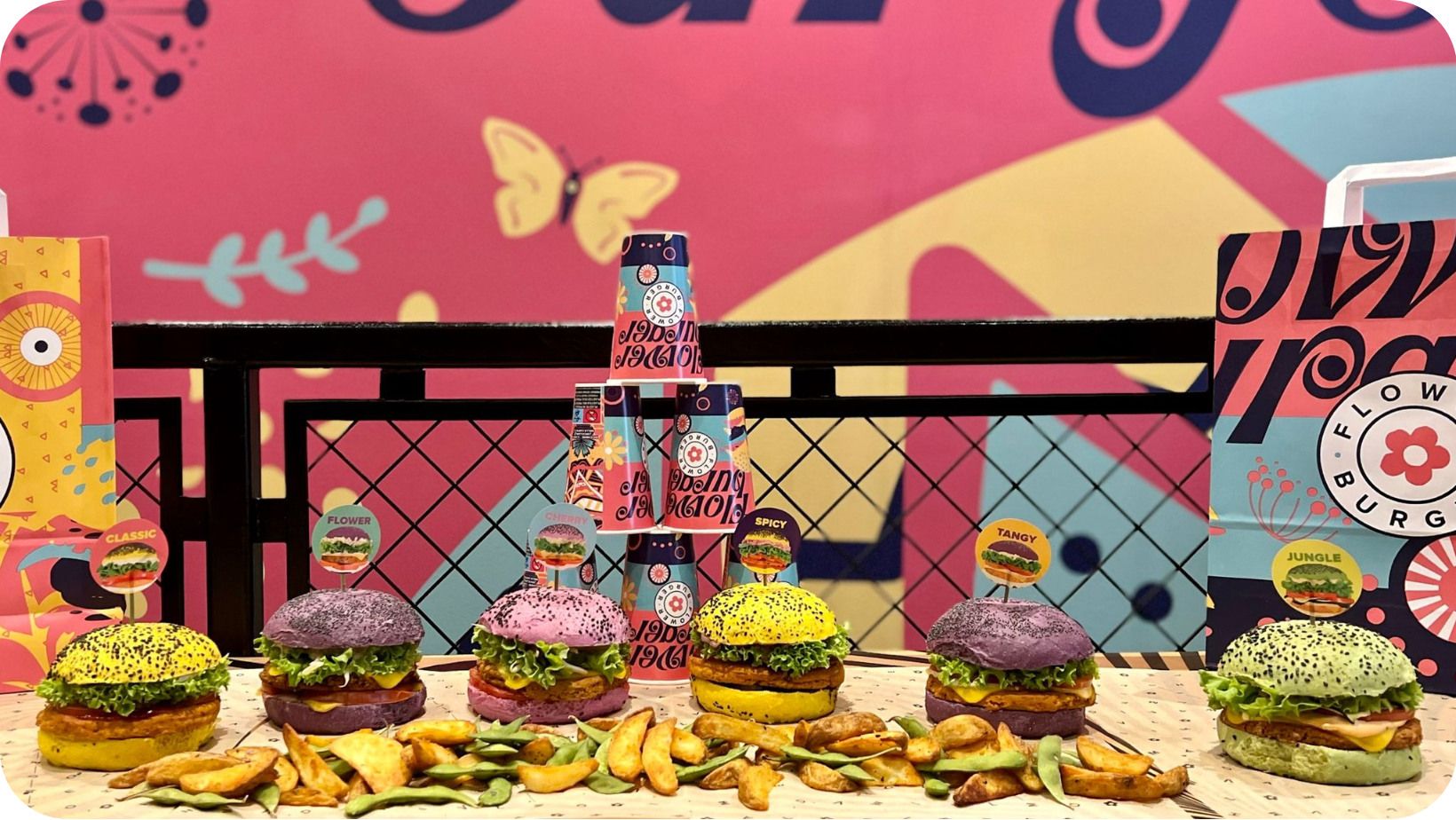 V Land UK


Rabbit Food
Following stints in Perth and Glasgow, Rabbit Food is currently doing a residency at Meadows Tap in Edinburgh. These Scottish-based food magicians make the most divine junk food from plants. Their 'Buffalo Soldier' with house sauce, a crispy chicken patty, tossed in buffalo hot sauce, topped with cheese sauce and house slaw, has to be the ultimate vegan burger, hands down.
The Moon
At a rescued music venue in Cardiff, The Moon's vegan kitchen serves up one of the most stacked burgers out there. Their self-titled 'Moon Burger' consists of a handmade beefless patty in a challah bun from a local artisan baker. It is layered with 'bacon', gherkin, lettuce, tomato, cheese, onion rings and their own burger sauce. If that is not enough to quench your burger thirst then you can always add an extra patty as well as an extra kick from sriracha or mustard. You will be in junk food heaven. 
The Vurger Co
Inspired by the plant-based options during a trip to California in 2016, The Vurger Co now has four restaurants across London, Brighton and Manchester. V-Land caught up with their Co-Founder Rachel Hugh in May as they launched their Manchester location. We still salivate in our dreams about our order that day - Buffalo 'Chicken' burger with fries, a New York Melt burger with 'bacon' mac and cheese and a 'Dream Egg' milkshake. 
Rudy's Dirty Vegan Diner
If you are in need of a dirty vegan burger fix then head to Rudy's Dirty Vegan Diner. You will not be disappointed. What else would you expect with a name like that? Rudy's opened their first restaurant in Camden and now has another location in Islington. This second location also has an adjoining butcher selling plant-based meats like salami and ribz. This created such a buzz that long queues formed on their opening weekend and it remains a firm favourite to this day.
If you like discovering where to find the best vegan burgers you might also be interested in our picks for fish and chips and Afro Caribbean cuisine.