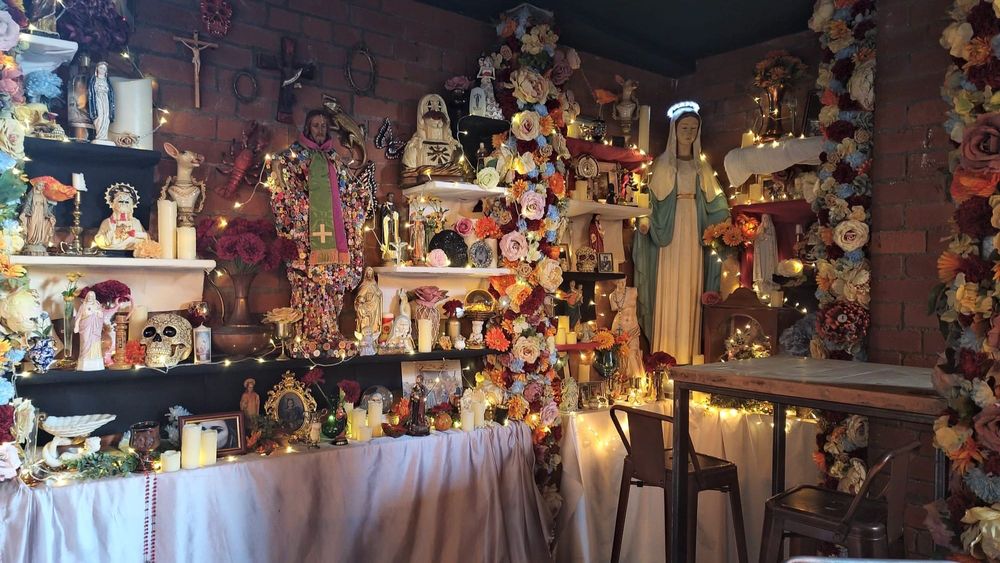 El James
Church - Temple of Fun: A place of worship for vegan foodies
Set within the Rutland Works, a building once filled with the sound of clanging hammers and quenching steel, we visited Church - Temple of Fun (aka Church) - the best place to go in Yorkshire for vegan food, or any kind of food for that matter.
Fresh off a hectic tour schedule, we were fortunate enough to bump into Oli Sykes, the owner of Church (and international rockstar!) outside the Drop Dead Warehouse - which backs onto the actual restaurant. You'd be forgiven for not associating an international rockstar with a vegan diet, but Oli proves you can be rock 'n' roll and lead a healthy lifestyle. 
After a chat and some pictures, we headed inside and were amazed at how visually stunning Church is, with notes of Opus Francigenum and a touch of Latin American Church combining perfectly with the walls adorned with artwork, crosses, candles, and shrines. The seats are ex-church seats with spaces for bibles behind them, and the décor is an ode to archaic art, with a heavy influence of religion, but if you're thinking of traditional religion you'd be wrong for the religion to follow here is veganism. 
What makes this restaurant stand out from the rest?
Given that Church is owned by Oli Sykes, we expected the place to be overrun with alternative folk but were surprised to find that this is truly a family restaurant. There were people at the bar having their daily pint (or three) and families all gathered around the large screen watching a movie. Far from the metal heads and emo kids we were expecting. They recently held a pop-up event for Overnight Angels, had Malevolence play on New Year's Eve, frequently screen films, and regularly hold life-drawing/doggy day drawing sessions.
What was the food like?
Our waitress, Liv, was incredibly knowledgeable about the menu, so we decided to give her full control over what we were served. We asked for her favourite items, and she delivered. Drinks were up first and as soon as we saw the frozen margarita cocktail with a shot of CBD, we were sold. The glass was so cold that it started to frost over before the drink even started melting - exactly what was needed on such a hot sunny day. We also tried the delightful Beavertown Neck Oil IPA which helped to wash down the food, making space for dessert.
With the sun blasting through the windows and a gentle breeze emanating from the double doors leading to the balcony, we were served an array of food. We began with chilli cheese criss-cross fries with homemade guacamole and sour cream. The chilli cheese sauce dribbled into the holes of the criss-cross fries, ensuring that every single bite was packed with flavour. The fries were crispy on the outside and fluffy on the inside, with visible steam leaving after every bite.
Next up were the oyster mushrooms with BBQ sauce, and wasabi mayonnaise. The BBQ sauce was fruity, tangy, and had a beautiful layer of smoke which paired perfectly with the oyster mushrooms, which were fried to a crisp perfection (and not a single drop of grease or oil present). The silkiness of the wasabi mayonnaise combined with the heat from the horseradish set the tastebuds into an overdrive of pleasure. As if this wasn't enough, we were then served another two dishes: BBQ chicken salad bowl and the signature Syko burger, aptly named after Oli himself.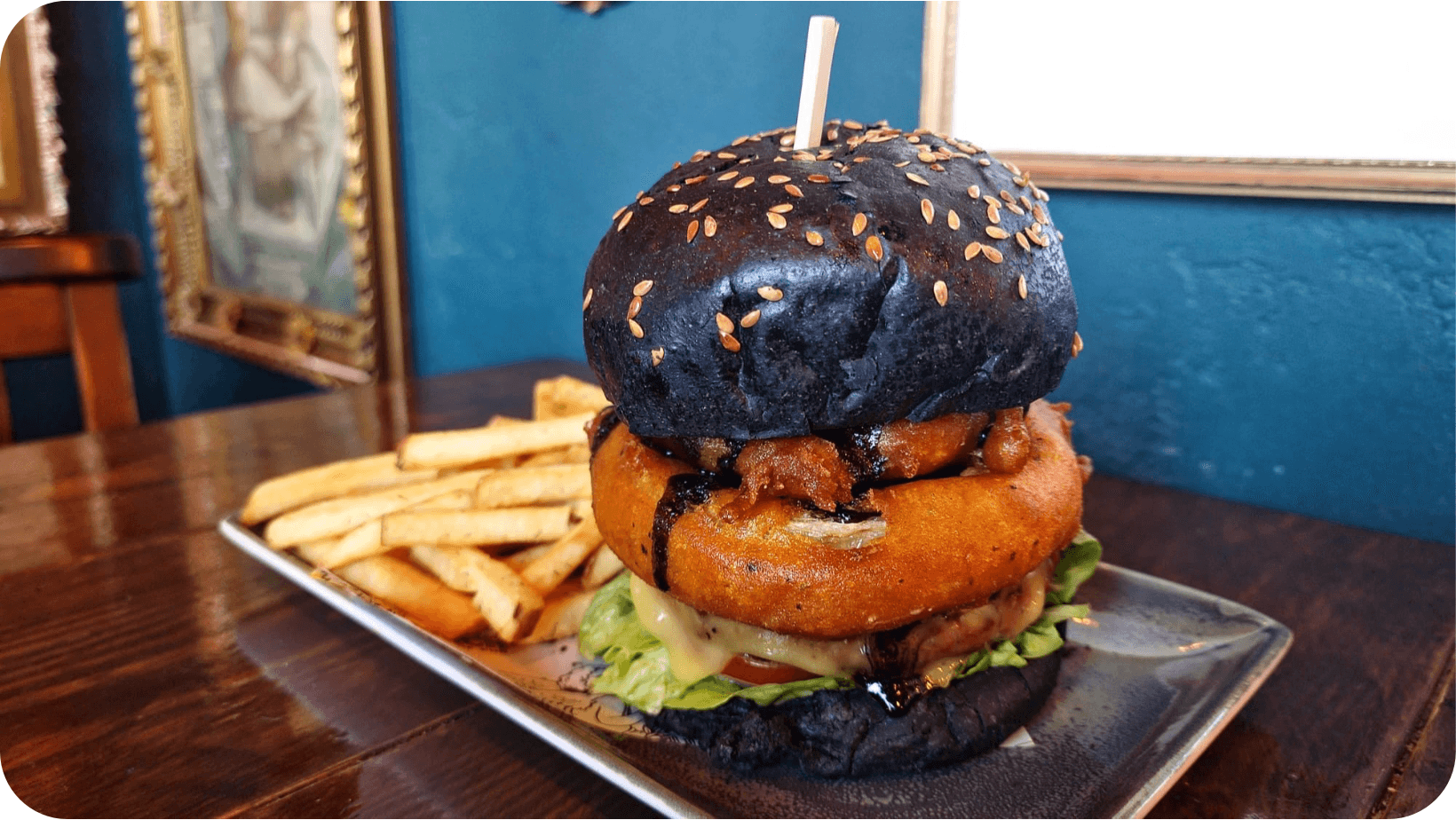 El James
Interestingly, the BBQ chicken salad bowl contained BBQ chunks from Oumph! and believe us, Oumph! has never tasted so good. The chargrilled pieces of protein had a slight chew but remained deliciously moist, leaving us savouring the entire bowl. From the perfectly cooked corn ribs to the freshness of the salad, it's not hard to see how this could become the go-to summer dish. 
The Syko burger was served with a bed of lightly seasoned fries and consisted of a homemade B12 burger sandwiched between lettuce and tomato on a charcoal bun, drizzled with Syko sauce, and a beer-battered onion ring. The Syko sauce had a sweet BBQ twang to it, and we completely devoured the burger. Notably, this burger can be made gluten-free except for the charcoal bun, as the onion rings are made with gluten-free beer.
As Liv provided us with dessert - a KitKat cheesecake with Oreo crumb and whipped cream - rings of Happy Birthday rang out for someone celebrating a 60th Birthday. Despite being full to the brim with delicious food, we somehow found room for the cheesecake and demolished that too. The chocolate mousse was light and airy, and the Oreo crumb balanced out the slightly salty mousse. This was a visit of utter divinity with absolutely no complaints, no improvements needed, just wonderful food and customer service.
Bursting at the seams, we somehow made it to the balcony, where we took in the sights of the River Don and the beauty of Sheffield. It would be a disservice to call Church your everyday, run-of-the-mill, celebrity venture. Church is absolutely a place that has established itself as the heart of the community, and what a community it is. From doggy drawing sessions to bands like Malevolence playing on New Year's Eve, there is truly something for everyone at Church; and they welcome you as though you're a part of the family. Church gets the V-Land UK stamp of approval, and we will absolutely be back!
If this article has left you desperate for some vegan junk food, check out what happened when we visited Vegan Noms and Rabbit Food.