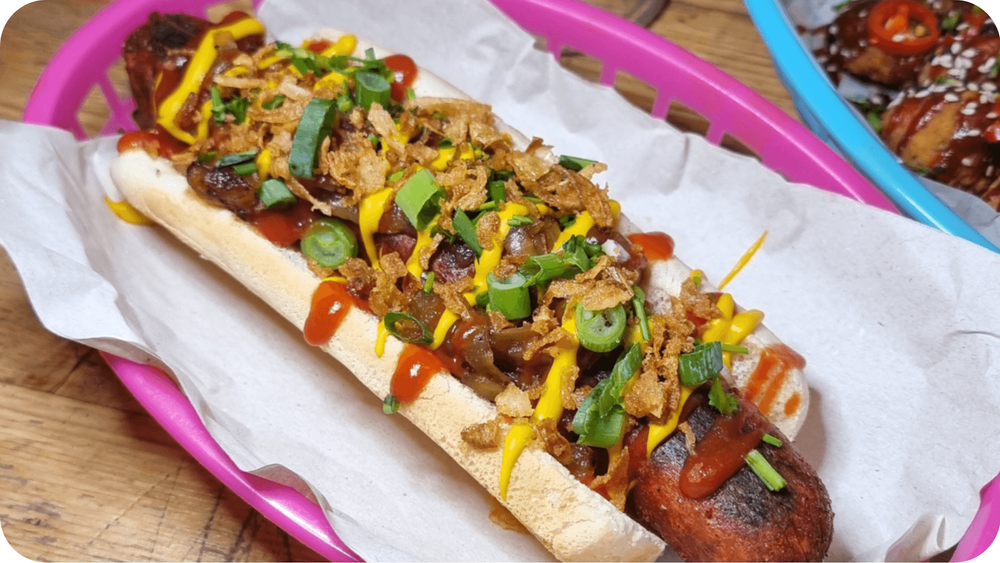 Aaron Calder
Vegan Noms Brighton: Guilt-free vegan junk food
If you're looking for guilt-free vegan junk food in Brighton, head to Vegan Noms - located in The World's End Pub on London Road, where you can eat in or have a takeaway. 
Vegan Noms Brighton pride themselves on sustainability, which is evident in not just their food but also in their 100% biodegradable and environmentally friendly packaging. 
The World's End, known as Brighton's best arcade pub is a colourful place with a welcoming vibe. We've heard a lot of good things about the food and were super excited to sit down and eat. Before we ordered we headed upstairs to check out the arcade which has loads to keep you entertained, including air hockey and the famous 'World's Raceway' racing game. Before we got too distracted, we headed back down to order the food, which looked sensational. We sat in a bright pink booth near the bar. The pub also has a seating area outside for warmer days, perfect if you're visiting Brighton in the summer.
The menu is packed with a variety of vegan burgers, vegan hot dogs, shakes and sides, it's difficult not to order one of everything. We started with a Biscoff milkshake that is thick, creamy and tastes like heaven - so thick we struggled to suck it through the straw. 
As the food arrived, which was colourful and well presented, we tried the Chick'n Royale burger which consists of a crispy coated seitan and soya fillet in a white bun with shredded lettuce, Applewood vegan cheese and garlic mayo. After just one bite we knew this burger (and the rest of the food) would be an epic experience. The burger is so good you wouldn't be able to distinguish the chick'n fillet from the real thing. The mayo gives a strong kick of garlic, and the melty vegan cheese works perfectly with the rest of the burger. 
After another large sip of the Biscoff shake, we tried the fully loaded BBQ jackfruit with skins on fries. The fries were cooked to crispy perfection and the jackfruit has been perfectly flavoured in a BBQ marinade. On the side were Chick'n Pap Pops, Sticky Korean BBQ poppers topped with red chilli and sesame seeds. These little crispy bites were very moreish, especially with the Korean sauce and heat of the fresh red chillies. This is the sort of food you'll need a napkin to wipe your sticky hands and face, good job we had a few!
Aaron Calder
We love a loaded vegan hot dog and the Vegan Noms Not Dog has so much topping we struggled to fit it in our mouths! The foot-long Moving Mountains dawg was topped with American mustard, ketchup, caramelised and crispy onions, with a super soft bun. The Not Dog was juicy and had a meaty texture. 
After we had finished all the amazing food it was time for dessert. They offer a Chocolate Fudge or Caramelised Biscuit Cake - we went for the latter. The cake had a biscuit base and creamy second layer, finished off with crumbled Biscoff biscuits and chocolate drizzle. The cake, which is more like a cheesecake than a sponge cake, was soft, gooey and melts in the mouth. It was so good that we ate it slowly, enjoying every bite. Noms are onto a winner with this cake and you'd be fooled into thinking this was made with dairy.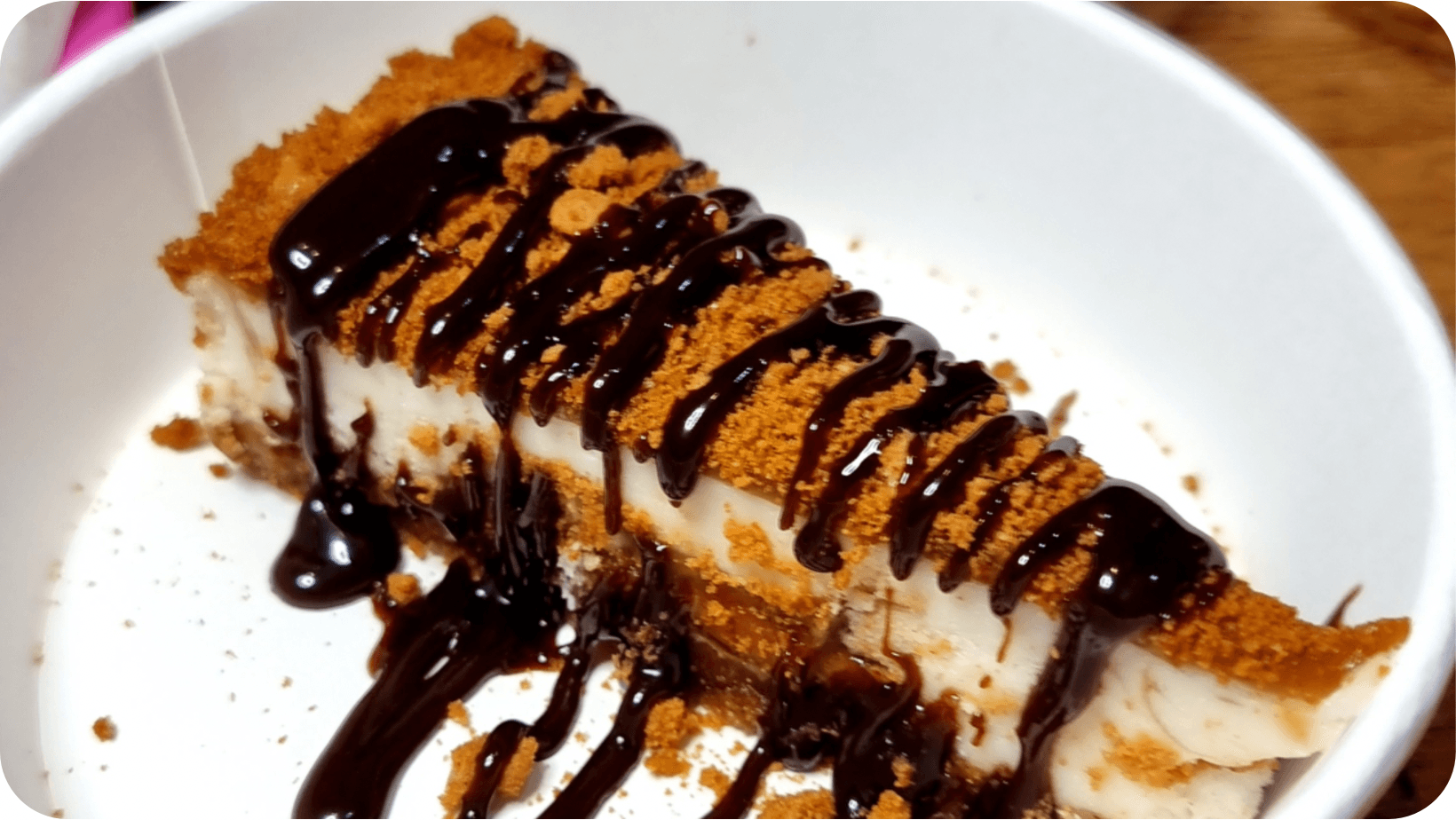 Aaron Calder
We can see why Vegan Noms is so popular, with a good variety of food and drink, there's something for everyone, with friendly and helpful staff, entertainment, and a large seating area. We look forward to coming back soon to try the other options!
Planning a trip to Brighton, also get stuck into Flower Power Pizza, and there are plenty of brunch options for the morning after…