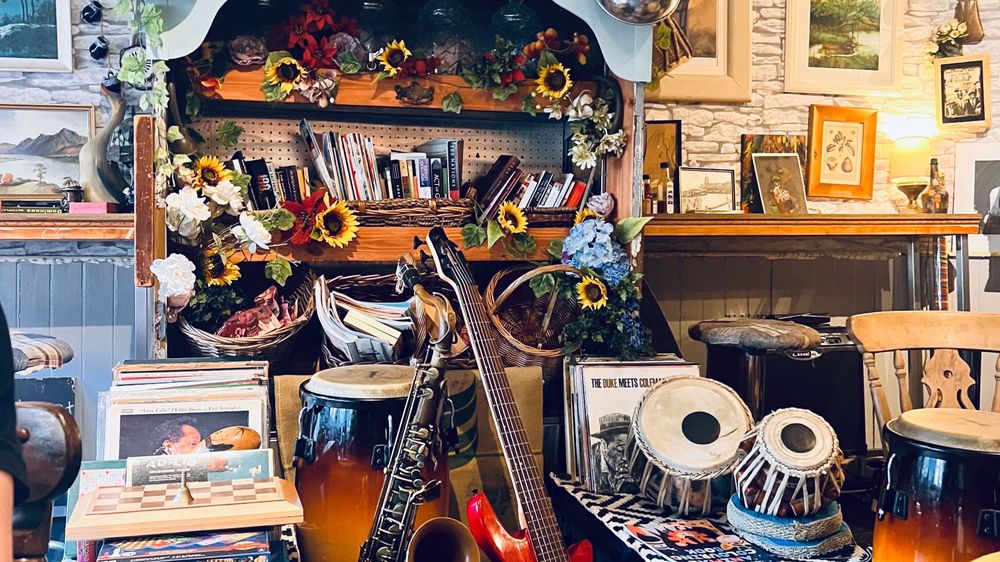 Ellie Archer
Cosy Jazz Café: A hidden gem in Blackpool's Golden Mile
Nestled under the bright, bustling lights of Blackpool Illuminations, and just a stone's throw from Blackpool Tower, lies the heart of the vegan community in Blackpool, the Cosy Jazz Café, cosy by name, and even cosier by nature.
At the Cosy Jazz Café, you'll always be greeted with a smile from the owner, Josh, who radiates sunshine and positivity. Aiming to encourage people to harmonise with the earth and adopt a plant-based diet, Cosy Jazz have commutated chicken for chickpeas - and they do it very well. 
Surrounded by a plethora of musical instruments and beautiful handcrafted art, we were guided to our seats and offered a drink. We had a rich coffee gently warmed with the creamiest of plant milks. With a range of coffee syrups to choose from, we opted for a standard latte to truly get a taste for the coffee - and what a coffee it was; rich, elegant, and smooth on the palate. 
What makes this café stand out from the rest?
There is a strong emphasis on community spirit, and it was truly a thing of beauty to see so many like-minded people not only supporting a local business but actively engaging in conversation. With discussions about mindfulness and meditation afoot, we noticed a large projector above the window displaying mesmerising patterns and immediately felt a sense of calm. 
Combined with the soothing syncopated rhythms of cool jazz music, we could have easily been transported to New Orleans, and certainly wouldn't feel out of place on Denmark Street, the musical quarter of London.
Whilst chatting to Josh, he mentioned that he frequently provides food for Mandus House, a healing centre, which aims to support the local community in a profound, wholesome and spiritually nourishing way. It became clear quite quickly that Josh is a pillar of the vegan community in Blackpool; especially given his connections with The EA Hotel, a hotel focused on effective altruism and community spirit. 
As we took a look around the café, we discovered an amazing painting of Jimi Hendrix which was handcrafted by Josh and took almost four weeks to complete. We also learnt that he was a touring musician working on cruise ships across the Mediterranean and his love for jazz music is truly a core value for the Cosy Jazz Café.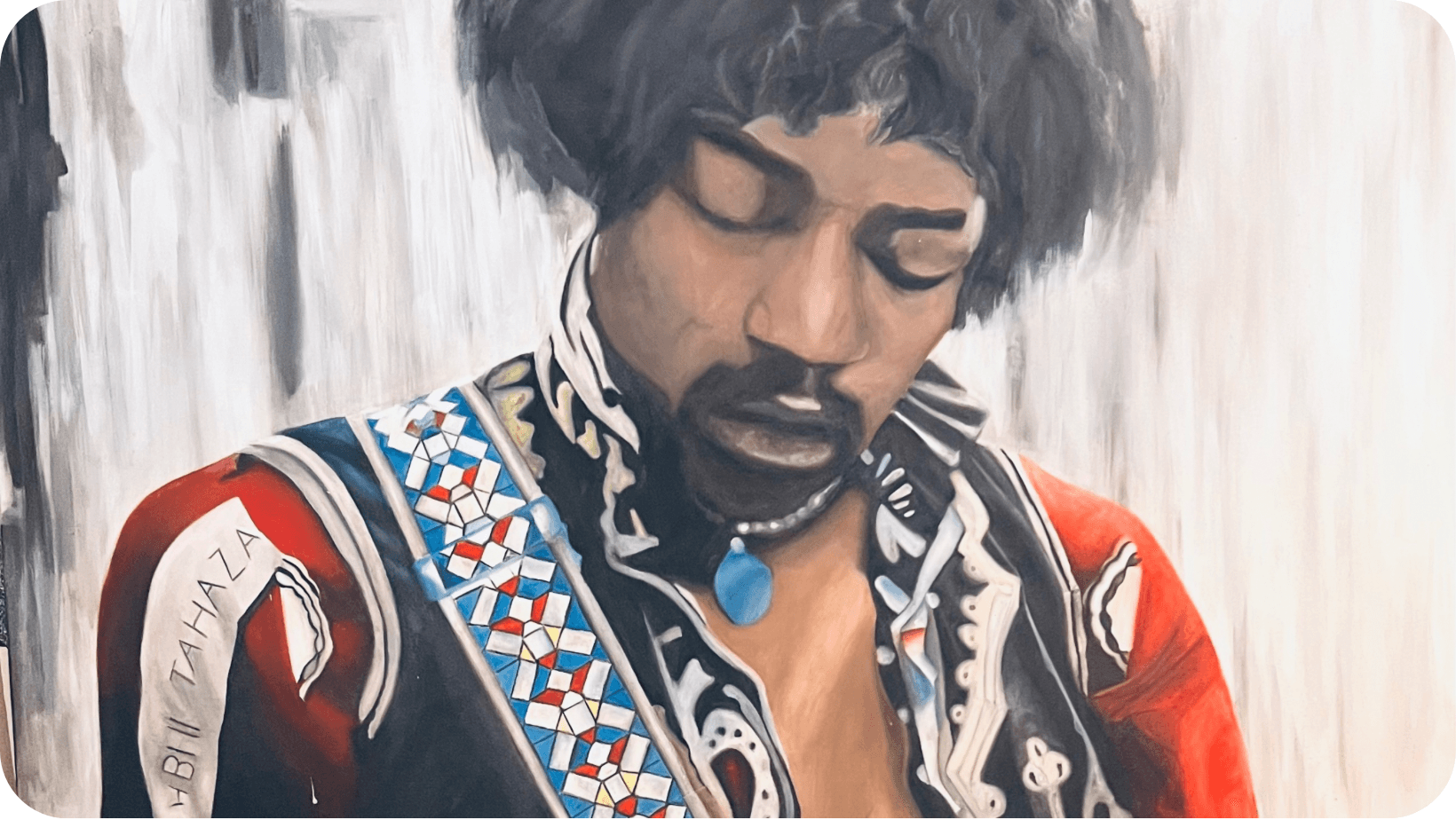 Ellie Archer
What was the food like?
We were guided to the sustainable menu - a chalkboard on the wall behind the till and ordered the Jimmy Armfield burger and a Jerk Toastie with Jerk Rice. We knew the coffee was incredible, so we had high hopes for the food, and we weren't disappointed.
This food was beautifully presented, with many colours of the rainbow popping through both the rice and the burger. The cheese on the toastie had melted to perfection and each bite was a taste sensation - from the crunch of the bread to slightly salty jerk chick'n encased in soft, velvety, melted vegan cheese; (this wasn't a standard toastie for you could practically taste the love and soul in each bite.)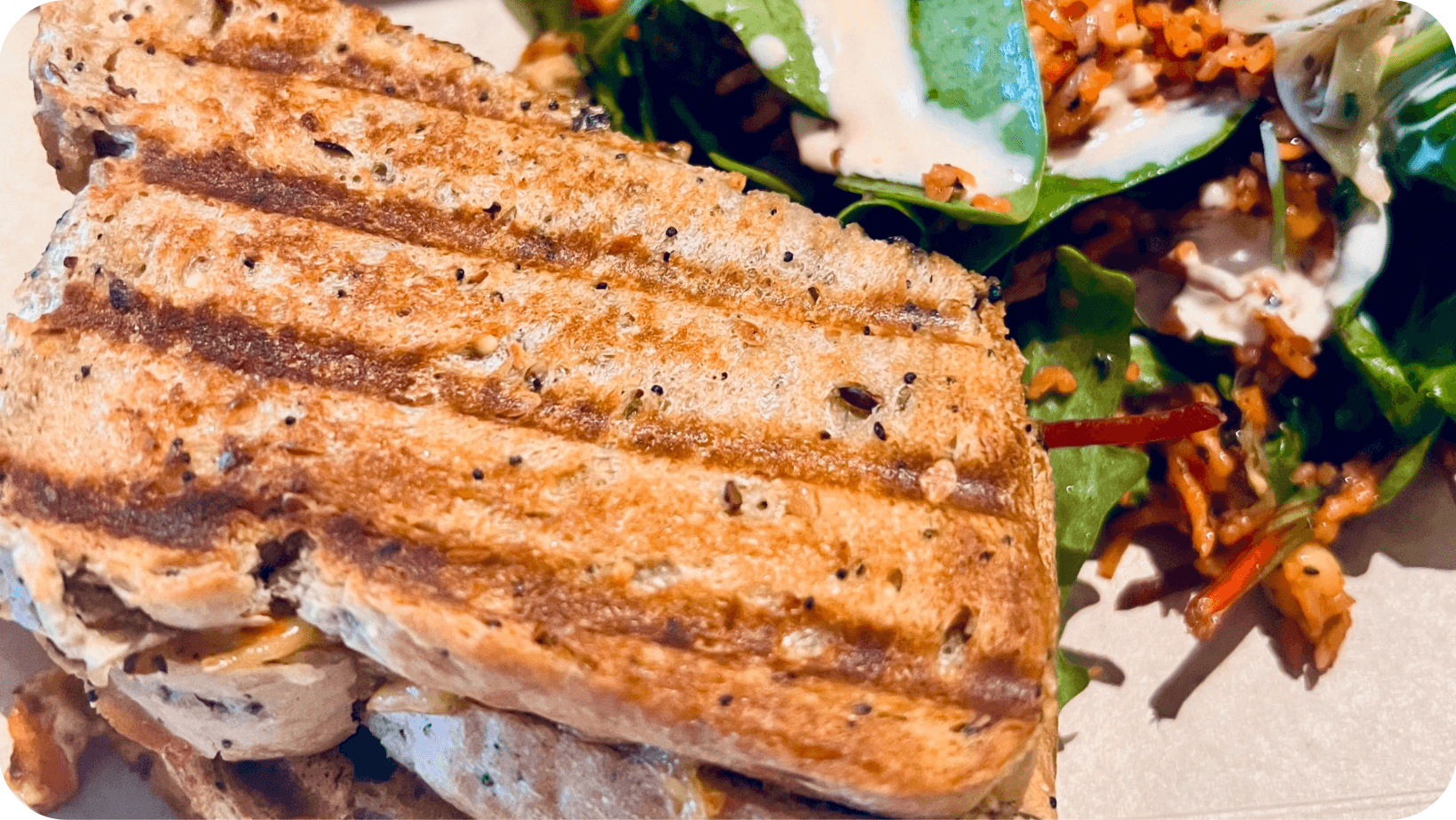 Ellie Archer
Named after a local footballing legend, the Jimmy Armfield burger was served on a sub roll and contained avocado-infused oyster mushrooms with beetroot, spinach, plenty of other vegetables, and delightfully drizzled with cosy sauce. In short, this burger was deliciously nourishing, and a true journey into soul flavours; the perfect tribute to Jimmy Armfield.
As for the jerk chick'n rice, it was topped with fresh avocado, salty artichokes, cosy sauce, rocket and spinach. Every bite of this meal contained a different flavour, and it was beautifully balanced - the flavour of the rice felt like a taste explosion. This is the pièce de résistance of the Cosy Jazz Café; mouth-watering, moreish, and magnificently infused with love.
Whilst we ate, Josh picked up his saxophone and treated us to a performance, crooning along to the Bobby Hughes Experience. It's not unusual for this to happen with musicality, artistry, and creativity encouraged. Interestingly, the café was opened on the 29th of August - an ode to Charlie Parker, an American Jazz Saxophonist, born on the same day some 100 years prior.
We loved our visit to this café and will certainly be visiting again in the future. We believe that Cosy Jazz will be hosting speakers in the vegan community, and truly opening up important discussions around the environment, adopting a plant-based diet, and the link between veganism and feminism, amongst many other topics to engage the local community.
If you are ever looking for a cosy café to enjoy some amazing soul food and meet like-minded people, you can find the Cosy Jazz Café on Lytham Road, Blackpool between 12 pm - 12 am Thursday - Sunday.
If this eclectic vegan café in Blackpool has you itching to check out a vegan café nearby, it'd be amiss if you were to overlook our visits to Café@62: Vegan café in Brighton bringing vegan foodies together and The Fields Beneath: A community café that packs a flavourful punch.