Mark Flood
The Fields Beneath: A community café that packs a flavourful punch
There are some people who harbour the misconception that vegan food is boring and bland. The easiest way to dispel this myth would be a visit to The Fields Beneath in London's Kentish Town. We know this because V-Land were invited to sample the many delicacies on offer at this small, but perfectly formed, café.  
Nestled under the arches of the city's overground rail tracks, this is arguably one of the best vegan cafés you'll find in London. As you walk out of Kentish Town station, the café is situated immediately to the right. To guide you on your way you'll encounter 2 bright yellow road traffic signs. One tells you the direction of the coffee and another, by way of a smiley face, points to this happy place. 
Once inside, the industrial look and feel of the exposed brick and corrugated iron ceiling is complemented with zig zagging string lights, a myriad of hanging plants and a splattering of bright artwork. There are even some strategically placed disco balls, adding extra shine to the decor.  
The café came into existence in 2012 before removing all animal products from their menu in 2017. If you want to explore more about what motivated them to do so, you can find that here. As a café, they focus on 4 things - coffee, food, wine and people.
While we very much plan to return for one of their wine tasting events, on this occasion, we were there for the food. This is mostly prepared from scratch in their kitchen which, given the limited space in the café itself, can be found further down the road. They even have an eco-friendly cargo bike for transporting the much-coveted menu items between the locations.
Upon arrival we were greeted enthusiastically with the happiest of grins, matching the smile on the guiding sign outside. Aligned with their people focus, we were told about the sense of community they aspire to create. This is no better demonstrated than the handmade medicinal herbal teas they stock and serve. These teas are lovingly curated by a member of the team and the winter spice we sampled warmed our heart and body in equal measure on what was a relatively cold afternoon.
On the back wall are chalk boards, announcing what fayre is on offer. We were fortunate not to have to choose as we were invited to sit down and were served a selection of their menu items.
We started with the cheesy mite scroll. A layered roll with umami depth perfect for that carb fix and to grab and go if in a rush.
This was followed by the oyster mushroom brioche. A sesame bun packed with mushroom, cucumber and onion. The bun was light and the contents fresh and flavourful.
The highlight, if we were forced to choose, was their eggy bagel. We struggled to contain the generous rocket, cheese and tofu filling as we bit into this sandwich. Their homemade tomato ketchup added a zesty tang that hit the spot. Perfect for breakfast or brunch.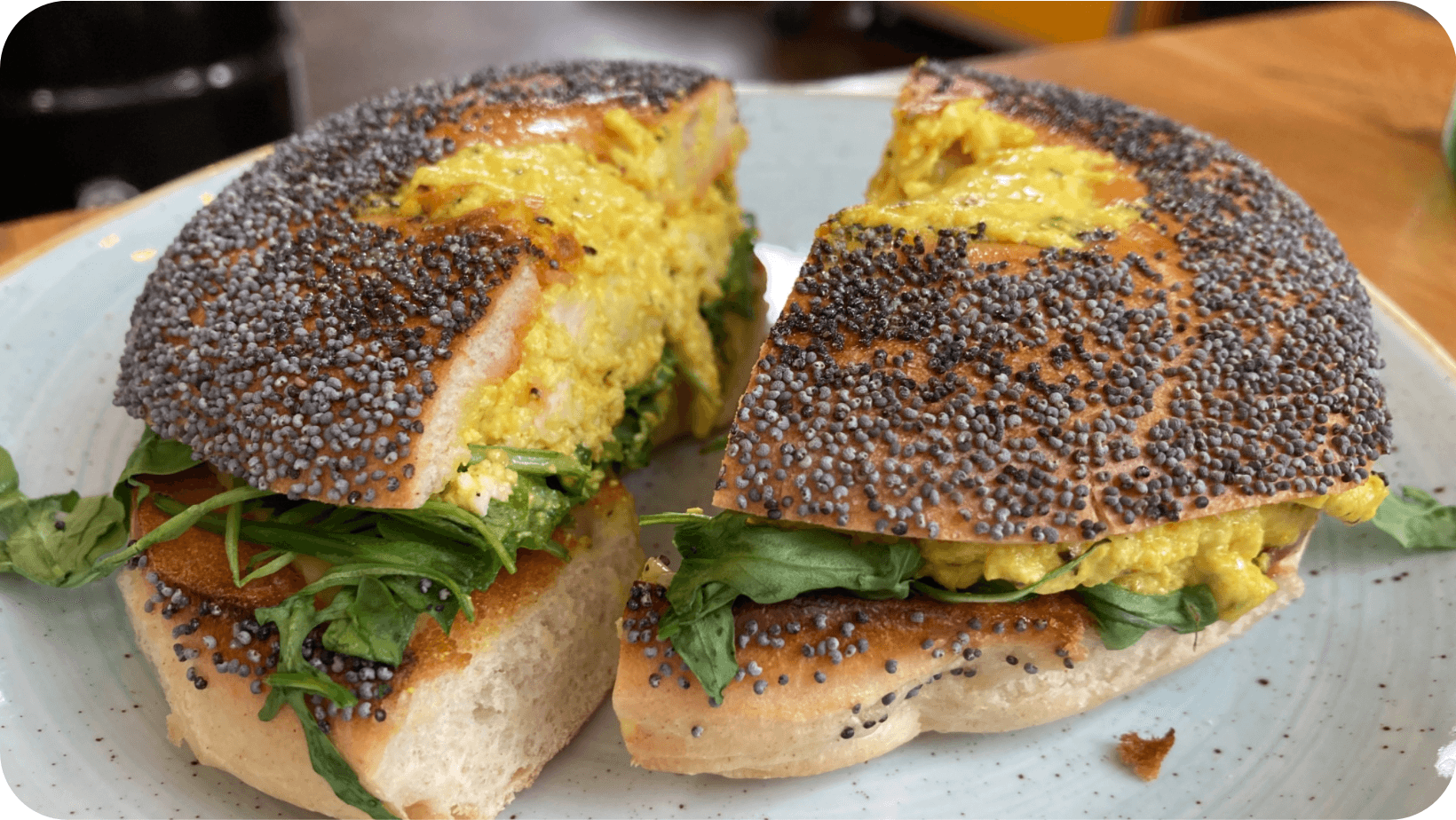 Mark Flood
If you like a fishier taste, their panko wrap will satisfy that craving. Tofu fingers and tartare sauce with gherkins and pickled red onions packs a punch.
Their rarebit croissant is a best seller and is an indulgent treat that is bursting with flavour. In fact, it should come with a warning for the supertasters amongst us.
Before we transitioned from savoury to sweet we momentarily paused to ensure we had enough room for the delights we could sense were coming.
First up was a warmed cinnamon swirl. With just the right hint of cinnamon, it was perfectly balanced as you bit through the sugar-coated crispy pastry.
The peanut crack is a customer favourite and we completely understand why. It is both chewy and crunchy with a nice hit of peanut and a decedent dark chocolate topping. What a delight.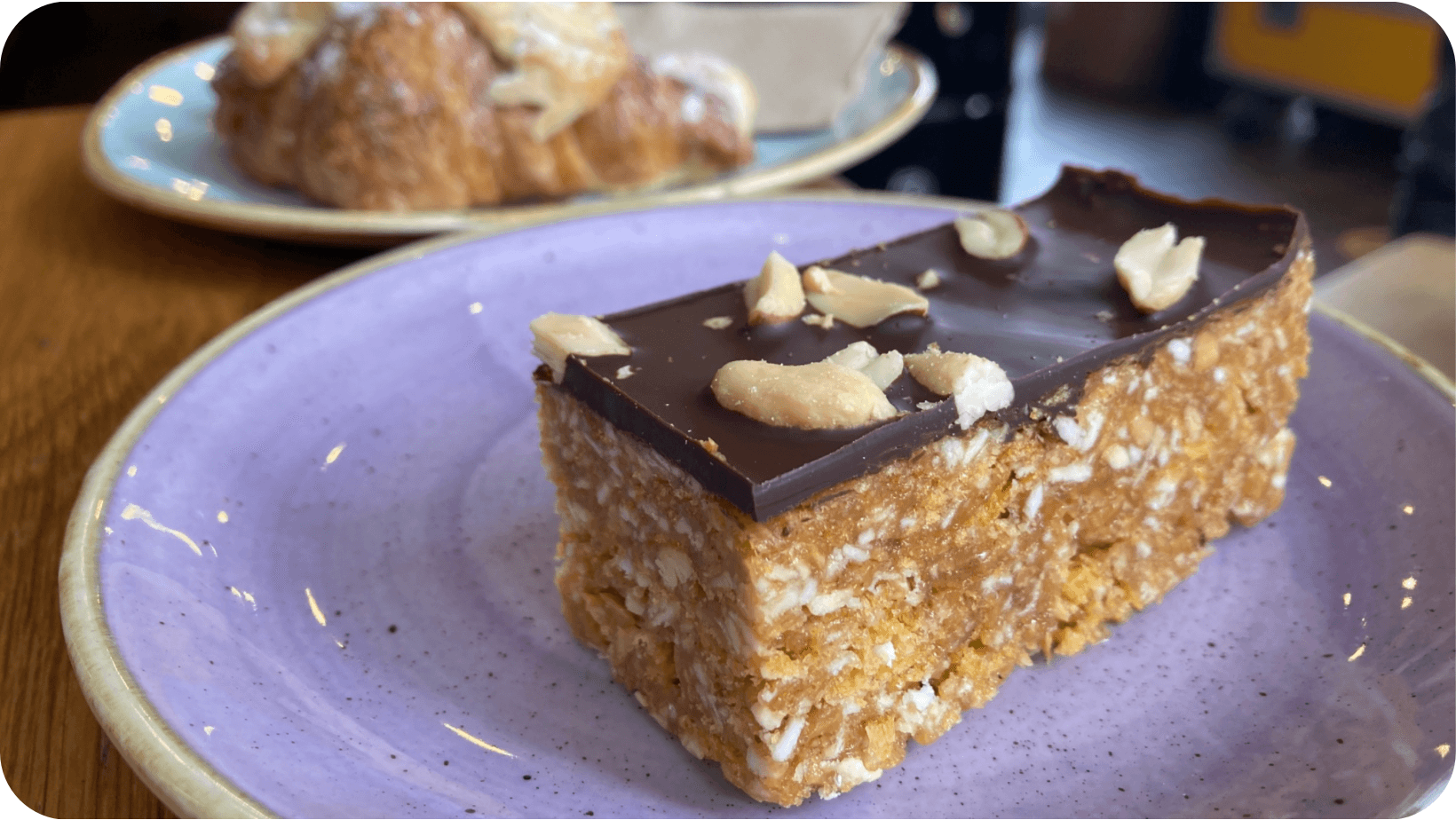 Mark Flood
If you like almonds and flakey pastry then the frangipane croissant is a must. Generously filled, covered in almond paste and dusted with icing sugar, we could have eaten this treat many times over. 
There were many more sweet treats to choose from but with a stomach full to bursting, we will have to return to continue our feast.
Suffice to say, we can't recommend enough this Kentish Town community café. So do pop in for a coffee, sandwich and cake if you are anywhere near. 
You could even combine with a trip to the Camden Town Brewery which is next door. Given all their beers are vegan-friendly it's the perfect place to grab a beer after you have lined your stomach at The Fields Beneath. 
If you enjoy reading café and restaurant reviews you might want to check out what we thought about the vegan junk food at Rabbit Food in Edinburgh or the pizza at Flower Power Pizza in Brighton.