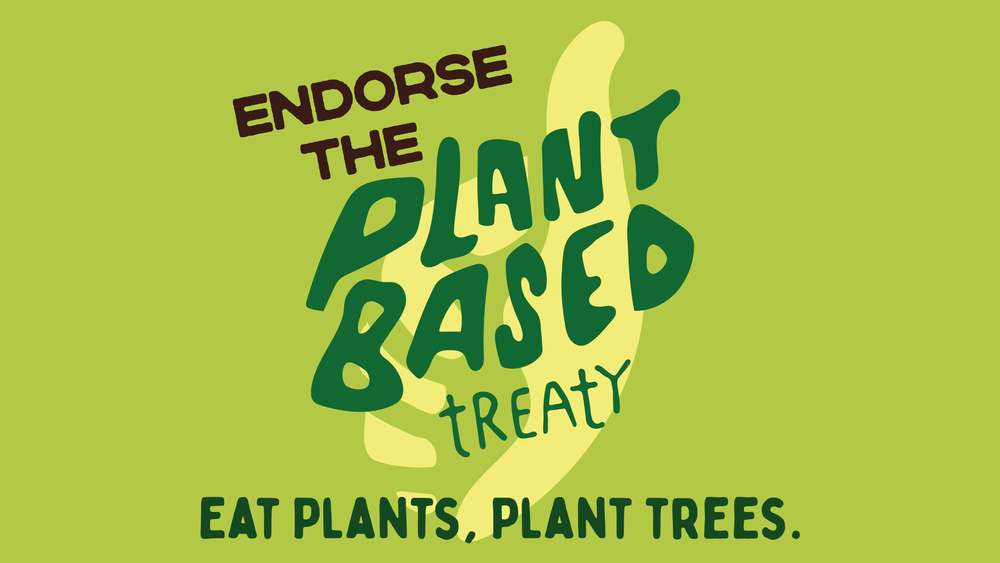 Plant Based Treaty
The Plant Based Treaty share why you should endorse it
Veganism is spreading. Not as quickly as we would like perhaps, but it is certainly becoming more mainstream within society. The days of being restricted to the choice of chips or salad from a local restaurant menu are well and truly over, with most eateries now offering an array of plant-based delicacies to enjoy. It is clearer which health, beauty, or cleaning products are vegan-friendly with many brands proudly displaying the vegan trademark on their products, and within most circles of friends, family or work colleagues, there will be a vegan amongst them.
Our world is changing, and for the better. People are going back to their roots and beginning to embrace a more nature-aligned way of life, allowing wildlife the chance to recuperate and reducing animal suffering in the process. With these changes, we hold the ability to bring about genuine positive changes for our planet and all that inhabit it.
However, one place where forward-thinking is lacking, and realistically, where it is needed most, is in politics. Whilst many individuals and businesses are moving away from outdated practices that cause unnecessary harm and suffering and greatly accelerate the climate crisis, governments continue to backtrack and invest in the fossil fuel and animal agriculture industries - much to the frustration of its constituents.
For the planetary changes that are required to avert the truly devastating effects of the climate crisis, and to make the government's target of net zero a realistic probability, we need a shift towards a more plant-based society. Even if we were to move away from fossil fuels and have a green economy, if we continue along the current path of animal exploitation, averting the 1.5 degree rise in temperature that will take us over the tipping point, would become unavoidable. 
With this in mind, we sat down with Nicola Harris, Communications Director for the Plant Based Treaty to find out how this progressive movement is trying to get people in politics on board with a plant-based future.
V-Land UK (V-L): Hi Nicola, it's great to be speaking with you today. When was the Plant Based Treaty founded and what was the motivation behind the movement?
Plant Based Treaty (PBT): On 30th April 2021, we met with Tzeporah Berman, the International Program Director at Stand.Earth and the Chair of the Fossil Fuel Non-Proliferation Treaty Initiative. We sought her advice about putting animal agriculture at the forefront of solutions to the climate crisis. She suggested that we focus on laws and systems, making our demands clear to the government with a pathway to meet them.
Following the meeting, we decided to launch a sister initiative, the Plant Based Treaty. We quickly recruited a team to write three demands; relinquish, redirect and restore and brand and develop graphics and videos. Just like the Fossil Fuel Treaty, Climate Save Movement created an arms-length white label campaign that any individual, group, business or city can take on as their own to address concerns and incite positive change.
V-L: What was the first step for such a huge initiative?
PBT: We had our soft launch in August 2021, where one hundred groups held events outside their city hall calling for a Plant Based Treaty. At our Bristol event, local councillors attended to learn more about the treaty and endorsements and local media showed up to cover the event as well.
Our hard launch was in November 2021 at COP26 in Glasgow. Our team held actions in the city centre, including a giant inflatable cow, light shows, cafe takeovers and vegan food giveaways with donations from The Vegan Kind and Oatly. We collected thousands of endorsements. Inside COP26, we held two press conferences, the first with UN Ambassador Dale Vince and the second with actor Evanna Lynch, Pro Veg International and Oatly. 
Swedish MP Jens Holme said the launch of the Plant Based Treaty was one of the most promising events at COP26. 
V-L: What an amazing start to the campaign, what has been the biggest milestone for the Plant Based Treaty so far?
PBT: The Plant Based Treaty initiative has been well received in the UK. We did not expect to have the support of twenty MPs through Early Day Motion 434 so early on. Councillors have been really receptive to the treaty, with over fifty endorsing so far, along with the Vegan Conservatives. Our next step is to start securing city endorsements across the UK.
Haywards Heath recently endorsed the treaty, demonstrating true leadership by calling for urgent global action on plant-based solutions to the climate crisis. It will be welcomed by those experiencing the devastating impacts of climate change. Record-breaking 40C+ temperatures this summer are a bleak reminder that cuts to emissions from fossil fuels and animal agriculture can't come soon enough. Animal farming is directly responsible for a third of human-caused methane. Therefore we need local, national and international cooperation to reduce food-related emissions through a shift to plant-based diets, boosted by action on food waste.
We have also been delighted to have the support of prominent climate scientists, including Bill Ripple and the 2021 Nobel Prize winner Klaus Hasselmann, who was recognised for his physical modelling of Earth's climate, quantifying variability and reliably predicting global warming. We also have the support of IPCC expert reviewers and authors Danny Harvey, Peter Carter and Professor Julia Steinberger. 
V-L: What have you found most challenging, and how can you progress through these obstacles moving forward?
PBT: Passing a motion to endorse the Plant Based Treaty in the UK cities has been challenging because there is only capacity to pass a limited number of motions each year. Therefore we have to convince councillors that the treaty is the top priority for the city. Even though we have champions of the treaty in multiple cities, we still need to secure a party willing to put the Plant Based Treaty forward as their gold motion for the year.
We have found that democratic services and town clerks have been very helpful in offering guidance. We have met great councillors such as Andrew Varney in Bristol and Richard Nicolson in Haywards Heath. Their advice has been invaluable and has given us different options to secure a vote on a motion. As a result, we are launching petitions in Bristol and Glastonbury. If we secure enough local signatures, we are guaranteed a vote on the Plant Based Treaty. It also shows councillors this is an important issue for residents and will help the motion pass through.
V-Land: What goals are you working on currently in the UK?
PBT: We are trying to secure endorsements from Bristol, Oxford, Manchester, Glastonbury and Haywards Heath, but it doesn't end there. We are mapping out groups and businesses so we can form coalitions to build a strong movement.
We need to work on the implementation of the treaty. Councils have the power to promote plant-based foods and ensure council events are plant-based. They can also divest from animal agriculture in their pension funds. Bristol has a goal for the city to be predominantly plant-based by 2030, but Bournemouth, Poole, and Christchurch have not included plant-based foods in their climate action plan. We asked them to change that.
V-L: The treaty is an exciting prospect and exactly what is needed for positive change to happen on a grand-scale. How can our readers get involved?
PBT: We'd love for anyone reading this article to endorse the Plant Based Treaty, it is simple to do, completely free and takes under a minute - all you have to do is sign your name. If you have a business or are part of a group, you can also fill out a separate endorsement as a business too, and share with colleagues. By endorsing, we are showing political leaders what the vegan movement wants and the steps needed to take to get there. Word of mouth is key with any campaign so if you do endorse, please share with friends and family and on social media too.
Climate science is evident throughout the IPCC sixth assessment report that plant-based diets are optimal for the planet. All we need now is the political will to transform the food system. Uniting individuals, groups, businesses and cities under this call to action for a Plant Based Treaty helps create bottom-up pressure and sends a clear message to our political leaders. Please don't delay, add your voice and endorse today.
If you'd like to join our UK team and campaign for a Plant Based Treaty where you live, we'd love to hear from you. We have lots of resources and a team of experts to help you make changes at the town and city level. 
Thank you for everything you are doing, we're excited to see where PBT goes next. A vegan future is possible, and with progressive movements like the Plant Based Treaty, we stand a better chance at making the future we so desperately need, a reality. For more ways to further the vegan movement, check out unique animal activism approaches and animal sanctuaries to support in the UK.