Edinburgh vegan guide: Where to eat and what to see in a weekend
After spending a weekend in Edinburgh, we are ready to tell you all about the Edinburgh vegan scene and everything you should put on your itinerary for a short stay in Scotland's capital city. From award-winning restaurants to culture and nightlife, we have you covered. 
Day one
On our first day, we walked to Dean Village, a bucolic hub of charming 19th century houses and cobblestone pathways. We went for a scenic walk along the River Leith which runs straight through the small village, beneath the mews houses and stone bridges. Dean Village is straight out of a fairytale; it's perfect for a relaxing stroll or a few photos between the picturesque walkthroughs.  
Next, we visited Raeburn Place in Stockbridge, a 15-minute walk away, to check out their second-hand and vintage shops. We went into about ten charity shops down a stretch of just 500 metres. Buying second-hand is a great way to boycott fast fashion whilst still enjoying clothes. 
For lunch, we went further into the city centre, across St Andrew Square, to one of the most popular vegan cafés in Edinburgh, Holy Cow. Recommended by a friend who happens to be a Scottish local, Holy Cow exceeded our expectations. Their menu offered a great variety of sandwiches and burgers. We shared a vegan Reuben sandwich and a delicious New York-style strawberry cheesecake.
The Reuben sandwich was a tangy delight packed with many pickled vegetables and heavily spiced layers of seitan pastrami. The mustard, pickles, mature cheese and sauerkraut were in thick slices of their soft homemade sourdough bread. The vegan cheesecake was baked to a crumbly brown finish, but still so soft and creamy on the inside. The strawberries on top were cooked down into a fine syrup that sat on top of a generous layer of their cashew-based 'cream cheese.' All of their cakes are vegan, and mostly gluten-free.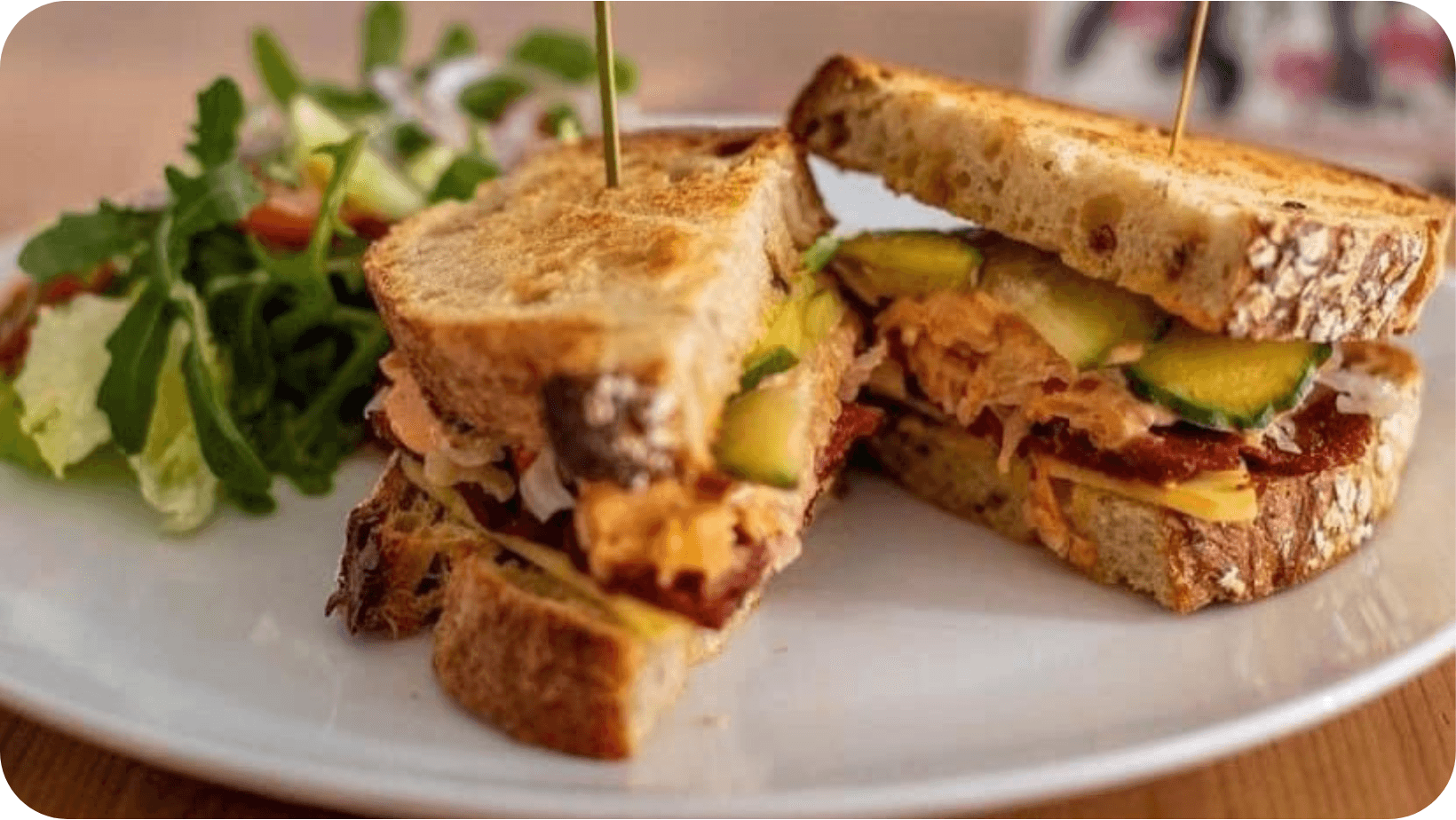 In the afternoon, we went to the Royal Botanic Garden Edinburgh. As plant enthusiasts, we were keen to stroll around the grounds and soak up some sunshine. The conservationists house plant collections from across the globe, including many endangered species, such as the Chinese Paperbark Maple, which has gorgeous copper bark that unravels to look almost like a paper scroll. There was no pressure to know what you were looking at, or to see everything. After an hour, we returned to our hotel to relax. 
The first restaurant we went to in Edinburgh was Hendersons. We knew we had to try vegan haggis in Scotland, and we needed a reputable restaurant. Hendersons opened its doors in 1962 and is considered the UK's longest-running vegetarian restaurant. After closing in 2020 due to the pandemic, they reopened in a new location but under the same name Henderson, thanks to their grandson, Barrie Henderson. They are passionate about organic, locally sourced ingredients and everything they cook is seasonal. 
We first ordered the broccoli salad, but do not be fooled by its humble title, the salad incorporated finely chopped cavolo nero, orange segments, cranberries, toasted hazelnuts, and a hazelnut and orange dressing. The sturdy, green vegetables were made tender and soft by the citrus in the dressing and slices of tart orange. 
We also enjoyed the banana blossom pakora in 'sweet tattie chapati' with coconut raita. This dish was an Asian and European fusion of chapati made from sweet potato, and it worked so well. The hardiness of the sweet potato meant the chapati resembled more of a shell than a flatbread - which was perfect to hold the flaky pakora and yoghurt-based sauce. The pakora was crispy and so juicy once we bit into the flesh of the banana blossom. 
The vegan haggis was served with root mash, whisky and tarragon cream, and caramelised red onions. It's easy to see why locals have fallen for this vegan substitute of the well-loved classic, haggis neeps and tatties. Henderson's haggis was shaped like a classic pie made with layers of lentils and root vegetables, smothered in a boozy, rich cream. 
After what we believe was the best vegetarian restaurant in Edinburgh for a traditional Scottish dish, we headed to the Brass Monkey on Drummond Street for a few drinks. The Brass Monkey is a kooky bar with a room full of mismatched sofas that run wall-to-wall. People were lying down, propped up, sipping their cocktails, whilst we gingerly sat on the edge of a ginormous six-person sofa! The décor was playful with band posters and film memorabilia plastered everywhere. If you like something different and fun, this bar is for you. 
Day two
On our second day, we decided to take in the panoramic view of Edinburgh from the top of Colton Hill. The walk itself was only five minutes from top to bottom, and it's a great option if you're not feeling up to climbing Arthur's Seat. We then made our way down the Royal Mile, a tourist hotspot of souvenir shops, whisky cellars and, of course, Edinburgh Castle at the very top.  
We slipped down a side street and found Antojitos, vegan Mexican street food, served inside a quirky pub called The Dog House. Inside, every single wall was either bricked, full of illustrations or hung with curiosities such as shoes, mirrors and teddy bears! We were surprised by how much their plant-based menu offered: tacos, quesadillas, loaded vegan nachos, and even grilled elote.
You haven't taken in the Edinburgh vegan scene until you've tried Antojitos' southern fried pineapple tacos: charred pineapple with chimichurri, grilled peppers, onions and chipotle mayo. We also had their shredded 'chicken', aka pea protein, tacos with melted mozzarella 'sheese', guacamole and pickled onions.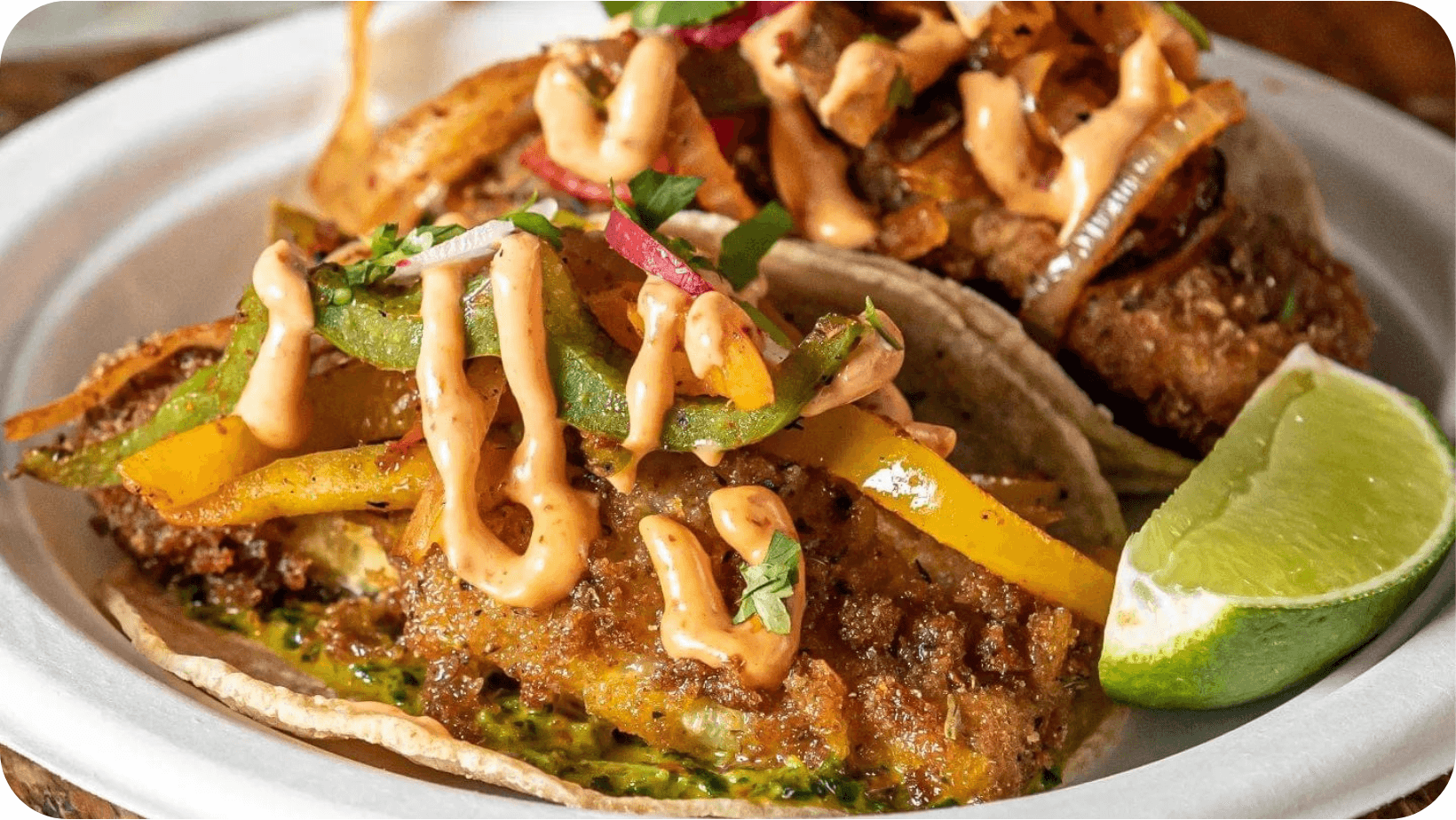 We spent most of our second day in the National Galleries of Scotland: Modern One and Modern Two. Both galleries showcased contemporary art from the 1900s to the present day. We particularly enjoyed the immersive exhibition of Alberta Whittle, a Barbadian-Scottish artist who uses mixed media such as collage and film to discuss Scotland's historical involvement in white supremacy. Her work celebrates her Barbadian heritage and makes a hopeful plea for a future of kindness and community. 
Later in the evening, we went to The Jazz Bar, a multi-genre basement space which hosts live jazz and acoustic music. The band we saw played modern jazz with an influence of disco. The saxophonist and lead guitarist would often go off script and jam out to the tail end of each song. The Jazz Bar is a must if you're looking for an intimate and relaxed venue that plays live music from Scottish artists. 
For dinner we tried possibly one of the best vegan restaurants in Edinburgh, Sora Lella. Owned by a small family from Rome, Sora Lella is Edinburgh's first entirely vegan, Roman restaurant. Multi-award-winning Sora Lella proudly holds the title of 'best chef' for the 2021 Scottish Italian awards.
Their plant-based menu pays homage to Italian classics such as Gnocchi Alla Sorrentina, Bucatini Cacio e Pepe, and the best tiramisu we have ever tasted. It was hard to choose just a few dishes from their enormous menu, with over 10 different vegan pizzas, all of which could be made into a calzone, and over 15 different vegan pasta dishes. 
For starters, we opted for the pizza dumplings with spicy arrabiata sauce and fried bolognese rice balls, filled with mozzarella, not the most authentic, but so delicious! Sora Lella's take on arancini was fun and indulgent. The ingenuity and creativity of their starters definitely trumped our - also very tasty - mains. The pizza balls were fresh and doughy, not to mention smothered in a rich tomato sauce and vegan parmesan. Our 'meat feast' pizzas were baked until deep brown and had red onion, and mock ham, chicken, pepperoni and sausage. We think it's great that Sora Lella offers authentic Italian dishes, but also great vegan meat alternatives and fun dishes like the pizza dough balls!   
If you haven't been yet, check out Edinburgh's nourishing Seeds For The Soul, or for some cheeky junk food, then Rabbit Food will have you nibbling for more!