Thomas Dutour/Canva
How to enjoy a vegan-friendly holiday in Biarritz, France
When considering vegan-friendly travel destinations, France is not the country that comes to mind. However, we were pleasantly surprised during our last trip to the continent: we decided to book a last-minute ticket and go on a quick Biarritz holiday. 
We got there on the sunniest afternoon with a very clear plan: get as much sun and try as many vegan restaurants as possible. 
After extensively researching vegan restaurants in Biarritz, we were excited to try Xuxu. Unfortunately it happened to be closed during our holiday. We had a peek inside the closed establishment, and if you are in the area when it's open, it certainly looks good to try; we saw that they share super interesting insights about the locally sourced products they use.
Speaking of local produce, a trip to Les Halles (the local market) is really a must! The French take pride in producing and consuming locally, and it really shows in their cuisine. We would suggest going early with a straw basket in hand. Pop into Lobita for a quick specialty coffee and walk around the different flower, fruit and vegetable stalls. Other recommendations would be Bloom, a very French épicerie where you can buy spices, olives and even veggie patés in bulk.  Mezze Ona, a Lebanese takeaway restaurant (with different locations in the area), has the most delicious hummus and some vegan lunch options. 
If you are one for sweet treats, Hungry Belly is really your spot in Biarritz. It was our first stop when we arrived in town, and it was so good that we visited again! Run by a very friendly woman (and her friendly dog), you'll find amazing coffee and a wide offering of vegan cakes. However, what you'll be most impressed with is their vegan (and gluten-free) patisserie: especially the soft almond biscuit with a (frozen) pistachio mousse filled with chocolate and peanuts, which was to die for! They also offer some lunch formulas and takeaway options. And if you really want to go all in with the sweet options, try another patisserie in town called Nuts. 
Another place you can't miss is having a drink or a meal by the Côte des Basques: an iconic surfing spot which boasts an exceptional setting, where you can see the iconic neo-Medieval mansion that was built on a cliff, iconic Villa Belza, and on the south side you can see the Spanish coastline. In order to take it all in, go to Etxola Bibi early in the morning and have a black coffee (it only costs 1 euro from 8 am to 10 am) and follow up with an açaí or mango bowl for breakfast. And if you really fancy the view, stay for lunch and order a vegan poke bowl and a glass of wine.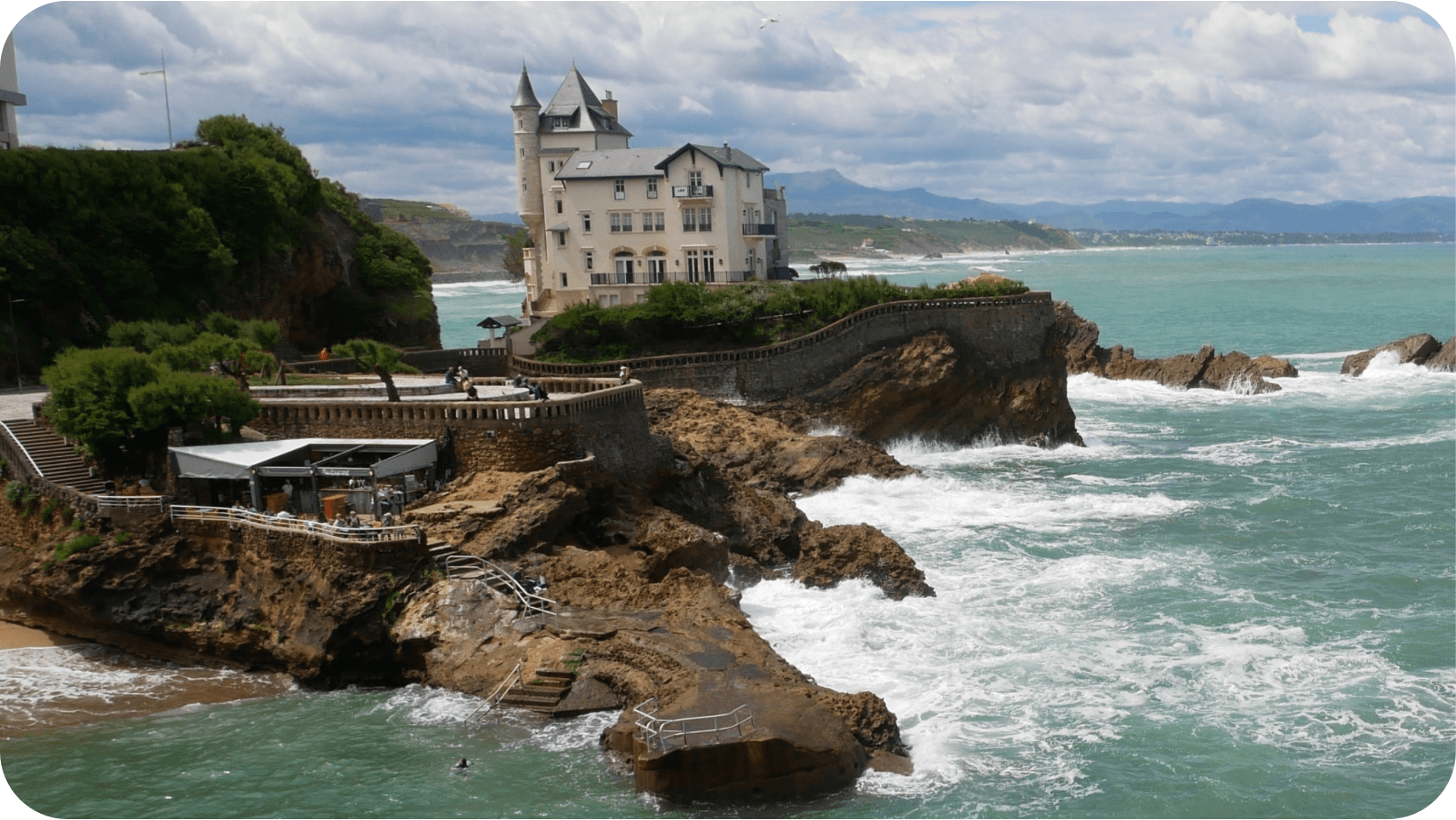 Dany/Pexels
In the same neighbourhood, you'll find Joie, a pizzeria with a lovely vibe and cute terrace. And just a few metres down the street is the cutest restaurant we've ever visited: Aiete. We learned that afternoon what an amazing meal can do to the soul. An authentic and modern little spot with an open kitchen, lovely ambience and tasteful décor. Not only were the staff the friendliest, but also the most accommodating we have come across in a long time. The chefs were happy to veganise everything we ordered: the best (avant-garde) patatas bravas we've ever had came with a kimchi sauce, and we loved the homemade naan bread with confit chicory, hummus and edible flowers. All paired with a fruity Spanish orange wine. It can't be stressed enough - you must go!
The fusion of Basque and French cultures is really evident in the cuisine and when walking through the streets of Biarritz. So if you fancy an easy-going and quaint escape, a Biarritz holiday is the way to go! 
Travelling as a vegan can be daunting, but we have the perfect vegan travel guide to take the stress away, and if, like us, you have some festivals planned, we have a guide for that too!