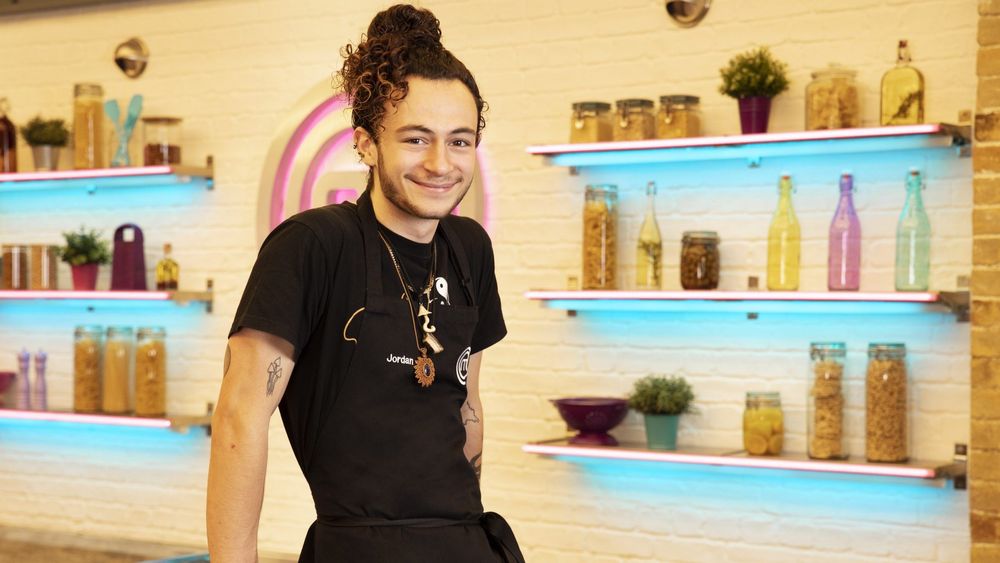 BBC/Shine TV
Jordan Pomerance on being the first vegan in a UK MasterChef final
Veganism as a lifestyle is growing exponentially across the world, and vegan entrepreneurs are also increasing. We were pleased to meet with one of these new entrepreneurs, Jordan Pomerance, Young MasterChef finalist 2023. This made him the first vegan chef in a UK MasterChef final.
We sat down with him to find out about his experiences and the inspiration behind his pop-up restaurant business Yom.
V-Land UK (V-L): Hi Jordan. Firstly, congratulations on reaching the final of Young MasterChef! What did it feel like to make it so far in the contest?
Jordan Pomerance (JP): Thank you so much! It felt amazing to make it all the way to the end, I said to myself at the start that if I make it past the heats I'd be happy. Next thing I know I'm in the final! It was so unexpected and I'm so grateful, I feel honoured to have made it all the way.
V-L: What was the favourite dish that you cooked during your time on Young MasterChef? Which dish got the best comments from the judges and why do you think that was?
JP: My favourite dish that I cooked was in the ice cream parlour challenge. I made my signature cashew butter blondies which are a Yom staple, topped with salted toasted cashew ice cream, raspberry gel and white choc macadamia crumb. This was my favourite because I love making sweet treats and I was so happy with how it turned out. I was calm, collected and made good time in the challenge and my feedback was great. 
The dish that got the best comments from the judges was definitely my rose and cacao tart as they loved the texture, execution and presentation of my dish; and of course the taste, 'sexy' in Poppy's words!
V-L: We have seen the passion that you have for cooking. How old were you when you started cooking, and did you have any family influence to make it happen?
JP: I first got into cooking in food tech. In secondary school, I didn't know exactly what I liked, but I knew that I didn't really like too much written work. I've always enjoyed cooking and that was a subject I chose as one of my GCSEs. After finishing year 11 I didn't know what direction I wanted my life to go. After searching for jobs and college courses, I found myself in a cooking course, which helped me discover that my passion is food! After the college course, I worked in a few restaurants and kitchens and ignited my passion and love for cooking, which really developed over the next few years. My grandma on my mum's side had restaurants before I was born, but other than that there's no real cooking influence in my life.
V-L: Why become a vegan chef?
JP: Plant-based food chose me! Back when I was working in restaurants, I was never vegan although I was mostly vegetarian, which meant whenever I cooked for myself, it would always be vegetarian. Once I started to get a bit more into my health and as I got older, I learnt how different ingredients could affect our bodies in different ways. This led me towards a plant-based diet. As I got older my cooking skills developed and I started to be more creative with my own food. I feel that there's a lot we can do with whole foods, especially as there's so many different flavours and ingredients that we can use in various ways to create textures and flavours to make food an exciting and interactive experience.
V-L: Do you have a preference for a specific cuisine?
JP: When I cook, I don't stick to a specific cuisine, I am inspired by culture from all around the world and create my own take on classic or traditional dishes. I like Indian food as there are already so many naturally vegetarian and vegan ingredients, plus the cuisine is so versatile you can create so many different dishes from the ingredients used. I really love Middle Eastern cuisine, which also plays a part in my heritage. Being Jewish I was brought up eating a lot of falafels and hummus, which is one of my favourite things to cook. I also love Mexican cuisine and its street food style. It's very versatile and great to create vegan options. When I cook it's often a fusion of worldwide flavours.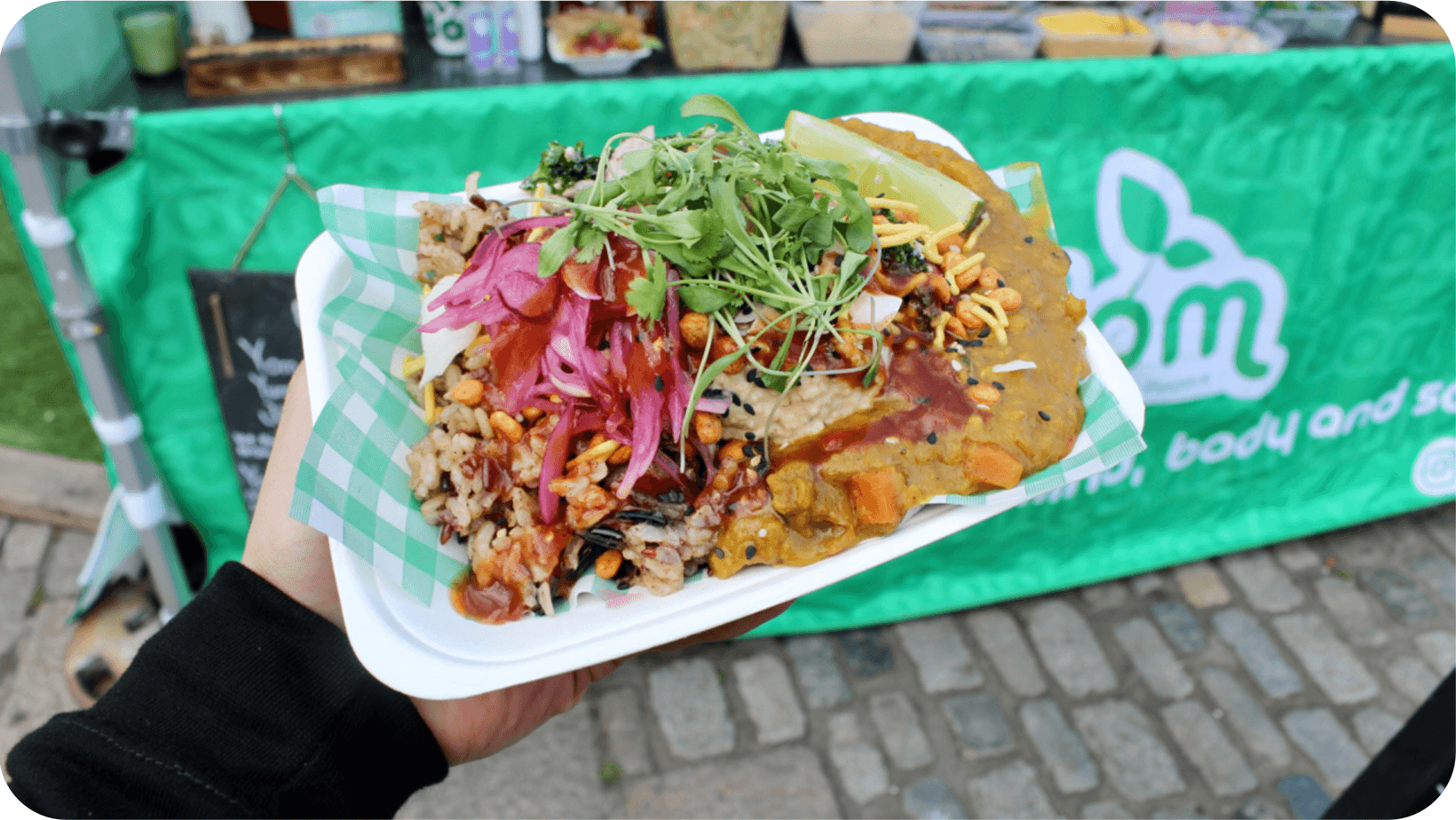 Jordan Pomerance
V-L: You are only 22 years old and already travelling across the UK with your pop up restaurant. Where do you see your brand Yom when you're 30 years old?
JP: By the time I'm 30 years old, I'll have achieved many of my goals with Yom. I'll have a food van and attend lots of big UK festivals providing the ultimate nourishment and have restaurants in cities around the country. My aim is to educate people on the benefits of eating a plant-based diet as well as change the stigma around vegan food and help people feel the benefits.
V-L: Veganism has changed your life, as it has changed the lives of all of us at V-Land. Do you think food is a means of bringing other people to veganism?
JP: I think food is a great way to help people see the bigger picture. I think there needs to be more education on the benefits of adopting a more plant focused diet as the world simply can't sustain the amount of meat we consume these days. I believe that it would be hard to turn everyone vegan, but if people understood how what we eat affects us and our environment, it would be easier to help guide people towards a diet mostly around whole plant foods. Food is a great way to show people what can be done without using animal products, and it's an ever growing and expanding market, so there are always new products and methods of cooking being developed.
V-L: What advice would you give to young entrepreneurs?
JP: My advice to young entrepreneurs is to just do it sometimes even if you don't have a plan but you have an idea - that's all you need. No one will prepare you for what's to come, and it is not easy, but if you find something you love and are passionate about, it won't feel like work. Working for yourself is the best thing you can do because you can focus on every aspect of your business and be your own boss! Being an entrepreneur is fun, but you have to be committed, if you want something and you truly believe in it, then go out and do it and don't let anyone tell you that you can't!
Thanks for sharing your story with us, Jordan, and for being an inspirational vegan chef and entrepreneur. Check out more influential vegans to follow, and read how the pressure was on for vegan MasterChef contestant Meg Long.