Longing for a luxurious vegan holiday? Head to La Cour de Husson
France may famously lure foodies from around the globe, but for travellers like us in search of a vegan holiday, navigating the land of foie gras and Camembert can be a tricky prospect. Even in cosmopolitan cities like Paris, declaring "Je suis végétalienne" (I am vegan) is likely to be met with a bewildered stare. Venture into rural France and vegan travel may seem nothing short of impossible.  
In the past few years, however, we've noticed a new wave of businesses bringing plant-based living to every corner of l'hexagone - including the charming Charente region of France, where we recently spent a week at La Cour de Husson, a stylish vegan-friendly villa hosted by British expats Nick and Jen Thompson.
We first spotted the couple on A New Life in the Sun (Series 8), watching with more than a little FOMO as they traded Southeast London for Southwest France and began converting an ancient rural hamlet into self-catering holiday cottages (or "gîtes") that aligned with their vegan principles. 
After learning that their first luxury gîte, gardens and pool had opened for business, we booked a trip and made La Cour de Husson our base as we explored the region, from its organic vineyards in Cognac to the vibrant hilltop city of Angoulême.
The vibe at La Cour de Husson
As much as we may say we want to escape city life when we travel, if we're honest, we also really love our mod cons - a fact that made La Cour de Husson the perfect fit for our week-long escape. While the hamlet's rustic stone exterior is pure French-country charm, as we stepped inside our cottage, we found a space as well-appointed as any high-end hotel, with a hygge balance that made it feel equal parts homey and stylish. 
Cook and dine
One of the main reasons to book a self-catering holiday, of course, is the chance to cook, and our gîte at La Cour de Husson seemed tailor-made for not just cooking but entertaining. 
The gorgeous kitchen was stocked with every pot, pan, and utensil we could possibly need, letting us finally tick a few Anna Jones vegan recipes we'd been wanting to try off our list. We packed our extra-large fridge with fruits and veggies from a veg box we'd pre-ordered via our hosts from La Ferme de Puybonnet, an organic farm just over the road, along with vegan meats and cheeses we picked up at a nearby supermarché. 
To our delight, we also discovered little luxuries like a dishwasher as well as an espresso maker stocked with compostable pink pods from the couple's favourite London coffee shop, Grind.
Our first night, as we sat around the dining room's candle-lit table and tucked into the pine & crane noodles we'd just whipped up, we couldn't help but ask ourselves, why exactly is it that we're still living in the city? Other evenings, we put on a 12-inch on the record player and grilled vegan burgers on our private stone-lined patio, and ate alfresco as the sun set, sipping pineau des charente cocktails, a delicious aperitif almost unheard of outside the region. 
Slumber and soak
Although there were only two of us, the three-bedroom, two-bath gîte easily could have accommodated six. We chose a room with soaring beamed ceilings and sunflower-field views. A large roll-top tub stocked with luxurious vegan toiletries encouraged before-bed soaks, while supersoft organic bedding and incredibly comfy mattresses made it far too easy to designate every morning a lazy Sunday.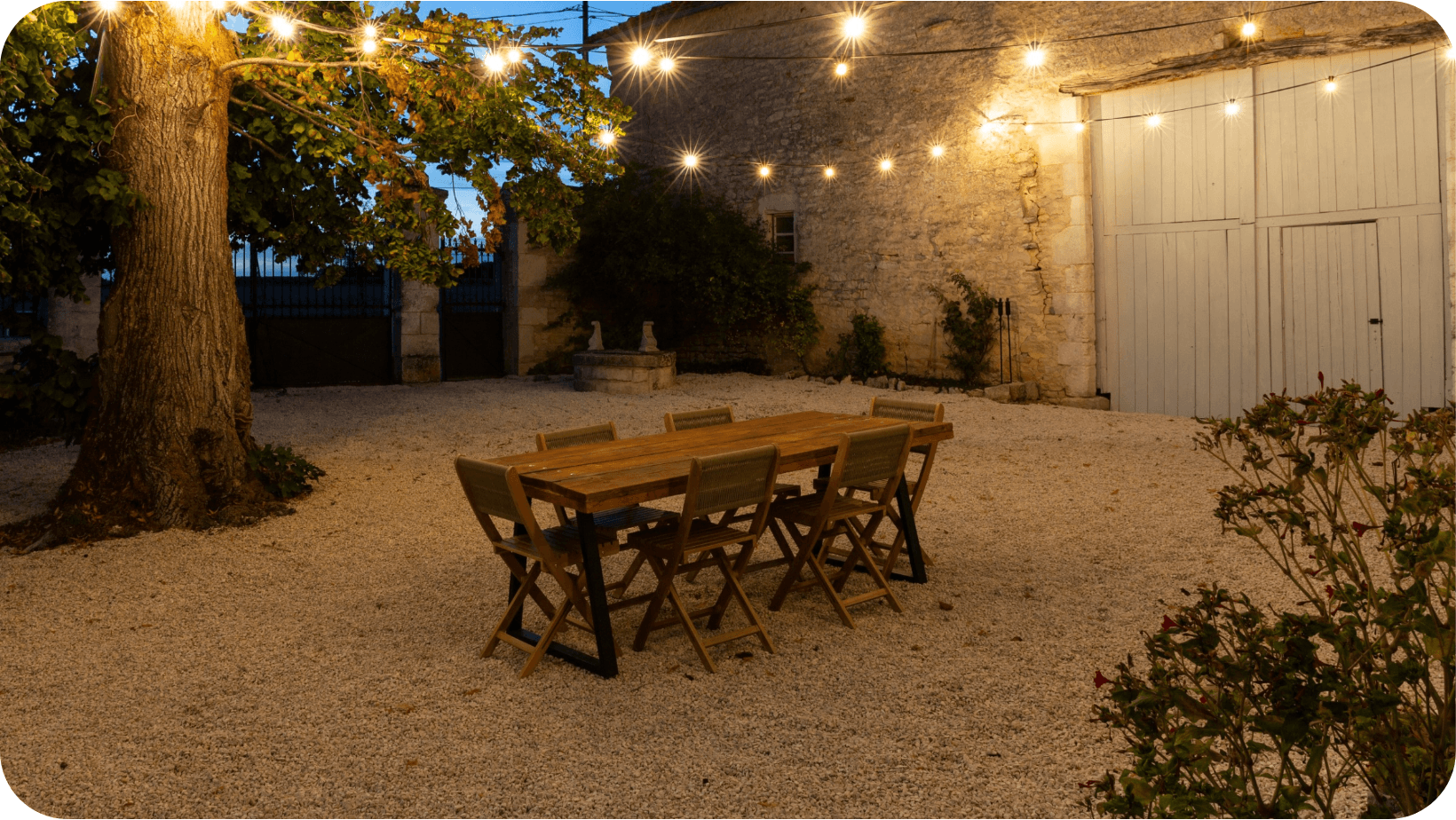 La Cour de Husson
What about the wifi?
While we would have preferred to forget we had a job at all while on holiday, a mini work emergency forced us to put the gîte's wifi to the test, and it proved every bit as fast and reliable as in our London flat.  
The great outdoors
Countryside views stretch for miles in every direction at La Cour de Husson, and by the end of the week, we'd enjoyed them from every corner of the property, as well as jaunts to experience outdoor adventures nearby. 
A short walk from our gîte's back door led us through a wildflower-filled meadow to our private Mediterranean pool, where we lazed on loungers and soaked up the sun. Some afternoons we simply took in the changing skies from one of the hammocks dotted around the landscape and sought out the couple's sweet dog Betty and friendly cats, Moo Moo and Peepo, for some furry companionship. 
Feeling adventurous one morning, we headed to the nearby town of Ruffec, where we spent a delightful couple hours paddling along the bubbling river Charente on a kayak adventure arranged for us by our hosts.
The vegan breakfasts
This is a B&B after all, and each week-long stay at La Cour de Husson comes with two complimentary vegan breakfasts. We chose to have ours on the first and final morning of our stay - and they became one of the highlights of our time there. Our hosts served us gorgeous spreads that included locally-sourced house-made masala beans on toast, homemade cinnamon buns, vegan yoghurt topped with yummy homemade granola and fruit compote, and hands-down the best vegan scramble we've had.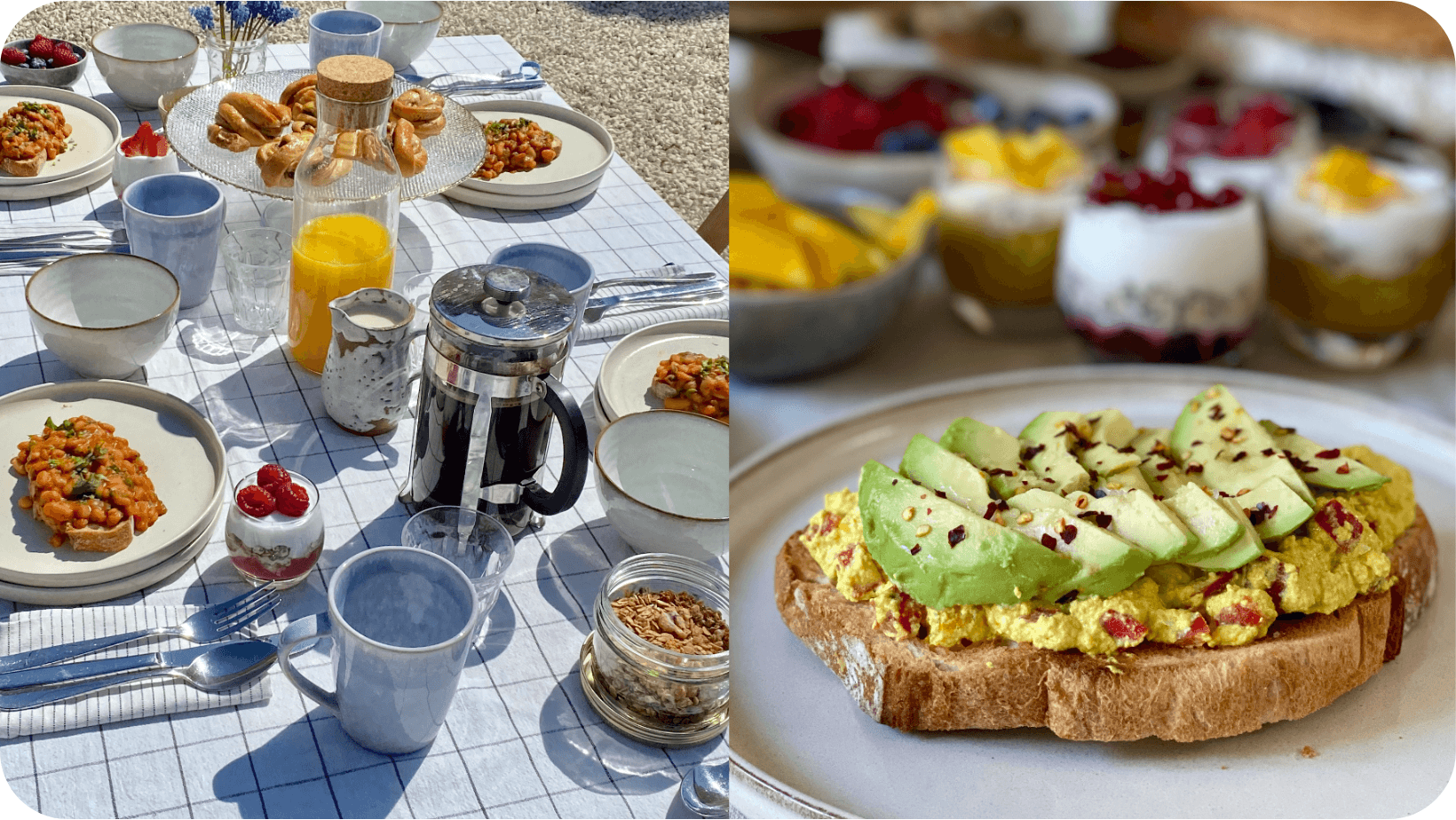 La Cour de Husson
4 regional must-sees: 
Although we could happily have stayed on the grounds of La Cour de Husson for our entire stay, our lovely hosts helped us craft an itinerary of mini road trips that included some of their favourite highlights and vegan-friendly haunts in the area.
Tusson: Just a three-minute drive (or 35-minute walk) from La Cour de Husson brought us this delightful little village, home to everything from weekend brocantes to a wonderful little cake shop called Gâteaux, which offers at least one vegan cake daily, as well as a selection of non-dairy milk for teas and flat whites. 
Verteuil-sur-Charente: A turreted castle straight out of a fairytale pulled us back to this small village (a 15-minute drive from our gîte) several times during our stay. We lunched on classic French fare veganised on request at Cafe Portebleu (a bargain at €16 for a 3-course meal with a glass of wine) and spent a few lovely hours sipping Aperol Spritzes riverside at La Sénéchalerie.  
Angoulême: The hilltop city's quirky charm made it the backdrop for Wes Anderson's film The French Dispatch. During an afternoon here, we stocked up on organic veggies at its famous covered market, Les Halles, before enjoying lunch at Garden, a plant-based cafe that serves everything from gorgeous vegan bowls to what are possibly the most delicious chocolate chip cookies in the region.
Cognac: A 45-minute drive through the rolling hills of Cognac brought us to the JLP Cognac Pasquet vineyard, where our hosts had pre-arranged a delightful tour of the distillery and private tasting of the organic cognac maker's naturally vegan brandy and amazing raspberry-flavoured Marie Framboise Pineau des Charente.
On our last morning at La Cour de Husson, we enjoyed a gorgeous vegan breakfast prepared by our lovely hosts, indulged in one last dip in the pool and reluctantly headed to the airport in nearby Poitiers, spending the car ride planning a return visit to this idyllic holiday house that already felt like a second home.
If we've managed to whet your appetite for European vegan travel check out our guides to Berlin and Copenhagen.