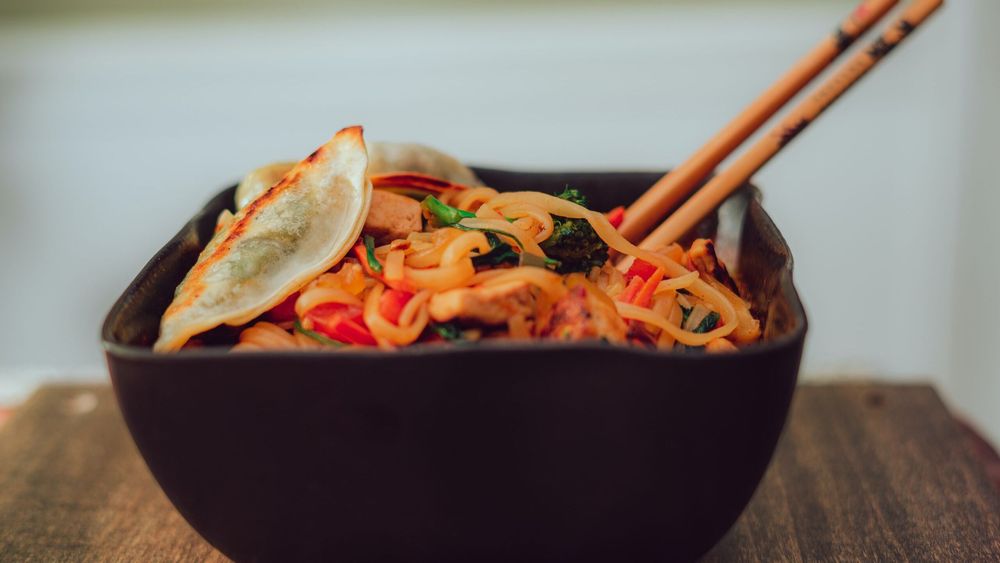 Timothy Dykes/Unsplash
Must-try Pan Asian cuisine in London
London is one of the most diverse cities on the planet. The breadth and depth of food on offer is a clear reflection of this. From chain restaurants to street vendors, and fine dining to casual fare; whatever your culinary preference, you'll find it in London.  
With so much to choose from, here are our top vegan Pan Asian cuisine finds in the UK's capital. We'd even go as far as to say; some of the top vegan restaurants in London.
Stella's Malaysian
Stella's Malaysian started as a supper club in North London. The creators, once the owners of the vegan pub Blacksmith & Toffeemaker, worked hard to develop veganised Malaysian food. Lockdown hit and they started delivering their mouthwatering dishes across London. Over the last couple of years they have been a regular at Be The Future Vegan Markets, took up a short term residency at The Canvas Cafe before it sadly closed and hosted a two weekend pop-up at St J's in Walthamstow.
Now they are back to hosting their supper clubs. Guests spend an intimate evening dining with friends and strangers in the conservatory of their home. Packed with plants, this green oasis is an unusual but perfect setting. In our view, it definitely deserves to be listed as one of the top vegan finds in London.
Amrutha Lounge
Amrutha Lounge is a restaurant in Earlsfield, South West London. They make their food from scratch and pitch it as "Vegan Soul Food". While their menu is eclectic, many dishes are Asian in origin. Some of our favourites include the Thai green curry, crispy pakora, buddha curry, and noodle stir-fry.
They recommend that food is best enjoyed when it is shared, and we concur. Their selection menu is a fixed price for tapas-style servings that can be refilled as many times as you like. Not only will you get to try many of their delectable dishes but you will also go home satiated. There surely is no better way to eat.
Itadakizen
Itadakizen is located near Kings Cross and is one of the longest-standing vegan Japanese restaurants in London. They serve veganised tapas-style Japanese classics. You are spoiled for choice with options like gyoza, miso-glazed aubergine, curry, and ramen. Their décor and menu combine to offer a plant-powered authentic Japanese experience in the heart of the city. 
Mali
Mali is a small family-run restaurant in Earl's Court, West London. They dreamt of bringing authentic vegan Thai cuisine to their family and friends and Mali was born. They have created an extensive menu, inspired by their mum's cooking and the dishes they ate at school. You can choose from small dishes, soups & curries, stir fry, and rice & noodles. 
One of their newest additions is the delectable Kanom Jeen Nam Ya, or Jackfruit red curry, with white rice noodle and assorted fresh herbs. This dish is very popular in Thailand and is often served in celebration after an ordainment ceremony. Whether you choose this dish or one of the many others on offer, there is no way you can leave disappointed.
Tofu Vegan
Tofu Vegan is relatively new to London and is based in Islington, north of the city. This Chinese plant-based restaurant offers tastes and flavours that originate in many regions of the country. There are many main dishes to consider but their dim sum is a highlight. The baos, dumplings, and wontons are not to be missed. 
Plants of Roselyn
Another vegan Thai highlight for London is Plants of Roselyn. Based near London Bridge, their tropical plant-based Thai cuisine preserves many traditional cooking methods, ensuring dishes are customary and faithful to the originating country. However, they do also serve up playful local twists in the form of banana blossom fish & chips or Thai satay burger. 
To discover more plant-based eateries in London, head on over to HappyCow for information on where to find Pan Asian cuisine and any other type of vegan food in your area. For more V-Land recommendations explore the 5 best restaurants to get your Afro Caribbean vegan food fix and some of the best vegan fish and chips in the UK.