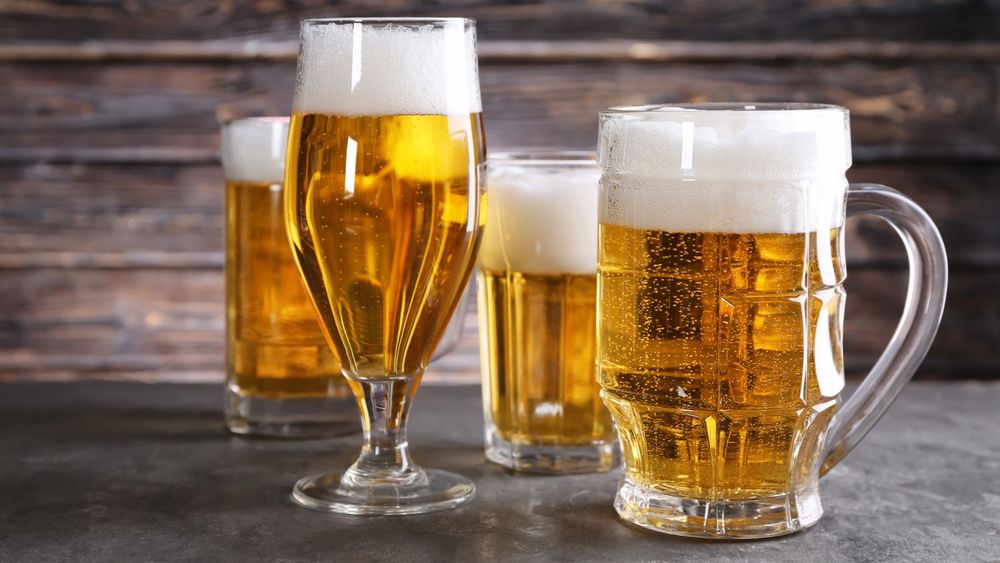 pixelshot via Canva Pro
The best vegan ales money can buy
There's never been a better time to be a vegan ale fan. As veganism grows, more and more breweries are eyeing the market. While some breweries opt to take animal products out of their ales, others are coming up with entirely new vegan recipes.
Unlike lager, ale isn't typically vegan. Animal products such as isinglass, bone char and gelatine are still industry standard ale ingredients today. 
While you have to do a little digging to find a decent vegan ale, they are out there. And that's precisely what this article is all about! So pour a glass of your favourite tipple and join us as we highlight four of the best vegan ales money can buy. 
With its beautiful clear amber colour, from a distance, Black Sheep Ale looks as if it belongs on the crown jewels. Get closer, and you'll notice this beer's lovely malty aroma. But the real magic happens when the glass reaches your lips and this charming amber ale hits your tongue. 
Its malty overtones keep you coming back for more of this ale's masterly balanced flavours. Expect notes of bread and caramel with hints of orange. And, of course, a fantastic roasted coffee aftertaste. 
All-in-all a fantastic vegan beer. Perfect for anyone new to ales and looking for something mild. That being said, there's still plenty to be enjoyed here, so make sure to give Black Sheep Ale a go.
Alcohol Content:
4.4% ABV
Vegan Statement from Barnivore:
"Unfortunately, our cask ales are not suitable for vegans due to the finings we use. However, our bottled ales, cans and kegged beer are perfectly suitable. We offer a large range so you will have plenty of great ales to be able to enjoy." - Source, Barnivore
Next up, it's the one and only Newcastle Brown Ale. Once the North's favourite beer, this ale comes steeped in heritage. So, without further ado, it's time for a pint of dog.
As the name suggests, this beer is brown in the glass. And while it might look dark, Newcastle Brown Ale is a surprisingly light brew. You could even say that Newcastle combines the best of both worlds — with many of the deep, rich flavour profiles you'd expect from a brown ale but with the clear, crisp drinkability of a great lager. 
Take a gulp to indulge yourself in Newcastle's lovely hoppy flavours, followed by a sweet aftertaste reminiscent of toffee and dark fruits. There's not much bitterness at all with this ale. If anything, it's on the sweeter side of life. And that all adds up to a very drinkable beer. 
This ale is brewed to drink cold. You'll know when it's ready because the star on the label will turn blue. Pretty cool, eh!  
Alcohol Content:
4.7% ABV
Vegan Statement from Barnivore:
"We can confirm that Newcastle Brown Ale is suitable for vegan and vegetarians." - Source, Barnivore
Hopefully, you lot packed a raincoat because this next one comes straight from the valleys. Let us introduce you to the national ale of Wales itself, Double Dragon. 
Not only is the brewery behind Double Dragon, Wales' oldest brewery, but they were also the ones to introduce the world to craft lager in a can. From the very beginning, they've been innovators and artists - masters of their craft. And as the saying goes, the proof is in the pudding.
While it might look dark in the glass, Double Dragon expertly sidesteps any offensive bitterness. Malty yet slightly sweet. With its nut and toffee overtones followed by a deliciously yeasty aftertaste, this ale is nothing short of fantastic. If you're on the lookout for an extremely session-able ale, Double Dragon is what you need!
Alcohol Content:
4.2% ABV
Vegan Statement from Felinfoel Brewery:
"Vegan friendly" - Source, Felinfoel Brewery
Sierra Nevada is our only American ale on today's list. And it also just so happens to be the only pale ale, too. Pale ales are similar to IPAs but typically brewed with fewer hops. So, how does that impact flavour? Well, it all adds up to a medium bodied, bitter beer. Which is perfect if you're into that kinda thing!
As you'd expect, this ale is pale in colour. Closer to the golden shades you'd expect from a lager, you have to take a sip to realise that Sierra Nevada is in a league of its own. Remember when we said pale ales tend to be bitter? Well, this ale is exactly that.
Now, that's not a bad thing at all. In fact, specific hops are added to beers to provide that very flavour profile. And when balanced nicely with flavours from yeasts and malts, they create a deliciously complex drinking experience, highly sought after by beer lovers worldwide. 
It's safe to say Sierra Nevada has pulled it off. This high-quality pale ale is truly a treat for the senses. Not overly hoppy with a perfect level of bitterness. It's the malty flavours that really carry this brew. Expect subtle notes of citrus and dark fruit with an irresistible smoothness. Get it in ya!  
Alcohol Content:
5.6% ABV
Vegan Statement from Barnivore:
"All our bottled beer is brewed, filtered and packaged without the use of isinglass, bone char or any other animal byproduct. Our beers are brewed with two row malted barley, whole cone hops, yeast and water." - Source, Barnivore
Bottoms up!
There you have it, folks! Four incredibly drinkable vegan ales worthy of a place in your shopping basket. If you're new to ale, it can feel a bit like lager's big brother sometimes. While their deep, rich flavours can be intimidating to newer drinkers, it's certainly worth taking the plunge.
Not sure if a bevvy is vegan? Head over to Barnivore, and they'll have you sorted in two shakes of a lamb's tail. They're an incredible vegan alcohol directory and a valuable source for this article. 
If you are a lager lover, check out 6 top-notch vegan lagers, or try some alcohol-free kombucha.
*Always drink responsibly.