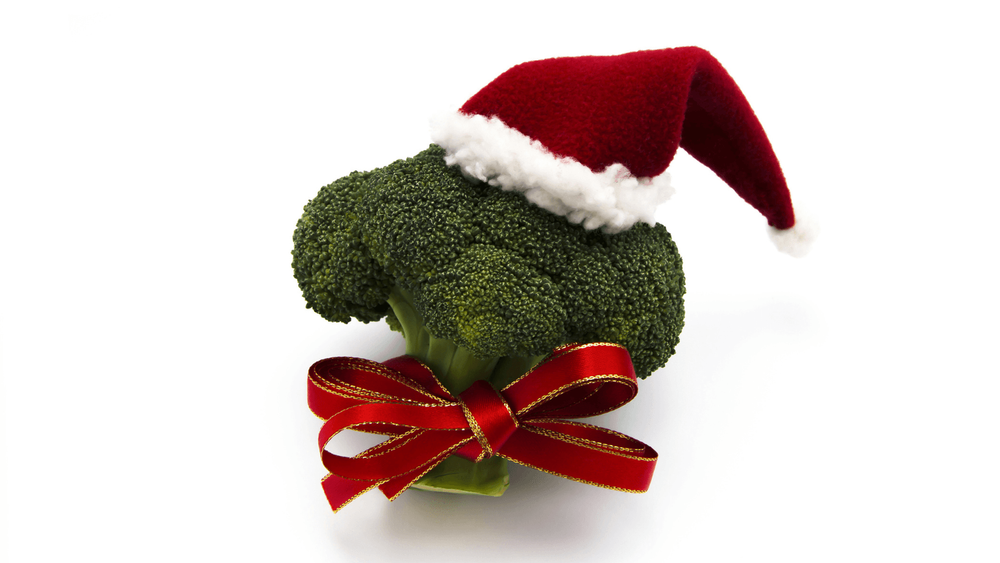 Tainar/Getty Images via Canva Pro
Vegan Christmas dinner ideas that everyone can enjoy
Christmas can be a bit of an awkward time for vegans. That said, in 2022, it is easier than ever before to spend the festive period on a plant based diet. Thanks to many new roast dinner alternatives, preparing vegan Christmas food is no longer the drama it once was. Just add a mouthwatering mushroom wellington or a scrumptious seitan brisket to the oven on the 25th and relax!
However, as any right-minded Christmas-lover might tell you, Christmas dinner has never just been about the centrepiece: a proper Christmas dinner is simply incomplete unless it is served with all the trimmings. Some might even argue that the 'trimmings' are the most important part.
Perhaps surprisingly, the trimmings are where it becomes a bit problematic when pondering vegan Christmas dinner recipes. The manners in which Christmas dinner vegetables are cooked often render them unsuitable for those on a plant based diet. Consider, for example, goose-fat roast potatoes, cauliflower cheese, and honey-glazed carrots; it is clear that finding vegan Christmas dinner recipes is a bit more complex than just buying a vegan Christmas roast. So, why not try some vegan Christmas dinner ideas that everyone can enjoy?
As we all know, hosting Christmas usually involves using pretty much every tray and pan in the kitchen, all of which end up jostling for a prime position in the already overcrowded oven. Why double the number of pans used, and, by extension, the amount of washing up? Making some of the best-loved Christmas dinner trimmings vegan as standard eliminates such issues. With that in mind, here are some of our best vegan Christmas sides to enjoy at home.
Stuffing
Homemade stuffing can often contain pork and butter, but there are plenty of vegan recipes that skip these unnecessary ingredients without compromising on flavour. Try, for example, this 30-minute recipe by The Fiery Vegetarian, or this hearty stuffing by Serious Eats. If strapped for time, Paxo's easy Sage & Onion stuffing is vegan as standard. For something more adventurous, why not try Merchant Gourmet's new Chestnut Stuffing?
Yorkshire puddings
Although it can be somewhat difficult, it is entirely possible to make homemade Yorkshire puddings without eggs and butter. This recipe, using the No-Egg Egg by Crackd, will definitely keep your guests guessing. Homemade vegan Yorkshires may require some trial and error, but in a rush, there exist a few shop-bought alternatives that fit the bill. Look no further than Free and Easy's pre-mix.
Pigs in blankets
One of the most popular Christmas trimmings, pigs in blankets also happen to be among the weirdest items on the Christmas dinner plate. Why not try to make your own version with Richmond's vegan sausages and vegan bacon? For those with less time on their hands, plant based giant THIS released their This Isn't Pigs in Blankets last year, which - if released again in 2022 - would certainly do the trick.
The Best vegan roast potatoes
Some argue that the crispiest roast potatoes need only olive oil and a classic smattering of garlic and rosemary. Some excellent recipes include James Wythe's or these delicious roasties by Bosh. Also, try coconut oil: with its high smoke point, coconut oil is perfect for crispiness and crunch.
Gravy
Oxo's meat-free beef stock cubes can go a long way to ensuring an authentically-flavoured homemade gravy. In the absence of this free-from stock, a heaped spoonful of marmite or a generous tablespoon of Maggi Liquid Seasoning can also help to generate that deep umami flavour. These Bisto gravy granules are vegan as standard and can be made in as little time as it takes to boil the kettle!
An inclusive Christmas
The vegan kitchen is, necessarily, a creative one. While many Christmas side dishes can be 'veganised' simply by swapping butter and lard for a plant based margarine, the scope for innovation and imagination is broad and exciting. Some honourable 'muncheons' for your Christmassy consideration include maple and orange carrots, agave roasted parsnips, or a vegan cauliflower cheese sauce using Cathedral City's new vegan range. Go all in and use these Plant Based Lardons from THIS in the Brussels sprouts. 
While it is not often that you will be able to convince the entire Christmas guestlist to opt for 100% vegan at the dinner table, there is no reason why vegans can't enjoy the holly-jolly festivities as much as the next person. That said, perhaps you can try to convince some of your family to further explore the wonderful vegan world by signing up for Veganuary, which starts just over a week after Christmas!
No Christmas dinner is complete without an after-dinner cheese board, check out vegan artisan cheese worth treating yourself to help fill out your cheeseboard.