Vegan travel: Dubai offers sun, sea, sand and vegan food aplenty
When you think of vegan travel options, Dubai is not a destination that immediately springs to mind. However, with one of the world's fastest growing economies and a varied and expanding international community, Dubai is not short of vegan restaurants to choose from. V-Land recently had the opportunity to visit for a week so we were able to explore the city and discover some of the vegan spots and tourist attractions it has to offer.
What to do in Dubai for a week
Dubai dates back to the 18th century but the last 30 years has seen its biggest growth. It is now a modern bustling city with something for everyone.
One of the newest attractions is the Museum of the Future. The building itself is simply stunning, while the exhibition presents a myriad of futures and takes visitors on a journey to the 2070s. It is proving extremely popular though, so be sure to book in advance. 
If tall buildings are your thing, then Dubai has you covered. It is home to the tallest building in the world - the Burj Khalifa. There are a number of different floors you can ascend to and you choose based on your budget and the experience you want. Regardless of how high you go, all offer an unforgettable view of the city. Our tip is to book for an early slot to avoid crowds and queuing.
The temperature can get pretty brutal in the summer, but if you time your visit well, you'll want to spend some time at the beach. The most popular public beach is Kite Beach where you can relax and simply soak up the soul-nourishing benefits of a little sun, sea and sand. If you are feeling a little more adventurous, you can also try watersports like kitesurfing and paddleboarding.
Some other noteworthy activities to add to your list include the slip and slide of the Atlantis Waterpark, the breathtaking Dubai Frame and, for an adrenaline hit, desert dune bashing in a buggy. Many tours offer buggy experiences, but be careful not to book one that combines with a camel ride. Buggies are made to be ridden. Camels, not so much, so it's disappointing this occurs at all.
Dubai's vegan restaurants
Many restaurants across Dubai have vegan options and there are quite a few 100% vegan delivery services to be found. A quick browse on Happy Cow will show how extensive plant-based fayre is across the city. Despite all these possibilities, we mostly ate at the dine-in vegan restaurants. As it turns out, all our favourites are also top-rated on Happy Cow. If one needs validation, this is surely it.  
Following a day on Kite Beach we headed to the nearby Just Vegan Jumeirah. They serve a mix of European and Arabic dishes, specialising in veganised popular dishes that usually contain meat. This means you can expect the likes of burgers, pizzas, shawarma and mac 'n' cheese. Their menu is extensive and despite the many healthier options we opted for the nachos and burgers - the 'Oops Mushroom' and 'New York Double Cheese'. Sometimes you just need a delicious dirty vegan burger and they did not disappoint. We left full to bursting and content with the choices we made.
Our next stop was Vagaea. The founder is a graduate from a design school, which explains the artistic décor of graffitied sculptures, dried flowers and thick yarned curtains. The Brazilian-inspired menu contains ingredients that are grown and sourced sustainably. There was so much to choose from that it was hard to decide, so we gravitated to the more traditional Brazilian dishes. To start, we tried the coxinha, which were stuffed with jackfruit and fried to perfection. Next was a moqueca, which substituted the fish with heart of palm. Yum. And to conclude, we just had enough room for their prestigio cake, which was filled with coconut and homemade condensed almond milk. A delight from the first mouthful to the last.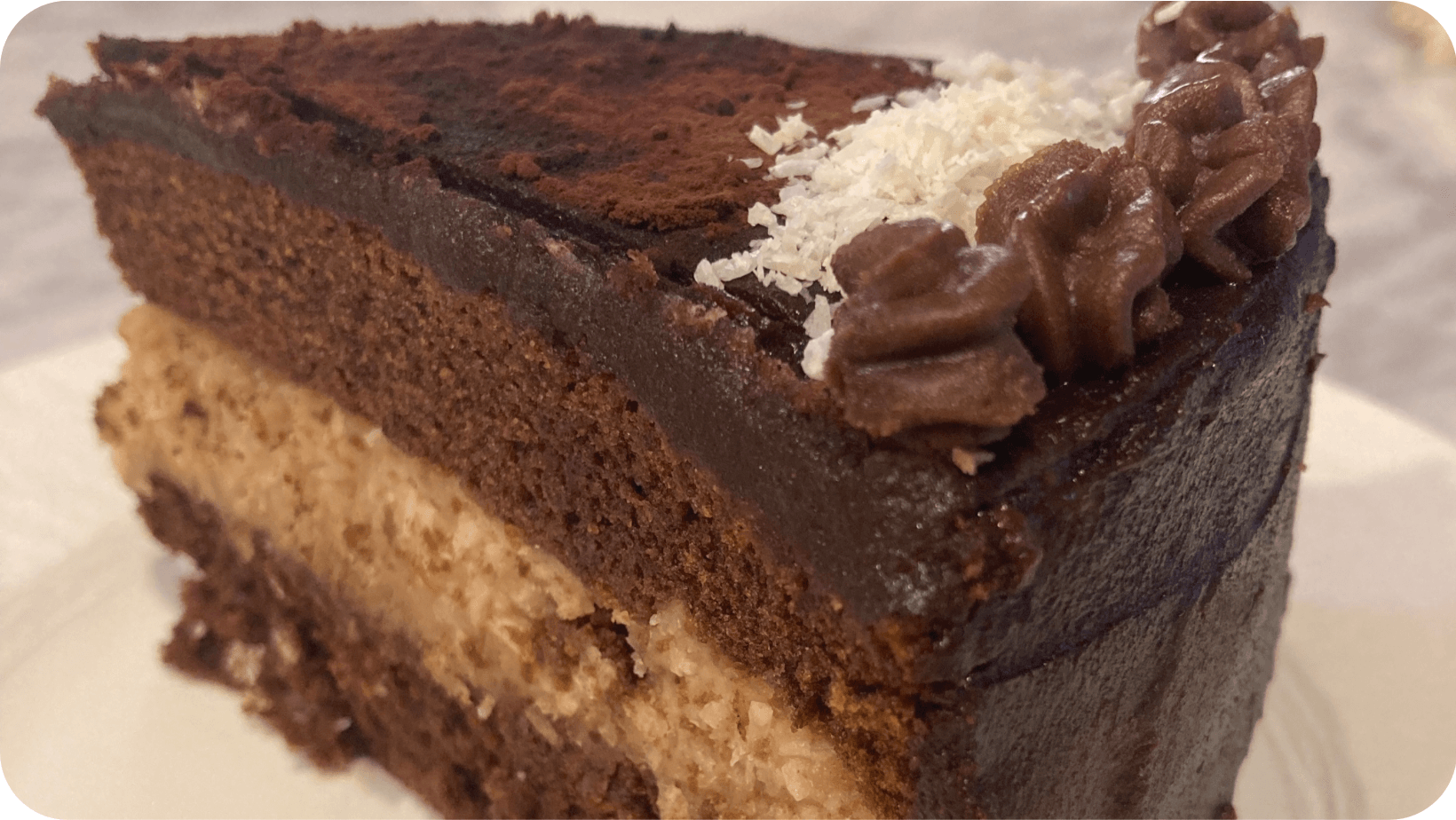 Mark Flood
Palm Jumeirah is a man-made island, stretching out to the gulf. In close proximity, is Planet Terra. This organic café serves artisanal, handcrafted and innovative plant-based delights. With an outdoor terrace on the bank of a tranquil waterway, it is the perfect setting to decompress and enjoy some shaded outside space. Open from early morning to late at night, their menu changes throughout the day. Arrive early enough and you can opt for an acai bowl, French toast or pancakes for breakfast. We booked for dinner and were drawn to the buckwheat and mushroom croquettes, hazelnut béchamel smothered lasagna and the chocolate mousse dome. This place is highly recommended.
On our final day exploring as a vegan in Dubai, we visited a self-described hidden gem and it's true. The café, Seva Table, is linked to a wellness centre, so you can combine it with a yoga or meditation session if you wish. The café claims to be the first plant-based, gluten-free, cane sugar-free, and GMO-free café in the Middle East. It certainly ticks a lot of boxes. The setting is rustic and natural. We sat at a table in the garden under the shade offered by a canopy of vines. There was even a resident cat that shared the space and they were as calm and untroubled as we felt in this tiny green oasis. We were fortunate to arrive just in time to order from the breakfast menu and we started with the omelette. It was made with chickpea flour and was so jam-packed with spinach, mushrooms, tomatoes, avocados and cashew cream cheese we were worried we'd be too full for more.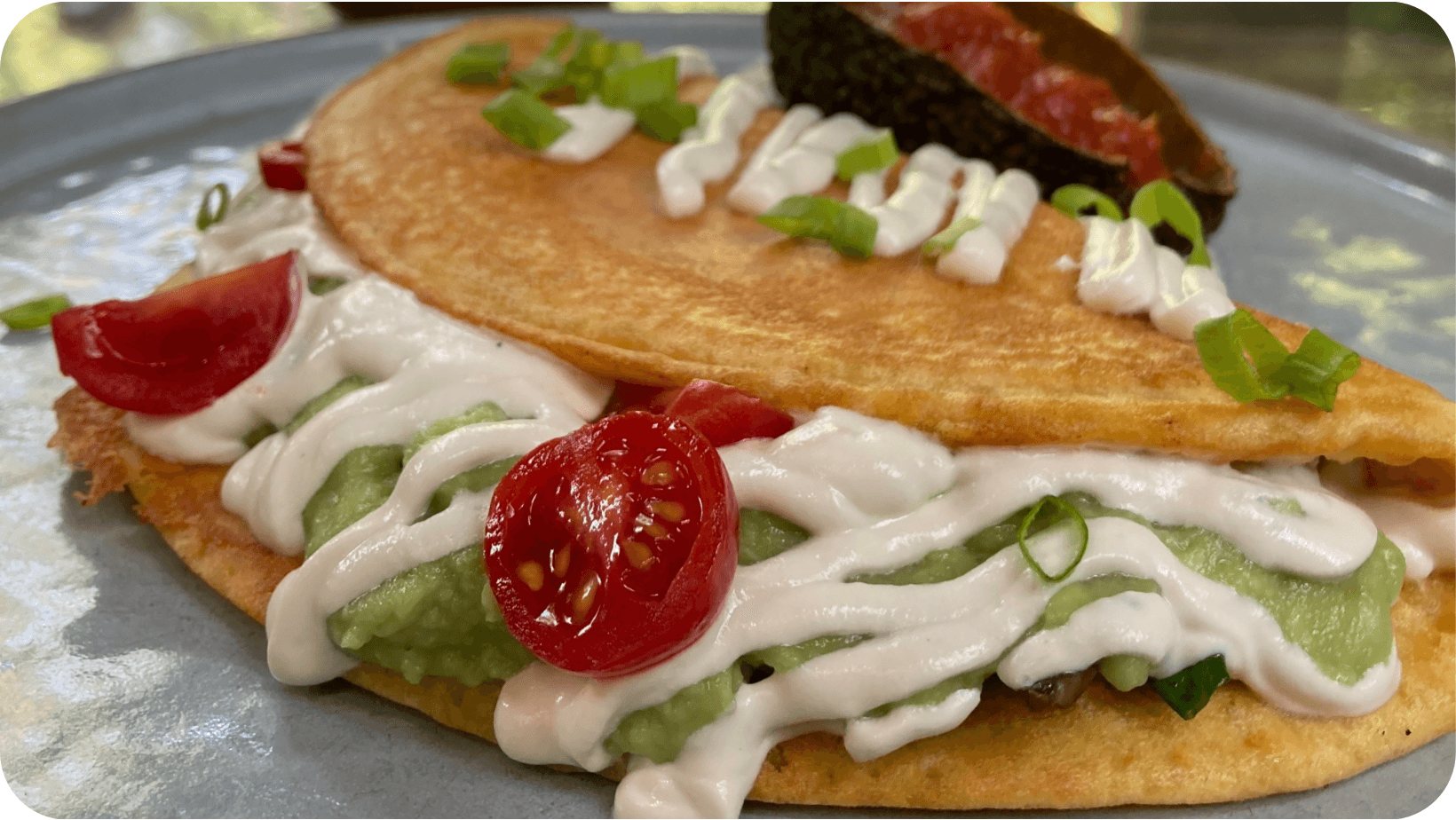 Mark Flood
Fortunately we were in no rush, so we ordered drinks before thinking about more food. With a bright blue spirulina cream-topped cold brew coffee and cacao, the 'Ocean Of Good Mood' drink had us on the aesthetics alone. Then with a hint of orange and the sweetness of the dates we were won over by the taste too. So, for a little taste of food and seclusion heaven, a visit to Seva Table is a must.
For more international vegan travel guides, you might like to see what we thought of our visit to Prague last winter or how about Vienna and its top vegan restaurants and other unmissable spots.